**These posts often contain affiliate links. Please see our disclosure policy for details.**
We'd like to thank the amazing staff at Lakes Area Eyecare for once again treating us like royalty, and for providing their services to us for free so we are able to share our thoughts with you. We are so grateful!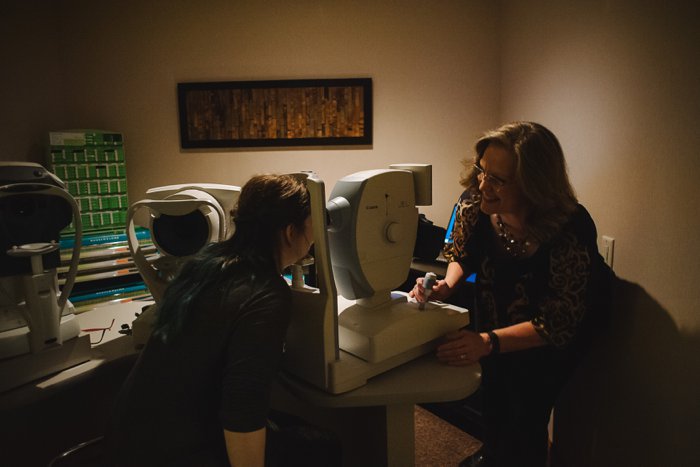 "There's more to children's eye health than just their vision."
This phrase shared by Dr. Brooke Fenstad from Lakes Area Eyecare really made me (UoNoPa Becky) stop and think. During our prior visit to this wonderful Baxter eye clinic the focus had been solely on the vision health of adults. But during a repeat visit, some great conversations unfolded about being proactive instead of reactive when it comes to the eyes of our children as well.
But this specific comment really hit home for me because I knew of one kid in particular who needed the TLC and expertise of Lakes Area Eyecare ASAP; my daughter, Sara.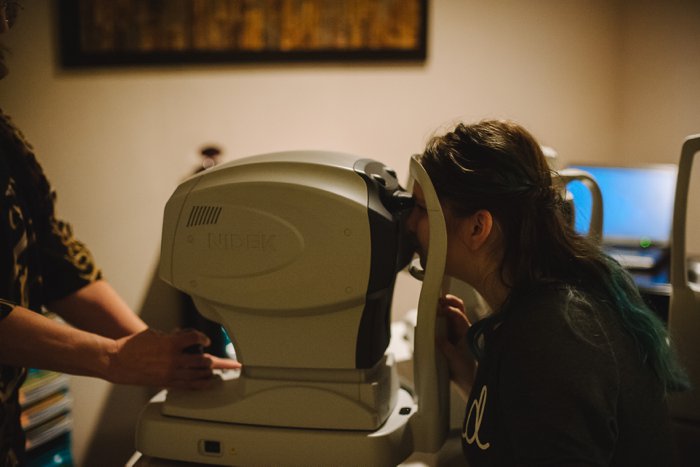 Shy, anxious and yes…PICKY; going to the eye doctor has been stressful for her in the past. But I knew Lakes Area Eyecare was an exceptional place for children's eye care. I also knew the calm and welcoming atmosphere of this eye clinic would be perfect for her and so would the patient and nurturing personality of Dr. Kristel Schamber.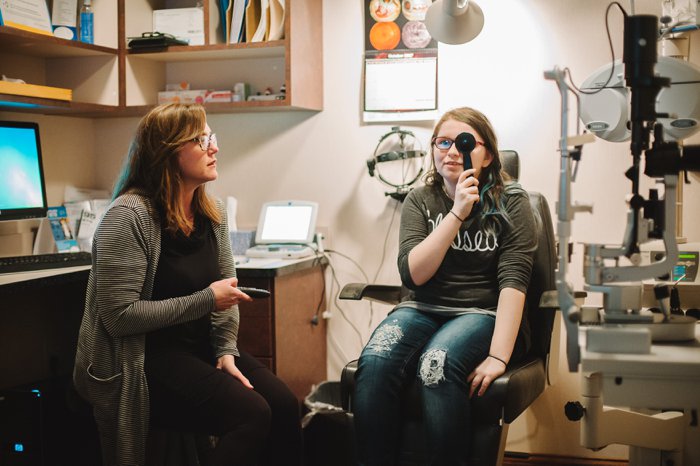 I was completely right (as you can tell from her body language and smile).
Located on Excelsior Road, Dr. Kristel Schamber and her team have been offering comprehensive vision examinations and the diagnosis and treatment of a wide array of eye diseases, conditions and problems to the people of the Lakes Area since 2014.
Dr. Schamber, along with Dr. Brooke Fenstad, optician Greg Olson, and customer care expert, Ellen Kraling work with patients of all ages, but have a true passion for ensuring that area kids are seeing clearly. This includes starting even their smallest patients on a regular eye exam routine.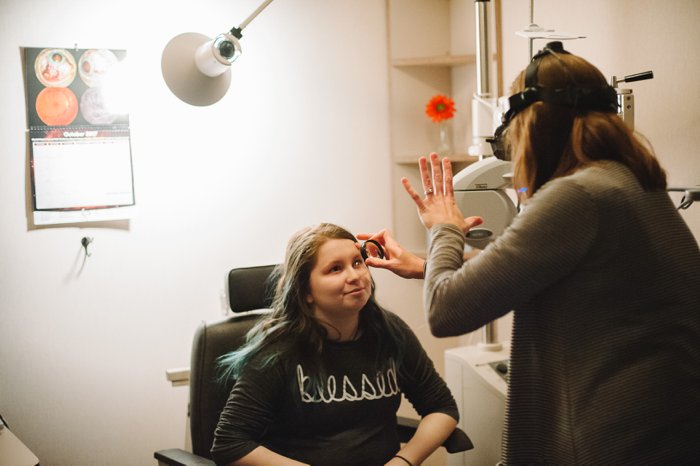 Children's Eye Care | The Easy Eye Exam Process
Dr. Schamber was amazing as she coached Sara through a series of eye tests and reassured her that many of her struggles with blurry vision were completely normal. She also tested Sara for color blindness; this was very interesting and something new to both of us.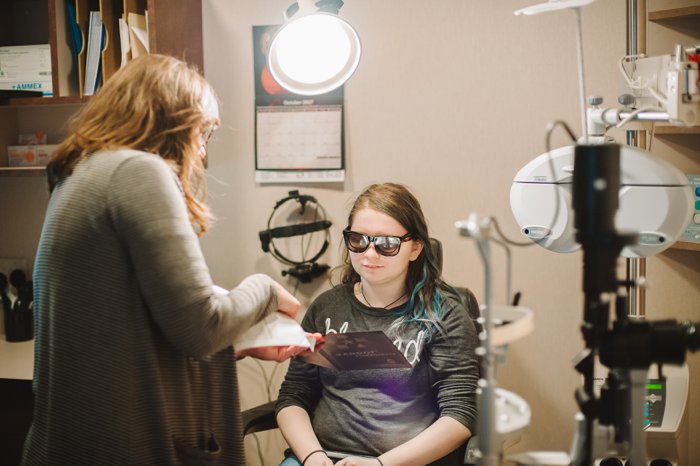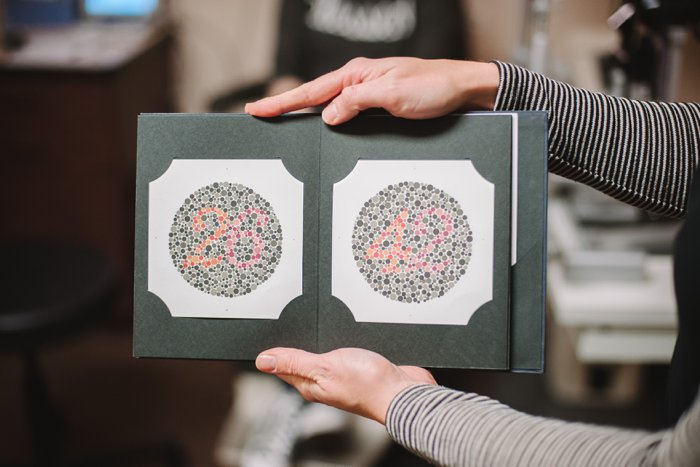 We also talked at length about adding an anti-reflective coating and some extra blue light protection to her lenses. As most parents know, computer screens and other technologies rule our youngster's lives and harmful blue light from these digital sources can cause a host of health issues including sleep deprivation. Sara's lenses are Transition Lenses (they turn dark like sunglasses when she's outside) and I was relieved to learn there was some of that protection already built into those lenses. Facts like those are so good to know!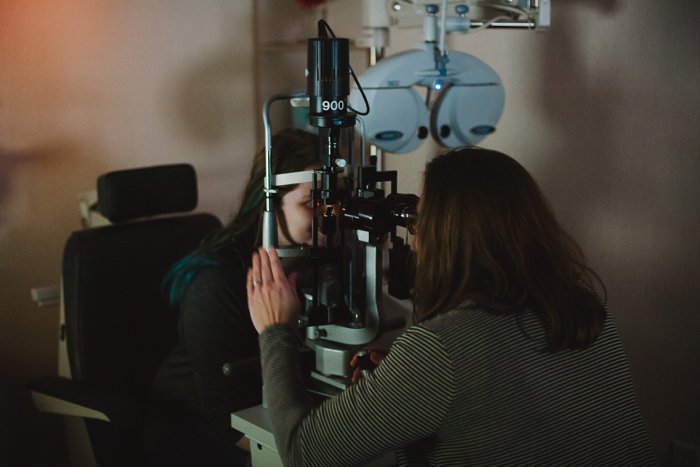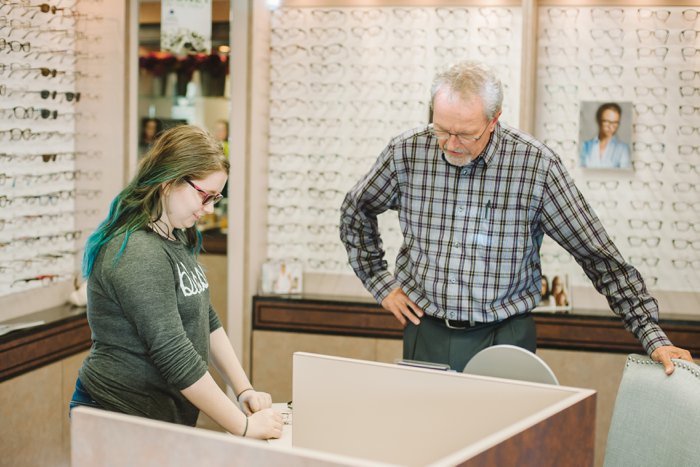 Once this thorough (and "fun" according to Sara) eye exam was over, it was time to go pick out new eyeglass frames. I have to say that the choices of frames for kids at Lakes Area Eyecare was impressive and Sara spotted several she loved immediately. Honest and incredibly knowledgeable optician, Greg Olson, took the time to show her a variety of styles and directed her to ones that would best suit her facial structure.  With so many great possibilities, Sara struggled to make a final choice until Greg suggested she take a few favorites home to "think about" for a few days.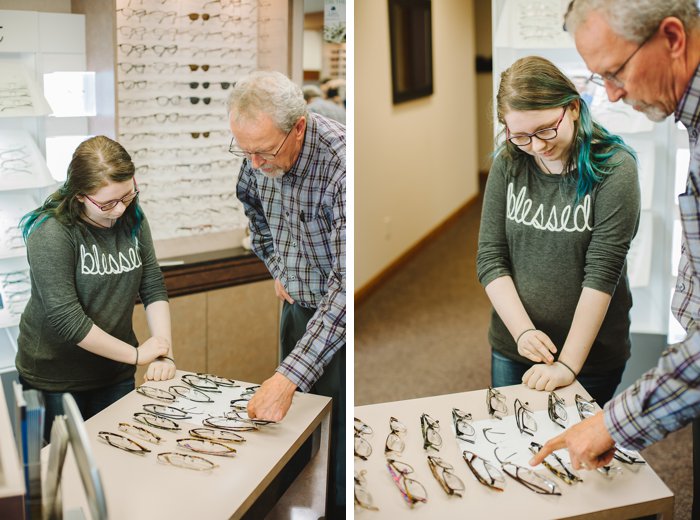 GLEE. PURE 11-Year-Old HAPPINESS 🙂
Long-story-short, this eye appointment went smooth as butter and Sara even shared an enthusiastic, "this place is awesome!" comment and accompanying hug with Dr. Schamber.  Armed with her new glasses, I know Sara will be marching into school this week with clearer vision and confidence that is sky-high.
Priceless.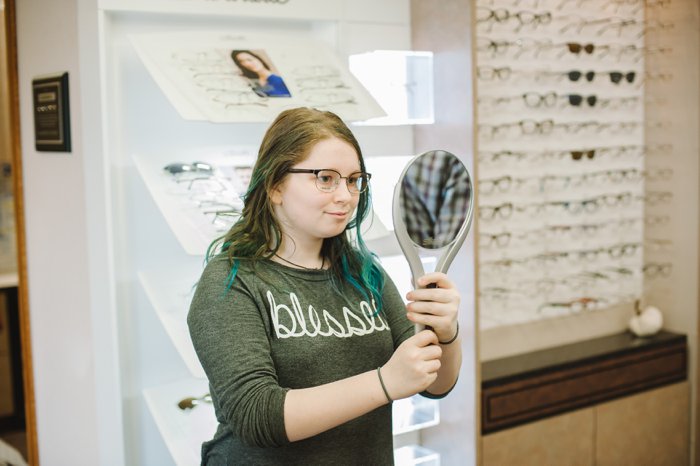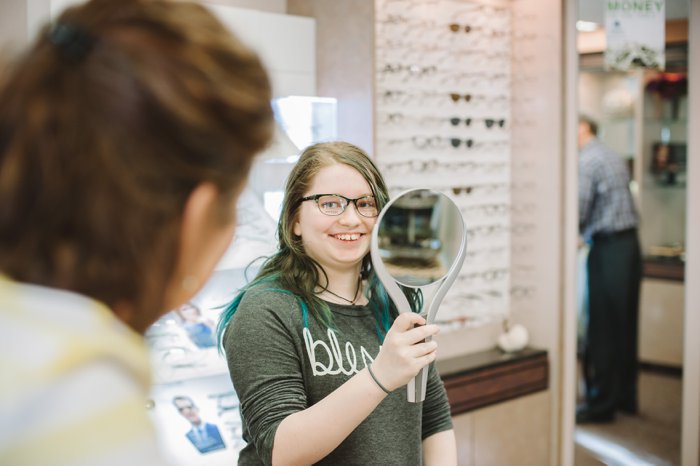 Children's Eye Care | Getting Started
There is, in fact, more to our children's eye health than if they are seeing clearly or not. How the eyes are working together can effect their performance at school. Kids are also notorious for growth spurts that can cause changes in their vision as well. Routine school eye exams are helpful, but don't always catch problems. The comprehensive eye exams at Lakes Area Eyecare can identify nearsightedness, farsightedness and astigmatism; all conditions that can be easily remedied with prescription glasses.
Parents can't always rely on their young ones to let them know what's going on with their vision either. The reality is that young children (even tweens and teens) usually don't complain about blurry vision and parents may be unaware there is a problem until they notice their child squinting. Truth-be-told, older kids may not mention vision issues because they are fearful they won't "look cool" in glasses. That's why parents need to get their kids on a regular routine of yearly eye exams even before their first birthday.
According to the American Optometric Association (AOA), infants should have their first comprehensive eye exam at six months of age. The exam habit needs to continue as they grow and children should have additional eye exams at age three and again around age six.
Lakes Area Eyecare is a proud member of InfantSee; a nationwide public health program for babies at no cost regardless of income. Through this program optometrists can provide a one-time, comprehensive eye assessment to infants. During infancy, a child's vision is constantly changing, but at six months of age, their visual acuity sharpens. It is at this point that babies should have their vision examined by a qualified InfantSee eye exam professional to ensure that their eyes are developing normally and are working together.
Up North Parent Mom Laura had her son Raleigh's eyes examined through the InfantSee program, and she said it was an easy, painless process. Everything checked out fine, and Raleigh will go in for another exam when he turns three.
"We want to make sure students of all ages can see well so they can perform well in school and early treatment can detect vision issues that could impair eyesight for life," Dr. Schamber noted. "Healthy vision is needed for successful development in all children and Lakes Area Eyecare is proud to be part of that mission."
For more information about them, visit Lakes Area Eyecare on the web or on Facebook.