**These posts often contain affiliate links. Please see our disclosure policy for details.**
I (Laura) graduated with a nursing bachelors degree in 2008, and then started my own photography business on a wish and a prayer in 2009.
I built it from scratch; living and breathing photography and all things business-related until 2014.
In 2014, I had some sudden and debilitating health issues which served as a wakeup call to other parts of my life that had been neglected in the 5+ years I was focused on building my business. After much prayer and discussion, my husband and I decided to start a family in 2015, after my health improved. Our firstborn, a boy we named Raleigh, was born via c-section a week past his due date, in the spring of 2016.
I've since cut way back on my photography client load; only taking maybe 15% of the clients I once did.
These days, I'm first and foremost a stay at home mom, and a blogger and photographer on the side. My main focus these days is motherhood.
It has often been a hard transition for me. I used to have wide open days to focus on whatever task or project I wanted to. I could be available to shoot on short notice.
Now, I have to put things on the back burner and say "no" to projects or clients often. It's not possible for me to be a present and focused parent to Raleigh while still working like I used to.
It's been a hard transition at times.
However, instead of wallowing in the challenging transition, I have found 5 tips that made navigating the transition from working full-time to being primarily a stay at home mom easier for me.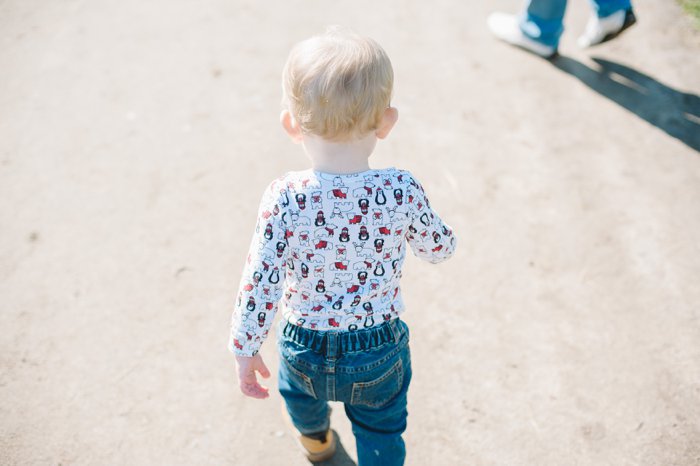 5 Tips for Navigating the Transition to Stay at Home Mom
1. Acknowledge that change is hard.
Change IS hard.
Some people enjoy change. Not me. Even something as simple as getting a new phone or starting to use a new purse makes me feel out of sorts for a few days until I get used to it. For me, change is scary, uncomfortable, and just plain hard.
And that's ok.
After a big change, it takes time for things to settle; for new routines to develop. And in the meantime, there are a lot of emotions present. By simply acknowledging that change is hard, it gives you space to feel those emotions without embarrassment or guilt.
2. Know that for everything, there is a season.
Last week, I wrote about how everything is a season in motherhood. Time passes and the seasons of motherhood change; newborn days, toddler months, kid/tween/teenage years, and finally the adult years. Nothing stays the same forever, (even if you want it to). Soon, the day will come when your motherhood duties shift and you are no longer needed at home all day long. Some of your time will become yours again, and you can choose how to fill it. Just knowing that time is coming can be enough to help you get through some of the toughest days of motherhood.
3. Carve out time to work, and do it smarter not harder.
If you are still working part-time from home, you (like me) will have a unique dilemma on your hands; figuring out when to get your work done. You might choose to work before your kids get up in the morning, or during nap time. Or (again, like me) you might choose to focus on your work after they've gone to bed at time. (Sometimes, maybe you'll even have to do all three, depending on your workload!)
The key is to make sure you carve out time to get your work done, if you have work to do. Knowing you have designated work time coming up will help you be able to focus on your kids in the meantime.
4. Be present and thankful that you are able to stay home.
This doesn't erase the tension you might be feeling if you're caught between motherhood and your work, but it's true nonetheless. Staying home with your children when they are young is a privilege. It's a gift to your children, and it's a privilege many mothers would love to have but aren't able to.
I say this not to make you (or myself) feel guilty. Instead, when I remind myself that it's a gift to be able to stay home, it helps me look at my life with a little more gratitude.
5. Most of all, grace, grace grace.
Perhaps the most important thing in all of motherhood is grace. Give yourself grace; don't expect yourself to be perfect. Give yourself grace when getting used to your new situation. Give yourself grace in finding your routine. Give yourself grace on those hard days when all you want is time to work and maybe a long, hot shower and a nap.
In all of it, don't be too hard on yourself. Give yourself lots of grace.
– – – – –
Transitions are hard. Change is hard. It's especially hard when you add in parenthood, and a change in the focus of your life.
However, these five tips can help make the transition from working full-time to being primarily a stay-at-home mom a little bit easier.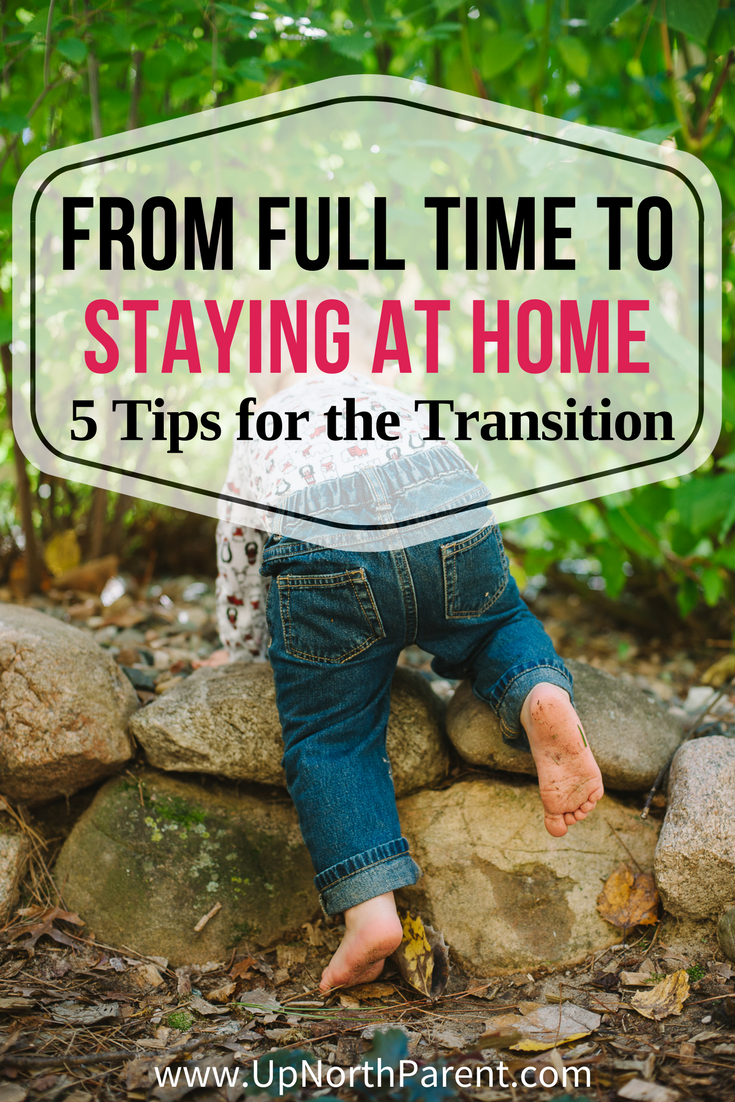 ---
Laura is a motherhood blogger and photographer from the Brainerd Lakes Area in Minnesota. Her mission is to seek joy in the midst of motherhood, and encourage other mamas to do the same. She is married to her high school sweetheart, Matt, a mama to their firstborn son, Raleigh, and a dog-mama to their feisty 6lb toy poodle, Remy. She spends her days chasing after them, while daydreaming about naps, crafts and donuts with sprinkles. She writes at www.lauraradniecki.com.