Hello & Welcome to UpNorthParent.com!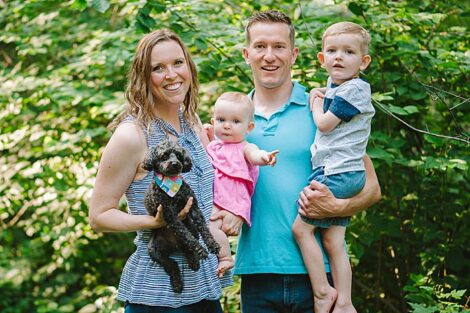 I'm Laura: a wife, mama, and blogger from Minnesota.
I'm here to provide fun, helpful blogging advice for stay-at-home moms, because I am one too!
I've been blogging for over a decade, and I still find it as fun as I did when I first started!
I'm so happy you're here!
Up North Parent FAQ's
Q: What's your blogging story?
A: Technically, my blogging journey started in the early 2000's when I wrote posts on Xanga (remember that site?) I started my first official blog several years later in 2009; it was a personal blog to share photos with family while my husband and I lived on Oahu with the Marine Corps.
I also started a photography business around that time, so I started a photography blog as well to share my photos. I was soon overwhelmed trying to keep up with both, so I combined the two into a hybrid personal/photography blog. I used my blog as a way to share my life, share my family photography sessions and weddings, and market myself as a photographer in the Brainerd area for the next handful of years.
I shifted my focus as I became a mother, stepping back from photography to stay home with our kids. Each time, once that newborn fog lifted, I came back to blogging. First, I blogged about life in general, and then I moved to motherhood. Finally, I decided to niche down to my real passion and switched my site to a craft blog, which is what I blog about now.
I LOVE blogging. Crafts and blogging; those are my two passions. Those are the things I can talk about for hours, and if I find someone who likes them too, we're basically instant BFF's.
It's a legitimate dream come true for me to be writing two blogs; one about crafts and one with blogging advice.
Q: I've always thought about starting a blog but I have no idea where to start. I'm intimidated and overwhelmed; can you help?
A: Absolutely! YOU are the reason I started this blog.
Q: Is this blog and the advice in it for blogging beginners or pro bloggers?
A: This blog is designed for beginners; those who are new to the blogging world. That's not to say the blogging advice is irrelevant for people who have been blogging for awhile (either intermediate or pro); there's always something to learn from a new perspective and a new voice.
My main goal though, is to encourage those stay-at-home mamas in particular who have thought, "I should start a blog" but never done anything about it. Maybe out of fear, overwhelm, cluelessness, or just lack of time. Whatever the reason, I'm here to walk you through the blogging basics and show you why I think blogging is a fantastic hobby as well as business opportunity. I'm here to give you the courage to finally start that blog you've always wanted to write.
Q: I'm in; I want to know everything. What's next?
A: First of all, make sure you're part of our insiders blogging community email list. You can sign up here and get a free copy of The Blog Name Blueprint; my method for finding the perfect name for a blog, business or project. Next, you can start looking at the Getting Started posts, like How to Start a Blog, and What Should I Blog About? You'll be on your way from there!
Q: Best piece of blogging advice you've ever received?
A: "Don't compare your beginning to someone else's middle." Also similarly: "Don't compare your everyday to someone else's highlight reel."
Basically, I suffer majorly from the comparison trap so these two quotes are reminders to stop comparing. If I look at where I am compared to another blogger or entrepreneur, I easily get discouraged and feel like quitting. When I look at someone else's social media feed (their highlight reel; only the good, pretty parts for social media!), I feel like my ordinary, crazy daily life is supbar. I need those reminders of truth so I don't get lost in the comparison trap.
Q: Why the name Up North Parent?
A: Good question! This site started as a parenting website for central Minnesota (written by myself and two other local mamas), and then broadened to general parenting. Then ownership shifted, and the site moved to blogging advice for stay-at-home moms. Even though the name isn't a perfect fit anymore, I decided to leave it rather than do a massive overhaul. I've got two young kids at home with me all day, so I'm picking my battles (in parenting and in blogging!)
– – – – –
If you've read this far, I think we'd have lots to talk about if we met in real life.
I'm so excited for your blogging adventure, and I'm really happy you're here.
xoxo
Laura
P.S. Feel free to contact me anytime.