**These posts often contain affiliate links. Please see our disclosure policy for details.**
Picture this:
It's stinkin' cold outside (stinkin' cold is 25% yuckier than regular cold), and the snow is coming down like crazy. You know it's only a matter of time before the radio station reports that school has been canceled fdue to inclement weather conditions.
Dread rises in your throat because you know that you have to get to work. You have to scramble to find childcare and worry about the unexpected expense of that later. Then you have to put on your Big Kid Pants and brave the elements to get to your 9-5 job.
OR, you could let the kids sleep, pour another cup of coffee, walk 10 feet to your home office and dig into work for the day. We like this scenario best, but we also know that it's not as easy to achieve as it sounds. So much so that most parents can't fathom the thought of the "luxury" of working from home.
If you've ever dreamed of a job where you could spend time with your family and earn money at the same time, you totally get it.
The UpNoPa moms had that dream as well and both of us are actively doing exactly that.
Exploring your option on what it takes to work at home (WAH) is the first step in the possibility of making the dream of earning a steady income while being available for your kids a reality.
As veteran WAHMs (Work At Home Moms), both Laura and I (Becky) have put our heads together to provide helpful information detailing what it's all about.
But first, here is our WAHM resume:
Becky's Story
Back in 2010 when the plan to bail on the 9-5 grind entered my mind, the decision to leave the consistency and security of a full-time job to work from home wasn't an easy one.
I was in what I would call "golden handcuffs" situation of having a well-paying job, but one that effectively sucked the life from me on a daily basis.
I had also become a mom later in life and the journey to bringing my two beautiful kids into the world was hard fought and hard won.
I wanted to be present for my kids as much as possible (not just an hour in the morning and 1.5 hours before bedtime) without being broke and living in a cardboard box under a bridge.
After a year of research and a definite path on what business I wanted to form, I made the leap to creating my freelance writing/virtual assistant business in 2012.
As of 2019, I am proud to say I have amazing long-time clients, a children's books coming out this Spring and a fiction magical realism thriller hopefully coming out by the end of the year.
Life is good and I've never regretted my decision.
Laura's Story
My story is a little unconventional, like most entrepreneurs' stories are.
I didn't know many self-employed or even work-from-home people growing up so the idea of working from home and for myself never crossed my mind.
I have a bachelor's degree in nursing, but before I could work a day as a nurse, life took me down a different path. In 2009, I was living in Hawaii with my husband who was active-duty in the Marine Corps at the time, and we bought my first DSLR camera. Fast forward to later that year, I started a photography business that has resulted in dozens of weddings photographed, hundreds of portrait sessions and thousands upon thousands of photos taken in the years since then.
I too became a mom later in life; I worked from home as a photographer for 7 years before we had our first baby in 2016.
Since then, we've had our second baby at the end of 2018, so my work life looks a little different than it used to, now that I'm home with a toddler and an infant all day long. I'm no longer photographing weddings and have cut way back on the number of portrait clients I take on.
But now that the newborn phase is behind us and I'm emerging from the fog, I'm thrilled to be resuming portrait photography work and working on my online motherhood blog as time allows, of course.
(It also means I'm working on becoming a morning person and getting up early to get some work done before the kids wake up!)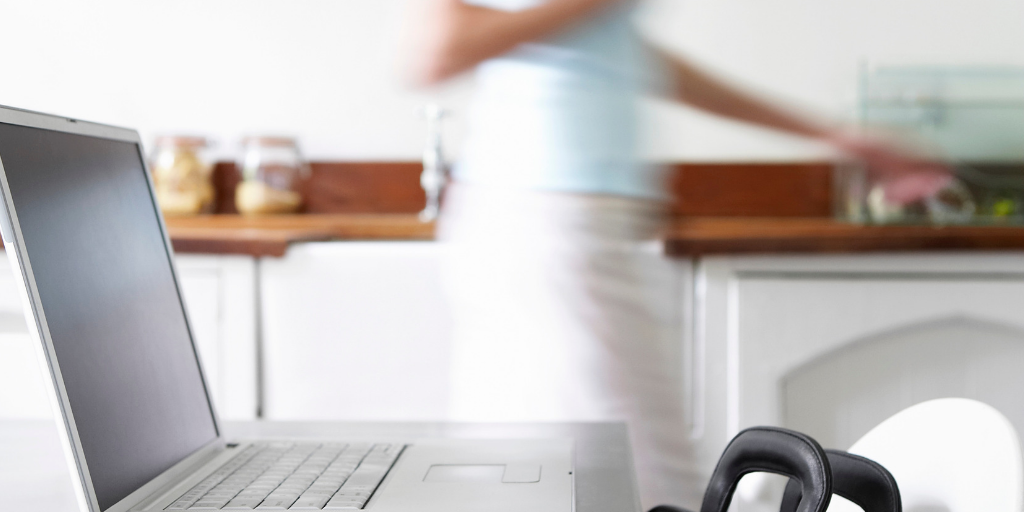 Working from Home with Kids
Thankfully, this last decade has provided a refreshing shift in the ease of being a WAH professional because the growth of the Internet has opened up an endless stream of fantastic job opportunities for parents.
Parents of kids of all ages are proving every day that they can contribute to the family financial situation and still effectively nurture their families.
Another monumental change is the availability of, both online and off, networks of support for any parent who wants to consider an option that will help them meet their needs.
Where to Begin
Before you launch into your own work-from-home plan, make sure the whole family is not only on board, but everyone understands the routine and boundaries that will go along with it. When you talk to your family about the possibility of the new direction you will take, make it known that your WAM success will be a team effort.
Do your research and explore work from home resources and know how to spot the frauds when you see them. Sites Ally Loprete's This Little Parent Stayed Home, The Work at Home Woman, The Savvy Couple, and SarahTitus.com are virtual gold mines for work from home tips and tactics. They offer helpful hints to parents getting started with a work at home enterprise and also a network of opportunities for connecting with other WAHs. TheBalancesMB and Work at Home Wife both have great resources for work from home dads.
If you are a writer/blogger, Carol Tice is the creator of Make a Living Writing site and she is a wealth of info. Carol just came out with an e-book called, Small Blog, BIG INCOME and it is a treasure trove of amazing blogging info that will help small to mid-sized bloggers make money with their site.
Know where the money will be coming from. If your income has been a big part of the monthly family finances, then switching to work at home enterprise may cause your finances to take a hit.
Be sure there is enough financial cushion in your bank account to buffer the first six months of your new career. It will take time to establish your business, and you don't want to lose your shorts and devastate your family.
Topics like health insurance and trimming of the family budget need to be addressed and resolved BEFORE you make any moves to quit your job.
Many wannabe WAHMs juggle the 9-5 and a home business for a few months before making a clean break from the J.O.B. Though difficult (I did this) it is critical in revealing whether your work-from-home aspirations are indeed what you want. It is also beneficial to have a few established clients in your pocket before you quit your job.
Have a support system in place.
Working from Home with Kids | The Work/Life Balance
With a new career plan also comes the issue of balance between home and work. Just because you are home doesn't mean you won't need help around the house or time away from the kids to work.
Consider these tips for creating a balance:
Develop a set schedule for work and play every week. Set boundaries with family and friends on your work times and be open to sneaking work in during the early morning hours or after the kids go to bed. This also allows you to be flexible when need be.
Stay Ahead of Deadlines: One hugely beneficially aspect of working from home can be the flexibility. There will be days you decide to take time off to volunteer in your child's class, spend time with visiting family or have some "me time." If you stay ahead of your deadlines (as opposed to pushing them to the last second) this will afford you great flexibility to work and still have a life.
Discuss dividing up household chores between you, your spouse, and older kids. Just because you are home doesn't mean household chores will automatically get done. Your work time should be reserved for making money, not folding laundry.
Prepare for the day the night before: If you have school-aged kids, do pre-work such as fixing lunches, prepping breakfast, and choosing everyone's clothes for the upcoming day the night before. Anything you can do to streamline the family process and preserve your work hours is all good.
Utilize kid-free time well: If you have non-school-ages kids, hire a babysitter once or twice a week. If you have school-aged kids, be mindful of getting the bulk of your work done between drop off and pick-up.
Create a separate home office space inside your house and designate it as your business' home base. Make your family aware of your "do-not-disturb" hours and include them in whatever it takes to keep your home running smoothly.
Most importantly, love what you do. After spending a few months in your new work-from-home role, you might discover that it truly isn't your cup-o-tea. And that's OK. If you aren't passionate about what you do, you are likely to lose motivation and "faking it" will only end up biting you in the tail and making everyone around miserable..
And remember, success with your work at home plan will likely not come overnight.
As with any business (and yes, you are running a business), it can take at least a year to find your groove and feel comfortable in your new role.
Plan carefully and be patient.
Support from your family makes all the difference and perseverance will pay off!
We believe in you!