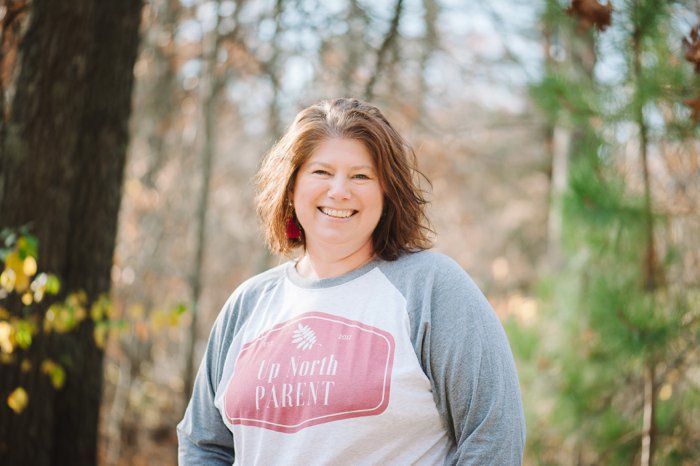 Hello there!
I am Becky Flansburg, one of the two mamas who make up the team behind Up North Parent.
Becky's Bio – The Short Version
The short version of my bio goes something like this:
I am an "old-ish" mom of "young-ish" kids who thinks bacon is the world's most perfect food. I am a veteran blogger, freelance writer, virtual assistant and project manager for the non-profit children's literacy event, Multicultural Children's Book Day. I am also a proud mom to my amazing 11 year-old daughter Sara and 14 year-old son Jake. Parenting a tween and a teen is a challenge, but I truly believe that being a mom is the Best.Thing.Ever. When I am not hiking, reading, selling on eBay, playing with my pets or working on a story for the various magazines I write for, you can find me on my main blog, Franticmommy.   Oh yeah, I also have a "thing" for pretty journal books and garage sales. 🙂
Connect with me on Mom Squad Central or on social media: Twitter, Pinterest, Instagram and Facebook!
Becky's Bio – The Long Version
The longer version of my bio goes like this:
Just like my fellow UpNoPa founder, Laura, I'm a born and raised Minnesotan and a small-town girl. My parents were incredibly hardworking people who instilled some positive life-long values in me. Someone recently asked me what I "wanted to be when I grew up." My answer? WISE. I don't pretend to know it all, but this is Not My First Rodeo on a wide variety of things. Helping others, especially parents, thrive and navigate this tricking thing called Life is something I truly enjoy doing. So many people have helped me along the way (in business and life) I truly believe it's my time to "pay it forward" and share what little Wisdom I have with others. In my own quirky and humorous way, of course.
Side Note: A Wise Woman once told me that we need to laugh OFTEN. Because, if we don't, those suppressed giggles will sink down and expand our hips. I don't know about you, but I just can't take any chances on that being true. 😉
As you all can tell from my short bio, my kids are my life. They are also hard fought and hard won. I struggled with infertility for many dark, long years before the miracle of domestic adoption made me a mommy. Then a few years later a very special doctor, and some pretty nasty shots, made me a mommy again, one day after my 40th birthday. Best.Late.Present.Ever. Parenting is the hardest work I've ever done, but it's also the most rewarding work I'll ever do. My kids are my WORLD.
P.S. I love my pets too. We have a very chubby Cocker Spaniel named Fred, an equally chubby gecko named Kermit and a sneaky baby corn snake named Dexter. Never in my wildest dreams, at age 50, did I think I would adore reptiles like I do. Don't judge.
The business side of me is a huge part of my life as well. I am very driven and ambitious, and I have built my solo business from the ground up. There may have been a few speed bumps along the way, but working from home is the best decision I've ever made. The main part of my business income comes from writing for others but I am also an active seller on eBay and have just launched my Amazon FBA selling adventure. Making money from home (in legit and honest ways) is a passion and I am constantly exploring and trying new ways to do just that. For the moms/dads who think they have no options but to slog through the daily grind at a 9-5 job they hate, I challenge you to think again. This IS life beyond the cubicle.
Connect with me on  Twitter, Pinterest, Instagram and Facebook!