**These posts often contain affiliate links. Please see our disclosure policy for details.**
Guest post by Lakes Area Eyecare of Baxter, MN; one of Up North Parent's Sponsors.
Reading aloud is a wonderful chance to share adventure, intrigue, and emotion – and that is irreplaceable. Connect with your child through a book and be transported to another time and place — together.
Books are such an amazing way for kids of all ages to experience imagination, adventure and learning in a bright, colorful and fun way.
Another huge benefit for families is that this "quiet time" is nurturing young minds and creating a healthy habit that will follow them into adulthood.
We all love our kids, but sometimes L.O.V.E is spelled T.I.M.E.
Setting aside family reading time every day is a great expression of love through undivided time together!
Read Aloud 15 MINUTES
Read Aloud 15 MINUTES is a non-profit organization that is working to make reading aloud every day for at least 15 minutes the new standard in child care.
When every child is read aloud to for 15 minutes every day from birth, more children will be ready to learn when they enter kindergarten, more children will have the literacy skills needed to succeed in school, and they will be prepared for a productive and meaningful life after school.
In the merry month of March, this organization is exploding with amazing posters, downloads, and innovative ideas to get families reading together. 
Helping Young Readers See Clearly
Spending time snuggled up with a good book is not a new concept to Dr. Kristel Schamber and Dr. Brooke Fenstad from Lakes Area Eyecare in Baxter, MN.
With seven Littles between the two of them, they can both attest to the importance of reading time with kids.
But another component of this important habit is making sure kids can see clearly when they are reading by themselves or following along with mom and dad.
The InfantSEE Program
"We recommend yearly eye exams for children as young as six months old," shared Dr. Schamber.
"We work closely with the national organization, InfantSEE®, a public health program, managed by Optometry Cares®.  Even if no eye or vision problems are apparent, the American Optometric Association recommends scheduling your baby's first eye assessment at 6 months. For older kids, regular eye exams are equally important because a child who struggles to see clearly will be less interested in critical developmental activities like reading."
Dr. Schamber went on to share that, for youngsters who are not in need of a prescription, she and Dr. Fenstad recommend parents continue to follow a plan of routine checkups every year.  "Kids eyes can change quickly especially during growth spurts and hormone changes. They often do not complain about things being blurry as they don't know what they should and shouldn't be seeing. This is especially true with very young kids."
If their young patients do need glasses, the Lakes Area Eyecare team works closely with child and parent to get the best prescription and best fit for their needs.
"For kids who are in need of a prescription, we still advise parents bring their kids back at least once a year to see if anything has changed with their child's prescription. We also advise parents to come back sooner if they suspect their child is not seeing clearly. Eighty percent of what we learn is visual so let's make sure he/she can see well to perform well in school/activities/sports."
Kids are also notorious for growth spurts that can cause changes in their vision as well. Routine school eye exams are helpful but don't always catch problems. The comprehensive eye exams at Lakes Area Eyecare can identify nearsightedness, farsightedness, and astigmatism; all conditions that can be easily remedied with prescription glasses.
Easing the Fears of the Eye Exam Experience
Note to Parents: If your child is shy, overly sensitive or fearful of going to the eye doctor, sit down together and read our in-depth article about Lakes Area Eyecare's gentle and attentive eye exam process for kids. My (Becky's) daughter definitely falls into the above category and she was completely at ease with Dr. Schamber and the rest of the amazing team at Lakes Area Eyecare!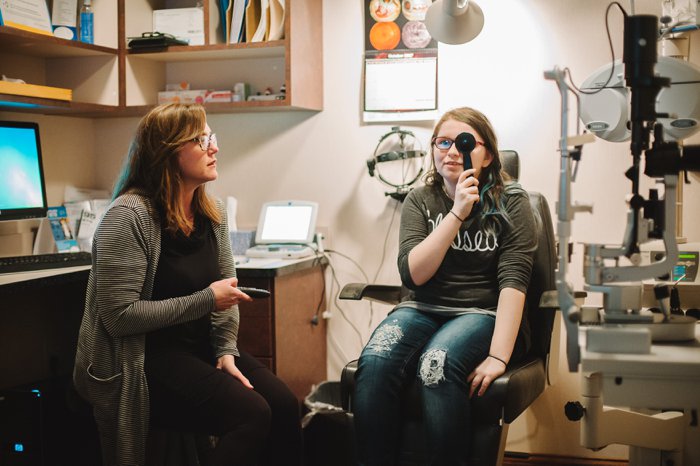 For more information, visit Lakes Area Eyecare on the web or on Facebook.