**These posts often contain affiliate links. Please see our disclosure policy for details.**
A huge thank you to the team at Traveling Art Pub for allowing us to participate in one of their painting events free of charge, so we could share about our experience with you!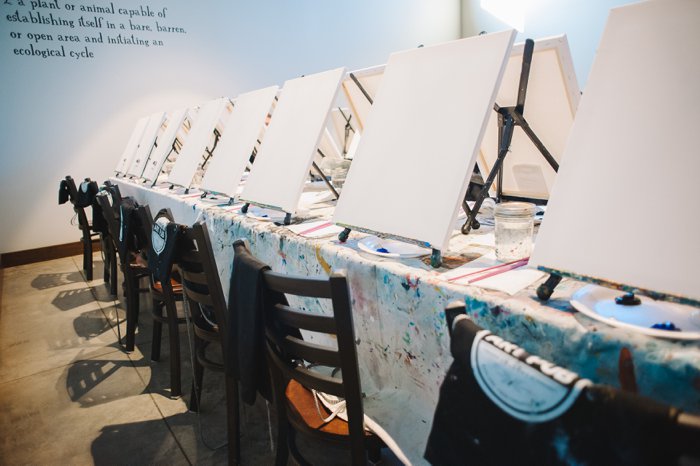 Something Fun in the BLA: The Traveling Art Pub
Something fun and unique has taken the Brainerd Lakes Area and beyond by storm, and it's called TAP.
No, not "tap" as in "tap a keg" or "tap on a window." T.A.P. is the acronym for Traveling Art Pub; a creative events company that brings together individuals or groups for a creative adventure where you can drink, create and socialize.
The UpNoPa moms also think T.A.P. should stand for Time Away from Problems because it was an amazing excuse to put our phones on mute, splash some paint around and giggle like mad-women.
How The Traveling Art Pub Came to Be
TAP was created by the mother-daughter team, Lisa and Sarah Stawarski. Together these two innovative businesswomen have offered people of all ages and walks of life a unique opportunity to try their hand at painting while enjoying some of the area's hot spots. Wanna-be artists are signing up in droves for painting classes at establishments like Jack Pine Brewery of Baxter, Walker Studio in Walker, Bites in Pine River, The Beanery in Aitkin and even The Chophouse in Turtle River. The TAP experience consists of a themed medium, a showcased artist who acts as the instructor for the evening and all art materials required for the TAP event.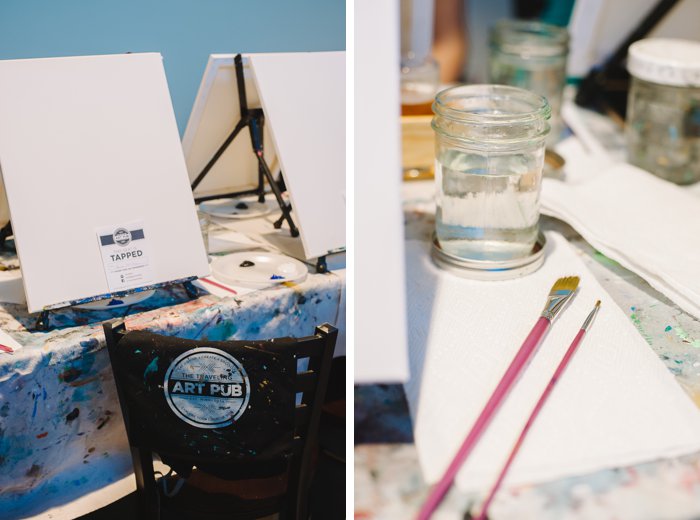 The Traveling Art Pub – Our Big Night:
The event we were fortunate enough to take part in was held at Jack Pine Brewery and the subject was an evening Jack Pine forest scene with an emphasis on the Milky Way in a starry night sky. The room was professionally set up and it was a full house. As part of the class fee, participants were also able to enjoy a flight of craft beers courtesy of the brewery.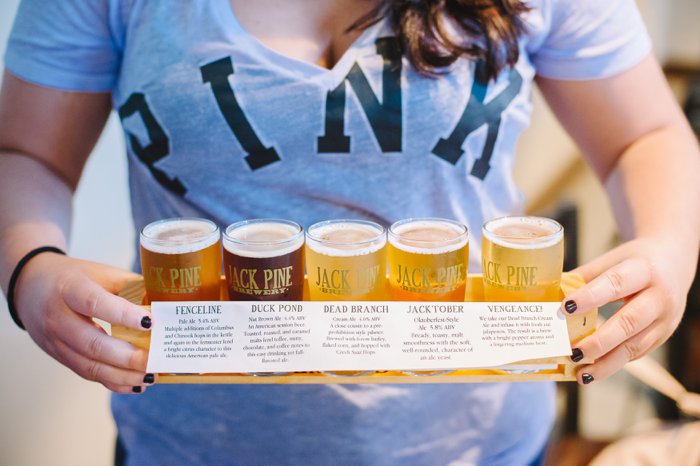 Kellie Strong was our instructor for the evening and she did a great job explaining the painting process to a room full of artistic rookies. "Trust the process," she reminded us all as we, step by step, brought our personal masterpieces to life.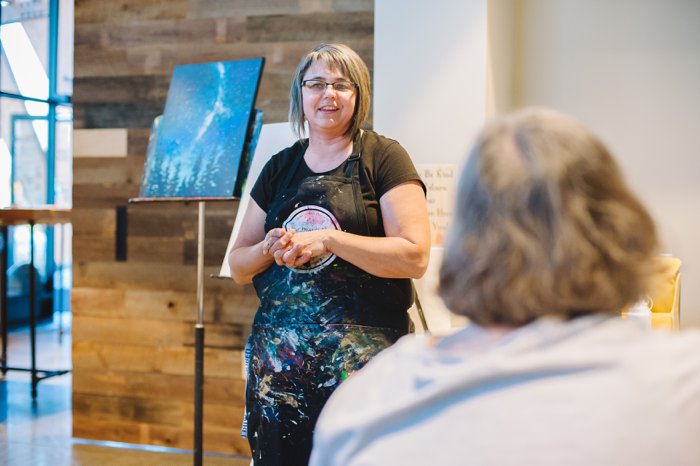 Who knew a crumpled up paper towel could be such an effective painting tool?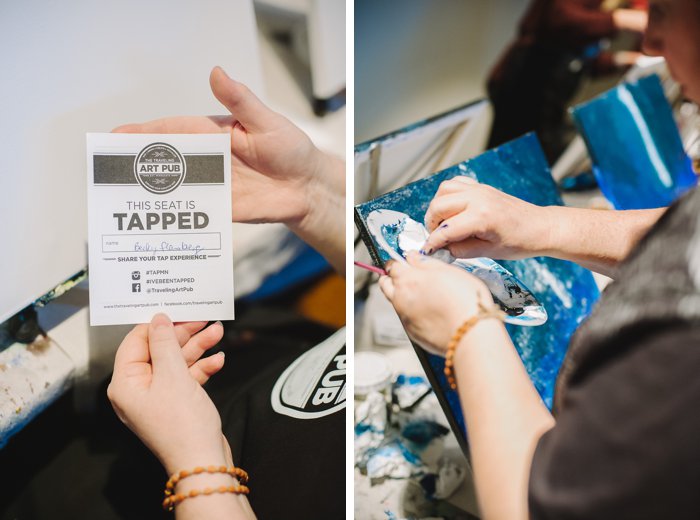 There were several times during the two-hour class that I (Becky) was fairly certain that I had more paint on my hands than on my canvas. But a quick look around assured me that I wasn't only one! This was Laura's second time as a TAP participant so she sailed through the tutorial and painting process like an old pro. Beth was home sick with a gnarly cold but was with us in spirit.
The evening flew by way too fast and I was amazed how smoothly Kellie and her assistant, Anissa made the class flow. No one was ever confused, short of paint or lacking paper towels.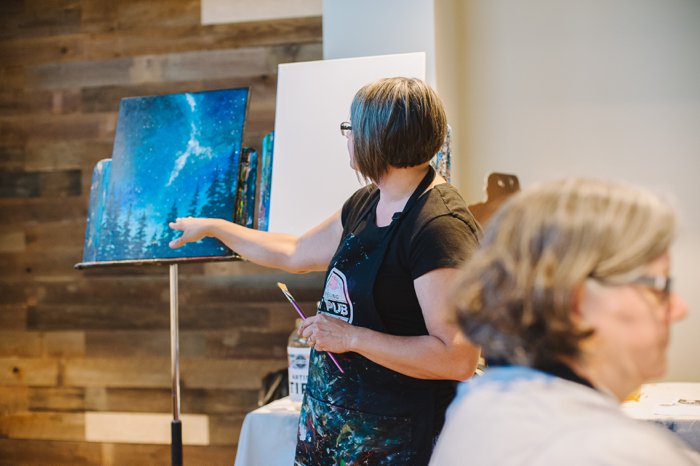 Before we knew it, our artwork was done and a group of 30+ smiling artists gathered for a group picture. Truly a fun evening and a great way to hone a new skill while blowing off some steam.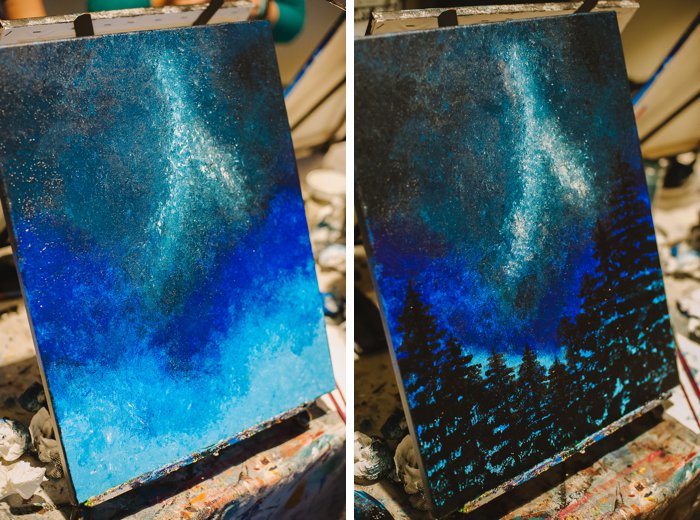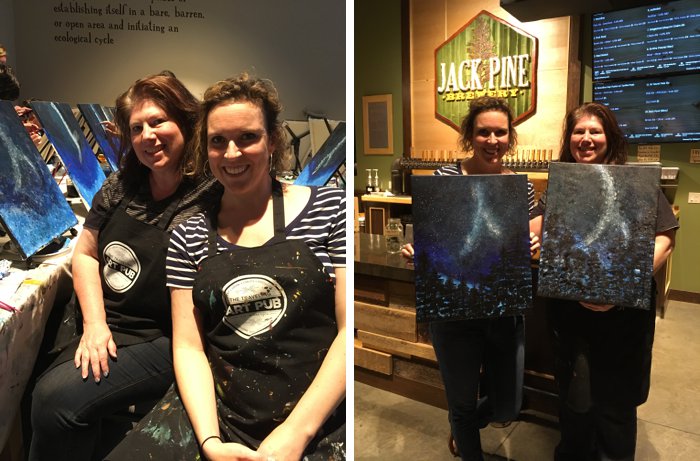 So if you are looking for a creative way to enjoy some downtime while relaxing with friends, the Up North Parent moms highly recommend Traveling Art Pub.
Check out the TAP website for locations, topics and times, or follow them on Facebook. They are always awesome about creating Facebook events to showcase upcoming opportunities.
Happy painting!
Connect with The Traveling Art Pub
Facebook  |  Instagram  |  Website