**These posts often contain affiliate links. Please see our disclosure policy for details.**
If you've been on an airplane, you've heard the safety schpeel that takes place on every flight.
As part of this pre-takeoff instruction, passengers are always directed: "Put your oxygen mask on first before assisting others." Flight attendants encourage parents to help themselves before helping their child or children.
While it's a hard pill to swallow for many of us, the bottom line is this: If you don't follow this simple rule – you and the person you want to help could both be in trouble.
As mothers, we become accustomed to taking care of everyone else's needs first. Essentially, we make sure everyone else has their "oxygen mask" on because it's in our nature to nurture.
However, to maintain personal health and well-being, women need to slow down, say "no" more often, and set aside time for me-time and self-care.
In other words, you can't pour from an empty vessel.
So, what exactly does that mean? How can we ensure our vessel is full in a world of full plates and empty tanks?
Holistic Well-Being in the Brainerd Lakes Area
Healing Touch
Being touched, as well as touching someone else, are fundamental modes of human interaction; and many people are seeking out their own "energy workers" to fulfill this basic human need of healing touch.
Healing Touch is a method of altering the body's energy system to influence self–healing.
Knowing the power of touch, energy worker and long-time Brainerd resident, Debbie Endres, offers a blissful escape with her gentle face, hands, and feet massage. This highly popular offering is a big change from massage because clients simply snuggle into Debbie's fleece-lined chair, fully clothed, with a blanket and pillows.
New clients feel less vulnerable and exposed during this treatment and find they can relax into a state of bliss quite quickly! I (Becky) treat myself to a session once a month and can assure you it is SO centering. Those interested can visit Debbie's website at www.debendres.com/energy-work.html
Relaxology
Pamela Martin CR, CRM, PLR offers a variety of services she simply refers to as "Relaxology" at Salon 77 in Lakeshore.
"I use several modalities," she explained. "Reiki, Reflexology, and Past Life Regression. Reiki balances your energy. When we experience physical or emotional trauma our energy centers can become sluggish or shut down. Reiki helps them get moving again. Reflexology on the feet stimulates nerves that correspond to all parts of the body to help normalize function in that area. Past Life Regression helps you to understand why you behave the way you do and get a deeper meaning of self. All three modalities help my clients to center, deeply relax and come to the core of who they truly are."
Pamela – a certified Reiki Master, Reflexologist, and Past Life Regressionist – has studied a variety of meditation techniques, including mindfulness meditation, for nearly 20 years and says she enjoys sharing and educating others on the benefits. Her goal is to empower others to take care of themselves by exploring a variety of tools to find what works best for them to achieve a state of peace and well-being.
Learn more about the various forms of Relaxology by clicking here.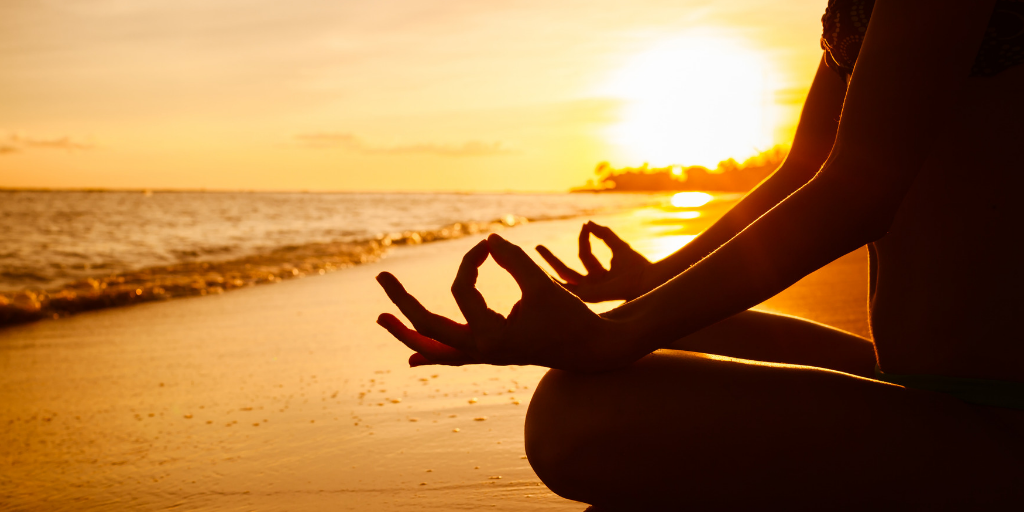 Yoga
As a busy mom of two girls, Amber Haapajoki-Hahn knows a thing or two about the importance of self-care. Little over a year ago, Amber began her own business – Haapayogi.
"I think the biggest piece about yoga, in my opinion, is that you don't need fancy poses, clothes, or props," Amber said. "It's about leaving your ego at the door and offering yourself the gift of the present moment. To honor your body, mind, and soul. To allow acceptance for where you are, right now, in this specific moment."
In Amber's classes, students focus on breathwork and "a little ease with effort."
"We need our breath to function in everyday life," she says. "When life gets hard, we can use breath work as another tool for our coping toolbox. Soft gentle movements with breath, along with relaxation/ meditation and oils are the current physical practices and tools to the yoga I am teaching at the moment.
During the summer, Amber will teach private lessons in her home, as well as chair yoga at FitQuest in Baxter on Friday mornings. Join her Facebook group by searching 'Haapayogi' to learn more.
Women's Horse Groups
Discovery Horse owner Sara Sherman is an Equine Assisted Coach who helps people connect with their "Inner AWEsome."
Sara works with and without horses to bring awareness and healing to individuals and organizations by helping them realize what's keeping them stuck and from their chosen purpose. Discovery Horse's innovative and therapeutic Women's Connection Group meets once a month at Dandelion Farm (home to Discovery Horse).
Girlfriend Getaways
Manicures, pedicures, waxing, facials, massage, and makeup application are all words that make many-a-mommy giddy with glee.
The beauty of these relaxing and pampering services is that they can all be experienced as part of a soul-soothing girlfriend getaway at a variety of local spas, salons, and resorts.
The Serenity Day & Med Spa at Breezy Point Resort is one of the many lakes area locations where self-care and rejuvenation are on the menu. Whether you and your gal pals are in the mood for some pampering services, or just a quiet place where lounging is possible (without being asked ten times for a juice box or new Lego set), the dedicated team at Serenity Day & Med Spa and Breezy Point Resort will ensure you and your crew will have an experience that is sure to recharge your mommy batteries.
Art Therapy
There's a reason adult coloring books are easier to find these days than children's coloring books. Art and mindless doodling can be truly therapeutic.
Sarah Stawarski, owner of the Traveling Art Pub with locations in both Brainerd and Walker, says it's her company's mission to create guided art events as a way to relieve stress or tension or to be used as a mode of self-discovery.
"We believe that many people could use some sort of creative outlet where they can relax, unwind, and socialize; and our events are geared just for that. Each and every guest at our TAP events are encouraged to be brave, let go, and to not be afraid of making mistakes."
Led by an instructor, guests have an opportunity to eat, drink, socialize, and create an original painting in the process. TAP hosts a variety of sessions throughout the area. To find one near you, visit thetravelingartpub.com.
(See our experience with the Traveling Art Pub here!)
Or…. Just Chill
When in doubt, ice cream has been known to make things a whole lot better.
Remember, everything in moderation – so don't deny yourself a drive to your favorite ice cream establishment or even grabbing a pint from the grocery store and sitting alone at a park to enjoy and keep beggars at bay.
(And if you're tempted to skip the ice cream because of health goals, check out Halo Top at your local grocery store. Trust us… you'll be hooked!)
Final note… Obviously, this list is in no way, shape, or form exhaustive.
There are countless ways to find respite and relaxation, so find what works best for you and (in the words of a famous athletic-wear biz): Just do it!