**These posts often contain affiliate links. Please see our disclosure policy for details.**
Everyone deserves real flowers.
"Real" in all their natural glory, as fresh as physically possible, in breathtakingly beautiful colors.
And Mary Schaefbauer at Sonnenblume Flower Farm of Brainerd is just the place to find gorgeous and organically grown blooms for any occasion.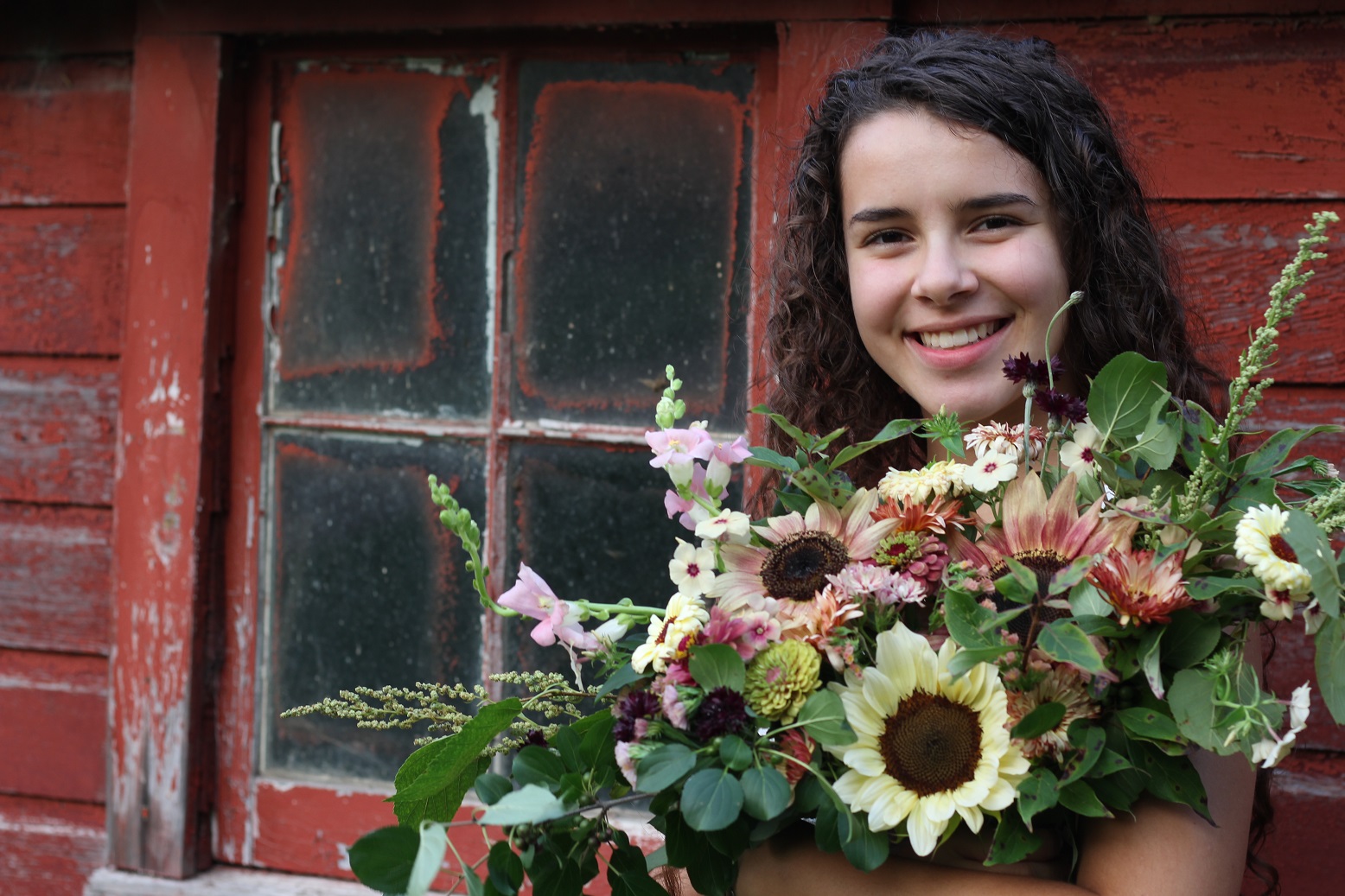 The other cool thing? This ambitious entrepreneur is only in a senior in high school!
Sonnenblume Flower Farm
Sonnenblume is a hobby flower farm where Mary works to grow the most unique flowers in the most breathtaking colors. Like all true artists, she also has a home design studio where she works her magic with vibrant floral arrangments that are presented in an artistic way.
"Floral design is my way of sharing some of the most beautiful pieces of creation with other people while learning more about farming, business, artistry, community, and myself," she added.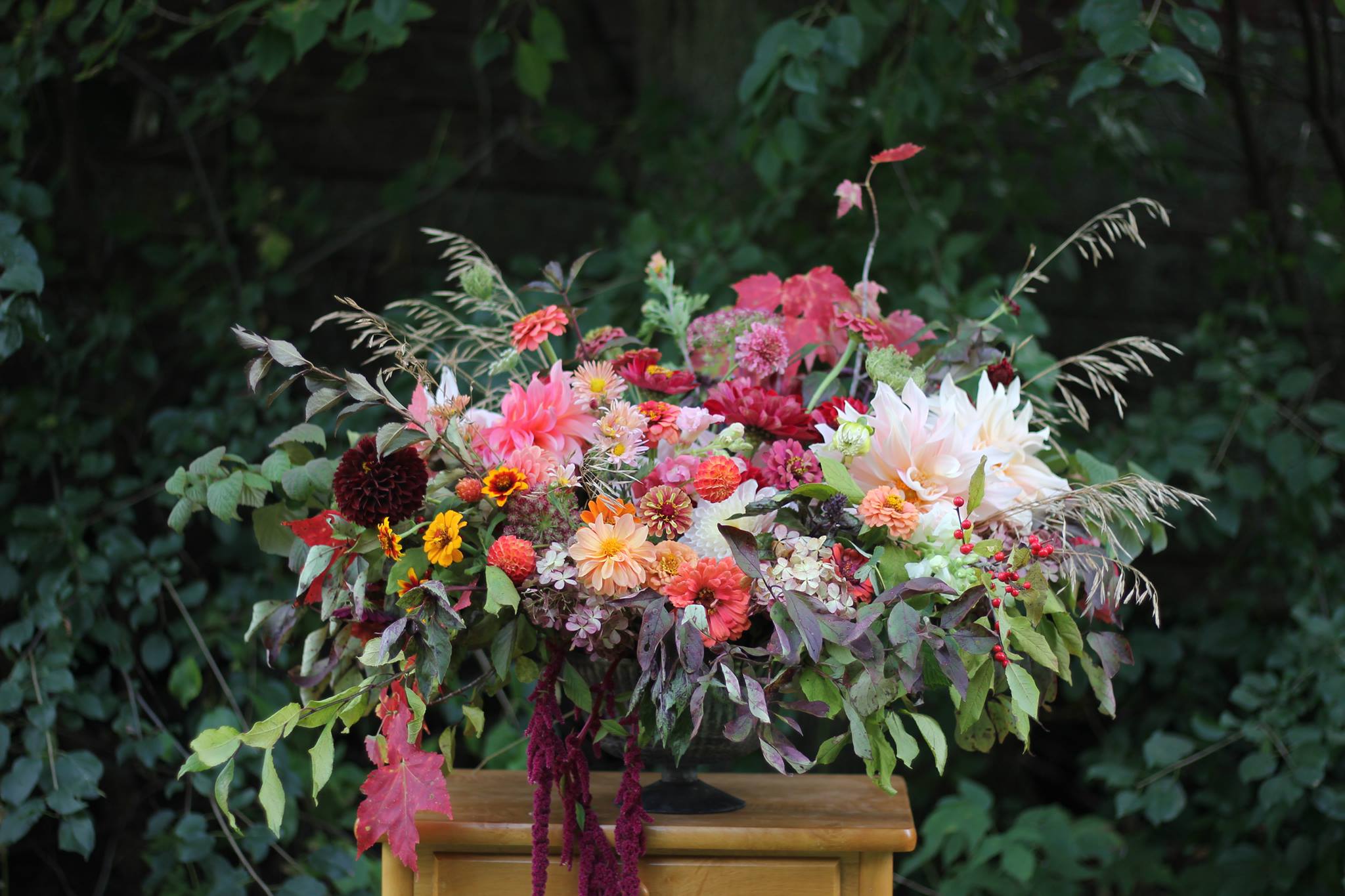 Mary shared that has she wanted to be a florist ever since she was able to grasp the concept of a "job."  As she got older, she also discovered a love of growing things on a farm thanks to her family's long history of working land. The real light bulb moment came in 2015 when she stumbled upon the blog that shared the life and creations of a "farmer florist."
"It all just clicked for me," Mary shared. "At that moment I thought, 'I want to try this!'"
As she immersed herself into learning everything she could about recreating her own "farmer florist" business, she also discovered details of the local or "slow" flower movement which is sweeping the country right now.
"The slow flower movement is where florists are turning away from imported flowers to blooms grown by people in their own locales. Along with that, the style of design has been changing as well from tight, super-formal designs to a more loose, wild, garden-y look, with more attention to a range of sophisticated color. The more I learned about it, the more I loved it. I wanted so badly to be a part of it all and, at the time, I was already running an Etsy shop so the idea of owning a creative business wasn't particularly new to me. My first year involved a lot of trial and error, but I learned a lot, covered my costs, and got hooked. I've expanded more and more each of the two seasons since then."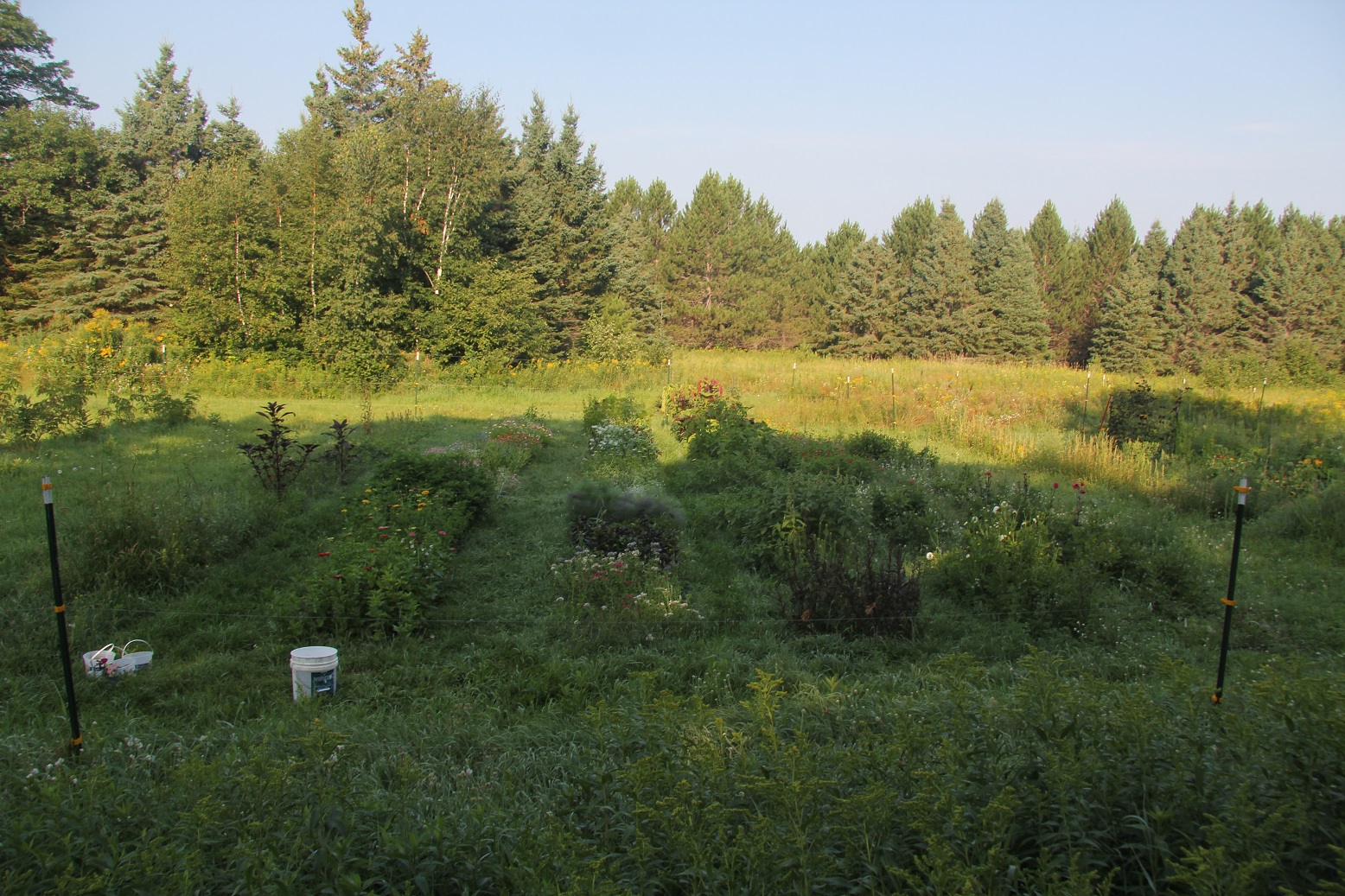 Fast forward to 2018 and Mary is proud that her farmer florist business is growing as strongly as the blooms in her garden. The mission of Sonnenblume (the German word for sunflower) is to grow the most beautiful flowers, to put them together in the most beautiful ways, and to provide them to people who want to brighten their lives with some of the most beautiful parts of Creation.
Mary works from her home studio to design arrangements to-order that can be picked up from a Downtown Brainerd business, be directly delivered to customers or to someone they love, or periodically through a subscription. Her show-stopping arrangements can also be purchased at two farmers markets; the Cuyuna Range Farmer's Market in Crosby on Saturdays 9am-noon.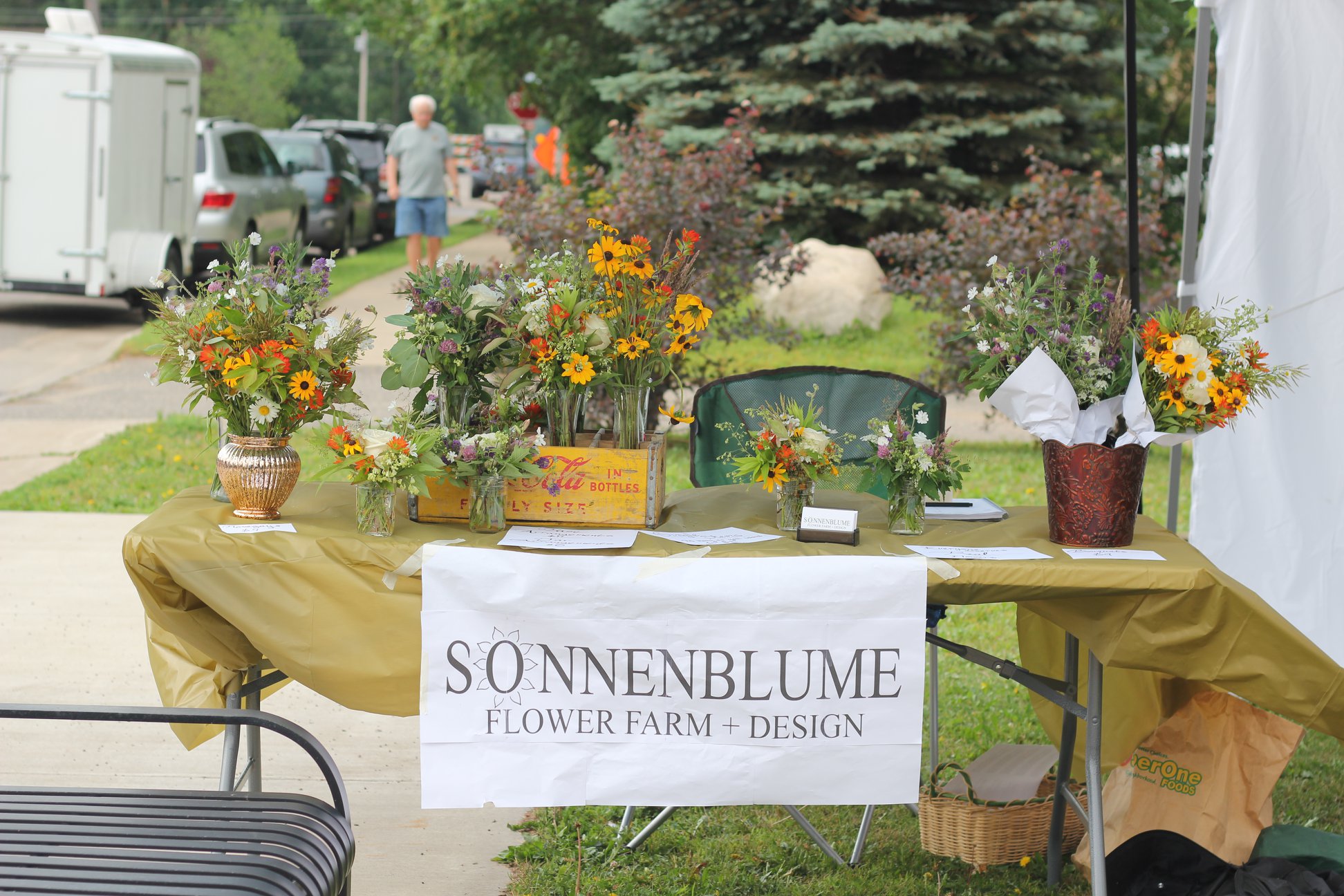 "I love sunflowers. They're so cheerful, they're big and showy, everyone loves them, and they come in a surprising number of colors. I love them so much that I named my business after them," Mary revealed. "I wanted to hearken back to my German farmer ancestors who put this crazy passion in my blood, and who made me a stickler for design details. Beyond that, it's hard to say what flowers are my favorites because every kind of flower has its growing challenges, and every kind has something different about it to love, be it color selection, functionality, shape, texture."
Plans for the Future
As a high school senior who is also attending Central Lakes College through the PSEO program to get her Associates degree in Business Management, Mary's busy life is on the verge of getting busier. Passionate about any art form or craft, she shared that she is also an accomplished knitter and seamstress. She has plans in the works to reopen her Etsy shop this fall to sell knitting and sewing patterns to fill in her desire to create and sell during the growing off-season.
"Whenever I need to be inspired I go and find stories of people who took the leap to start their own business, and who have grown to be successful, especially people who own creative businesses," Mary noted. "I've learned that it takes so much passion, desire to learn, and just plain stamina to start a business and grow it. I've had more than my fair share of days where I just want to throw in the towel, wash the dirt and loose petals and bug spray off and get a "real job" that actually makes decent money… but reading about other's stories of success coming from intense struggle helps to keep me going. Blazing a trail is hard, doing something unusual is hard; but the people who think that it's worth it, who live a fulfilled and passionate life in spite of and because of those hard things, are the people who inspire me the most."
When asked Mary if she could pick one thing she wants readers of her story know, and what would that one thing be, this is what she had to say;
"Flowers are important, especially local flowers! A flower arrangement is truly a piece of art, especially a flower arrangement made up of unique, local flowers. Flowers grown in the U.S. are generally of far better quality than flowers that have been imported. Imported flowers are bred to withstand days and weeks in a box and still retain some semblance of life. They are almost always treated with a cocktail of chemicals to keep weeds and pests away, and then to keep the flowers fresh longer. Flowers that are grown locally, however, can be grown using methods that don't involve chemicals at all (like my flowers!). Local flowers are fresher and will often last longer because they can be picked the day before or the day of a sale, rather than a week before."
Being mindful of where your flowers come from is just as important about knowing where your food comes from; a fact that Mary wholeheartedly agrees with. Currently, the American flower market is about 80% imports and 20% domestic and she shared that a big part of her mission with Sonnenblume is to help raise awareness and tilt the scale towards American flower farmers, as well as convincing people to make flowers a bigger part of their daily lives.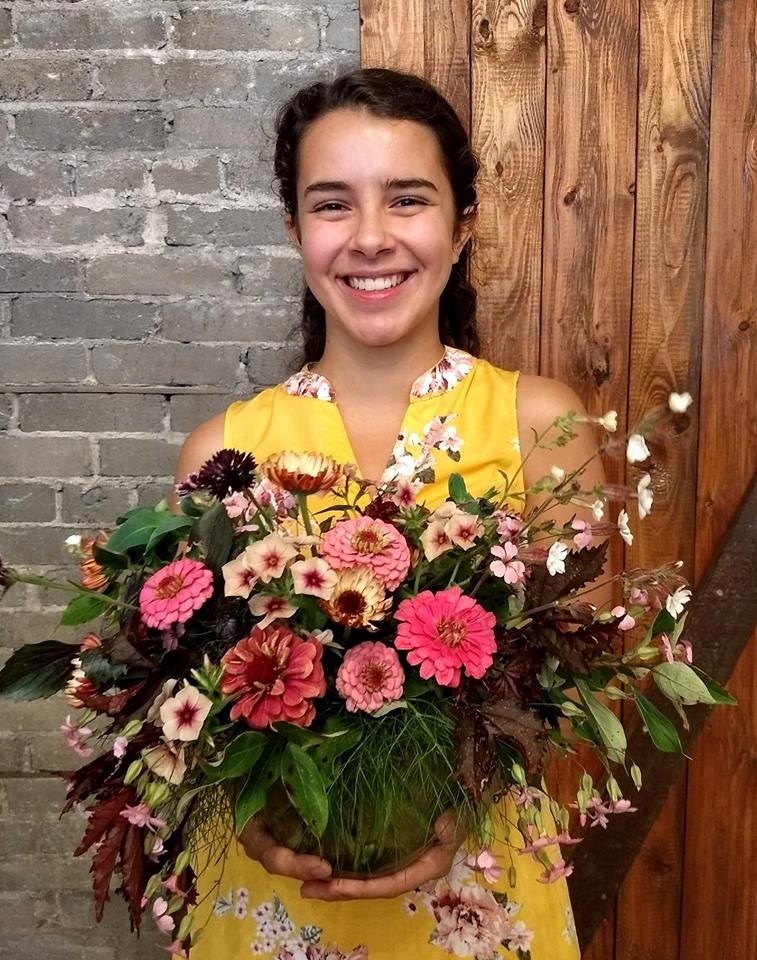 "I'd just like to challenge anyone reading this to take more time to observe and acknowledge the beauty in their lives, whether that be flowers, nature, art, words, people, music, little things… anything," Mary concluded. "That's what the real core of this business, and I think my whole life, is. It's sharing beauty with other people. Surrounding ourselves with beauty, whatever that means to us, is one of the most important and fulfilling things we can do in our lives. I want to help people do that."
More Exciting News from Sonnenblume:
"My dream has finally come true and I am going to be teaching a couple of floral design workshops here at the farm! This will be an experience unlike any other in the Brainerd Lakes Area… I promise you will come away from the class with a deeper appreciation for flowers, as well as a new set of skills that you can use any time flowers come into your life. No experience with flowers or floral design necessary!"
To get more details on Mary's upcoming floral workshop, visit Sonnenblume on the web or connect with her on Facebook.