**These posts often contain affiliate links. Please see our disclosure policy for details.**
This post is made possible by Wildwedge Golf and RV Park, who provided us with a complimentary mini golf and maze adventure, in order to write about our experience. Thank you!
In an area with world-renowned golf courses, you'd think chances would be good that the three of us Up North Parent moms might be golfers. The truth is that between the three of us, two haven't golfed a single hole, and the third has only golfed one round of 9 holes, ever.
But mini golf? "That's our JAM!"as Laura put it!
We have many fun mini golf hotspots in the Brainerd Lakes Area; perfect for kids and non-golfers, as well as people who enjoy golfing but are looking for a family-friendly leisure activity. One of those hotspots is located on the right side of Highway 371 N when you pass through Pequot Lakes: Wildwedge Golf and RV Park.
None of us had ever been there before, so we headed up to check it out!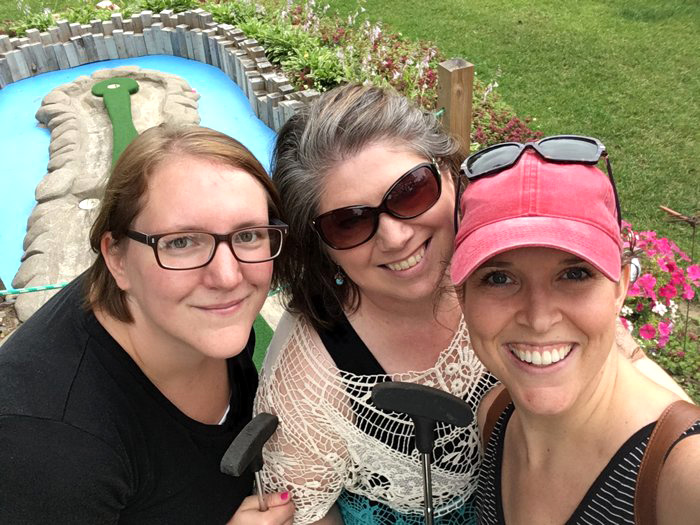 Wildwedge Golf and RV Park
Voted Best Mini Golf Course in Minnesota by WCCO and Minnesota Monthly, Wildwedge Golf and RV Park lies just north of Pequot Lakes in central Minnesota. It boasts a Par 3 golf course, a fun 18-hole mini golf course, and a 10,000-square foot maze.
A bonus, if you are looking for a place to camp, is the on-site RV hookups, complete with water, electricity, and internet. Visiting with family but don't have an RV? Book a room in the Wildwedge lodge rooms that are now available as well!
Becky was very impressed with the covered picnic pavilion area that would be great for special gatherings or birthday parties. How cool would that be? A nice clean and spacious outdoor birthday party area where the kids can play mini golf and the adults can chill!
Another cool fact from Wildwedge's website is that most of the wood for the maze and their clubhouse came from the owner's grandma's property in Crosslake after a big storm knocked down giant red pine trees that were 100+ years old. The owners, Todd and Jill Beyer, couldn't stand to see them go to waste, so they got them milled into lumber and used it to build the clubhouse and maze and other things around the property.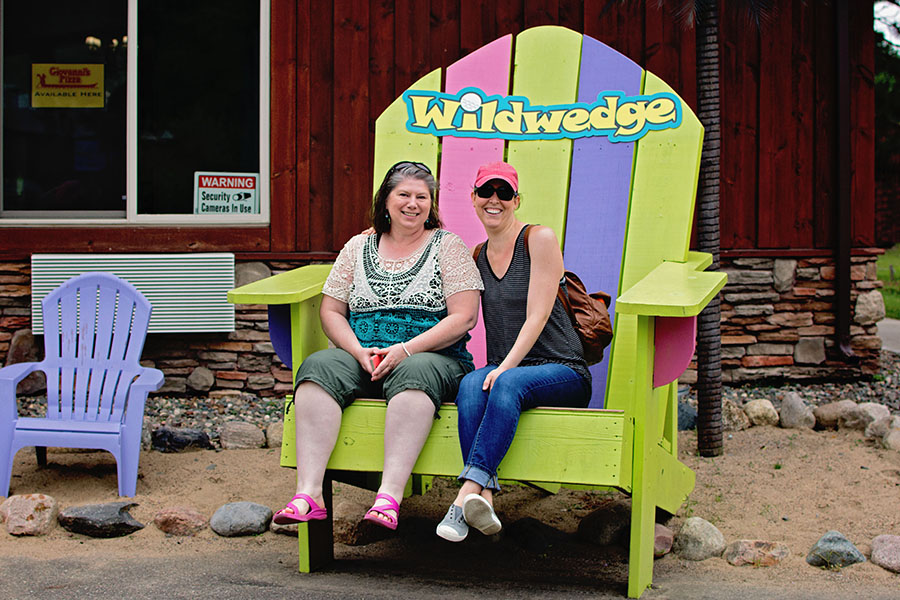 Wildwedge Mini Golf in Pequot Lakes
Their mini golf course was inspired by some of the best courses in South Carolina, featuring waterfalls and ponds, with the landscape changing often. It's a challenging yet enjoyable experience for all ages. You definitely won't get bored working through this course!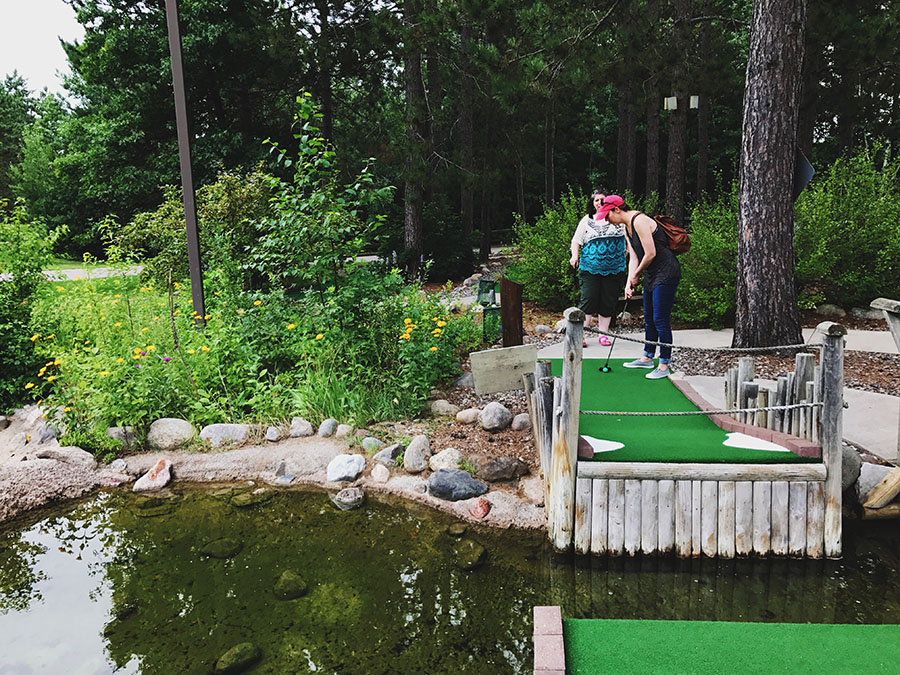 Looking for something to do in the evening when it gets cooler? The lighted course is open until 9 pm on weekdays and 10 pm on weekends.
All three of us liked the quiet calm of this tucked-away treasure. The grounds were well-kept and the landscaping was gorgeous! The holes were spaced out nicely, allowing for a feeling of privacy between groups. This is nice if you're taking kids mini golfing!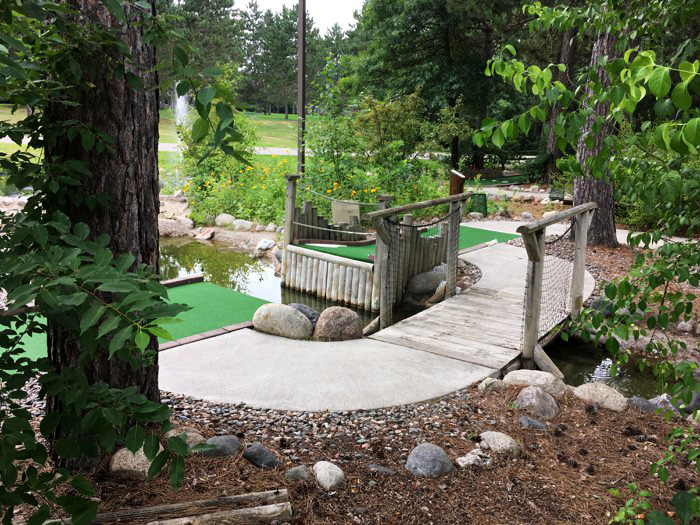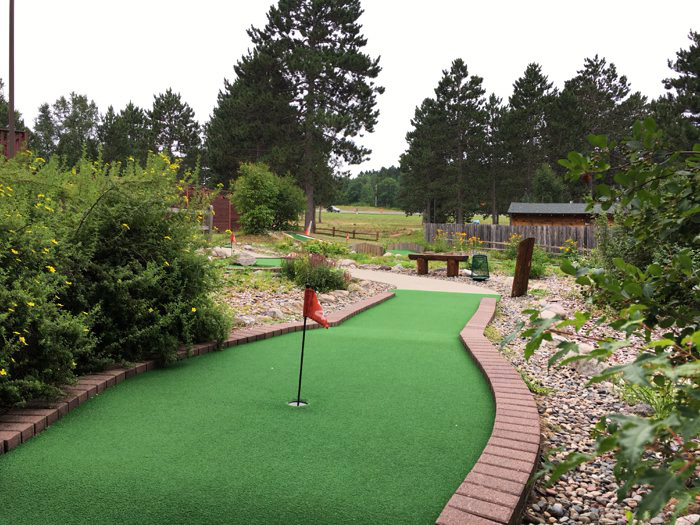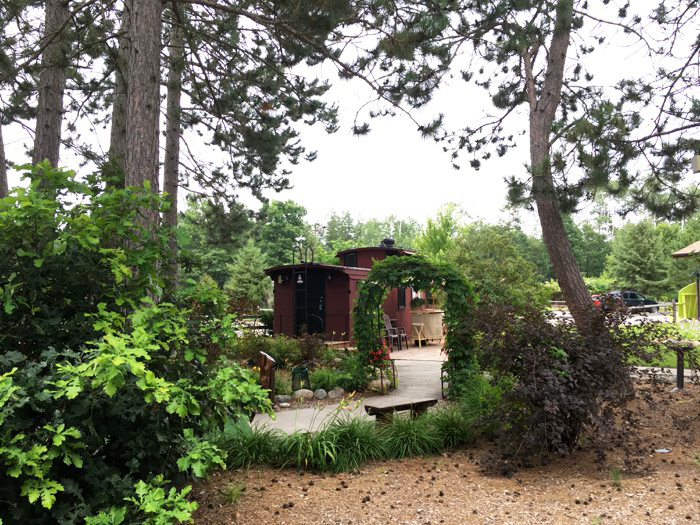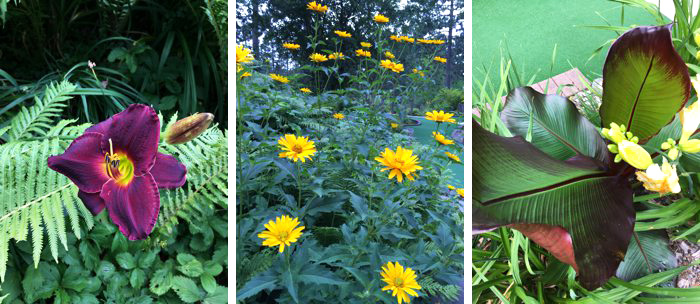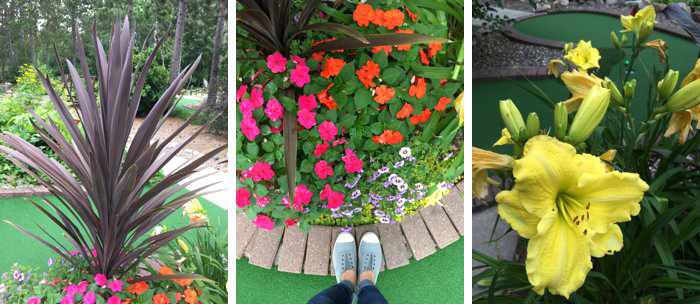 We did notice some other golfers smoking on the course so that might be something to keep in mind if anyone in your family has allergies.
It's Also A-Mazing! – The Amazing Mystery Maze
After you play 18 holes of mini golf, you can try the 10,000 square foot Mystery Maze! The Amazing Mystery Maze opened in 2010 and is loaded with corners, straightaways, and dead-ends that add up to more than 1/3 mile of maze!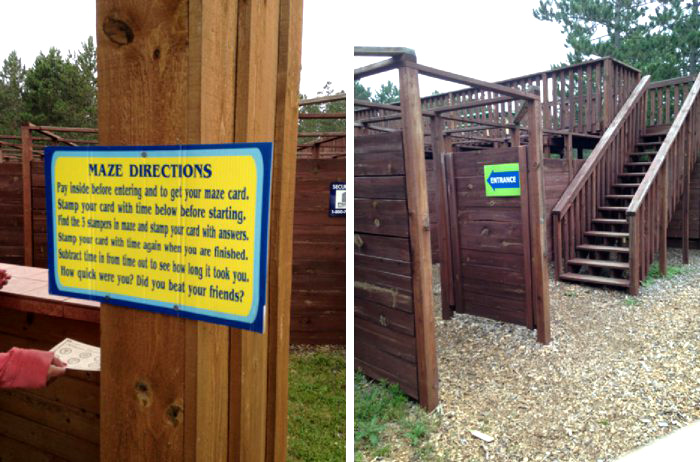 Players get a card with six images that acts as a treasure map. At the beginning of the maze, players punch in on the time clock using their card, and head out to find the first hidden treasure. When you find all of the images, and collect all six stamps, you make your way back to the time clock to punch out, and see how long it took. There is also a treasure waiting back at the clubhouse for anyone who finds all six stamps! (We chose friendship bracelets for our treasures to celebrate the UpNoPa Moms making it through the maze!)
There is also an observation deck where parents can watch their young explorers inside the maze if they don't feel like joining in.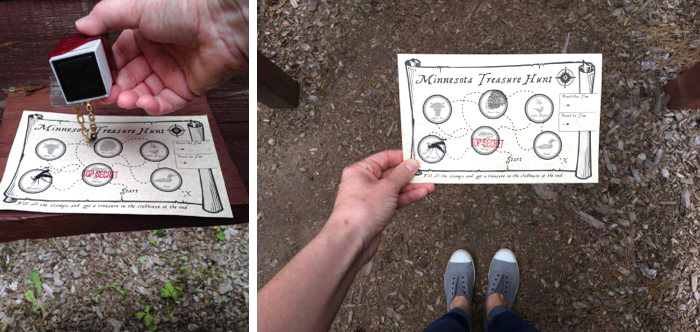 We spent a lot of time laughing until we cried, doubling back and saying "wait, where are we?" Becky would like to note that, if she ever gets lost in the woods, she wants Beth with her since she was the one who found most of the stamping stations!
Laura was preoccupied, looking at the amazing pinecones littered throughout the maze. Laura's a die-hard DIY crafter, so more than a few of those awesome pinecones made their way into her bag for future craft projects!
The Wildwedge Clubhouse and Prop Shop
The inside of the Wildwedge Clubhouse and Prop Shop was gorgeous as well.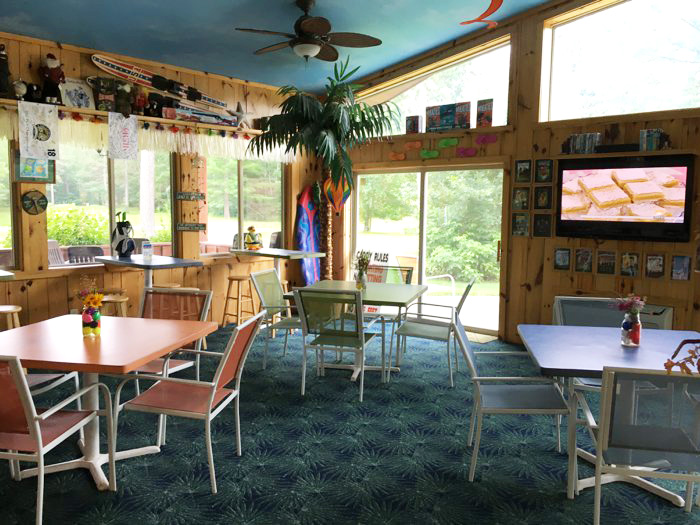 While there, we learned about the business' kid-friendly regular golfing options that allow little golfers to play right alongside mom and dad. Their Executive Golf Course is one of Minnesota's best short game courses, with enough distance, sand, and water to challenge even the more experienced golfer, yet is not intimidating to the beginner. None of the UpNoPa team are golfers, but we know those who love to golf will enjoy the 9 holes of very scenic golf winding through the great north woods.
We also got to love on some adorable puppies bred by the owner, Jill, while we were there. We didn't want to leave!!! (That was an unexpected highlight of the day!)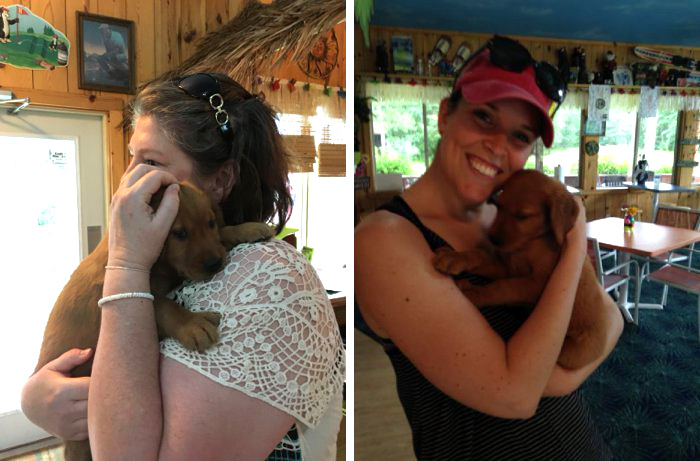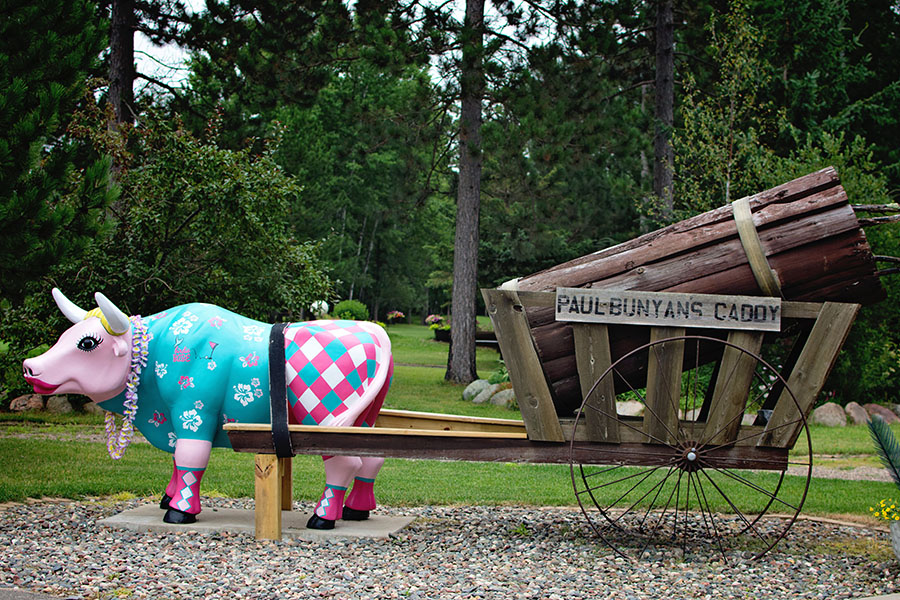 If your family loves mini golf (or regular golf!) and would like to experience another gem in the Brainerd Lakes Area, check out Wildwedge Golf and RV Park in Pequot Lakes. You'll appreciate the tall pine trees, beautiful landscaping, and quiet opportunity to see how good your putting game is.
(And if you are a crafter like Laura, bring an extra bag to collect pinecones in! You'll thank us later! 🙂 )
Learn more about Wildwedge by visiting their website or connect with them on Facebook.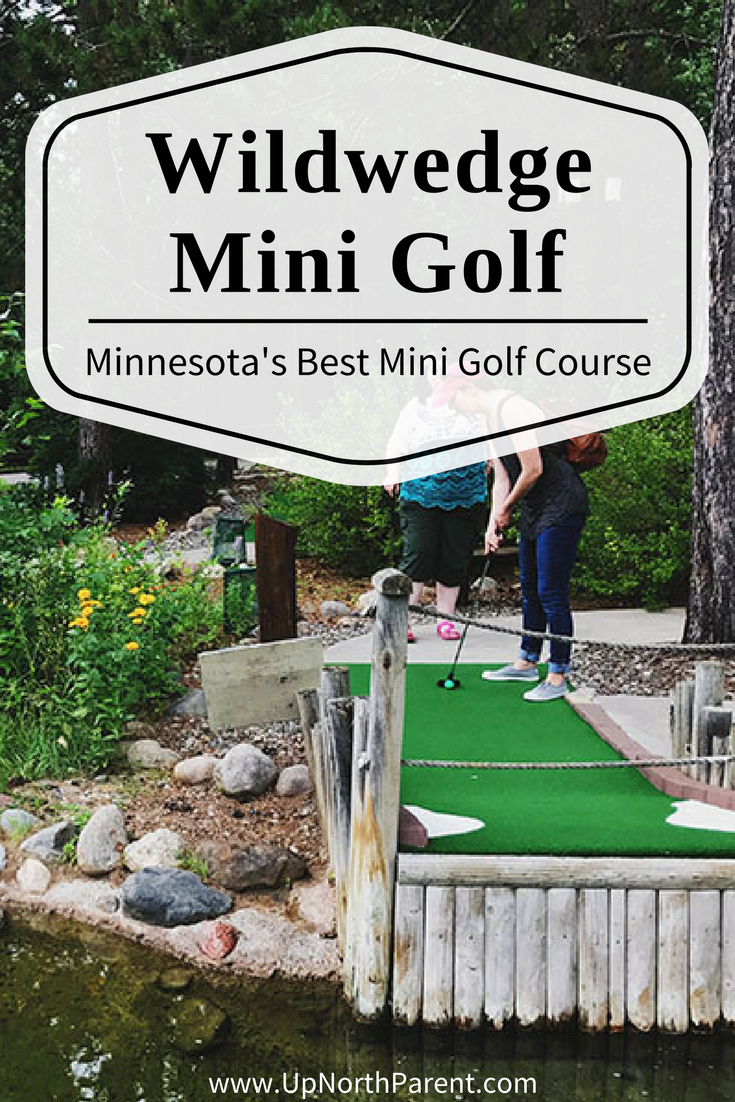 ---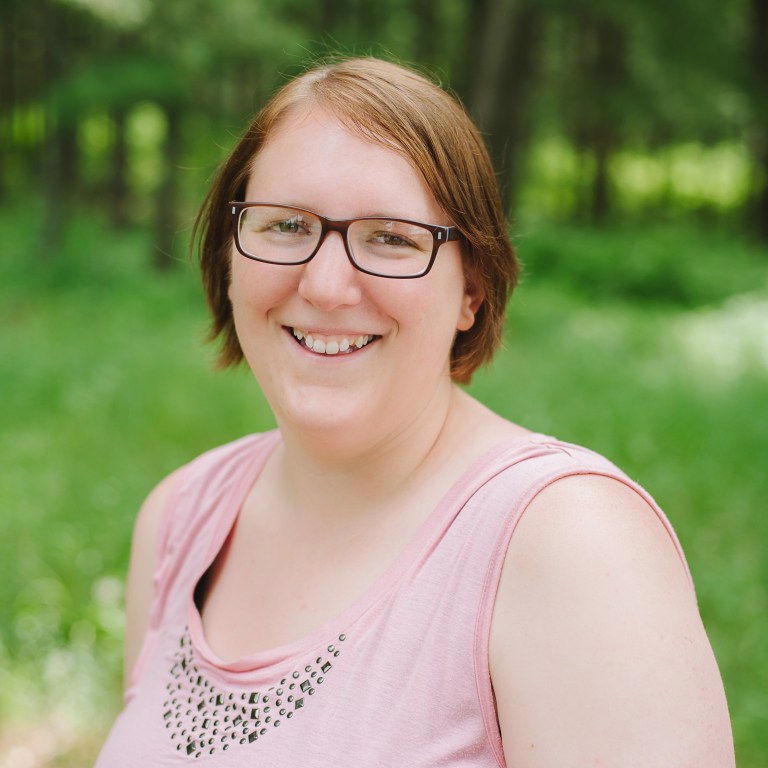 Beth is a single mom, Down syndrome advocate, writer of unpublished YA fiction, hobbyist photographer, planner addict and coffee drinker. She lives in the Brainerd Lakes Area with her three daughters. She enjoys fishing with her girls, bacon, re-reading the Harry Potter series and binge-watching Parks & Rec while eating s'mores. She writes at Beth Hardinger Blog.