**These posts often contain affiliate links. Please see our disclosure policy for details.**
Does your kitchen feel like it is bursting at the seams?
Do you open a cupboard door and get attacked by a landslide of mismatched containers, food or cleaning supplies?
Before you throw in the towel and commit to house-hunting for a bigger home, take a look at these ways to free up space and take advantage of the storage and organization you already have.
Kitchen Hacks to Keep your Life in Order
Keep Your Counters Clear
The clearer you keep your counters, the easier it will be to bake a batch of cookies or prepare a meal.
Clutter on the counter will make your kitchen look and feel smaller.
We all have the habit of leaving smaller appliances on the counter, but if those items only get used once a month, they need to be put away.
If you have a tendency to put coupons, bills, and other things on the kitchen counters or even in a kitchen junk drawer, try to figure out an alternative.
One good way to organize that type of situation is to use your fridge and a magnetic box or clips to easily store coupons, notepads, grocery lists, etc.
Stay On Top of Things
It's definitely a good habit to have a grocery list and pen hanging on your fridge so that when you run out of something you can write it down on the list right then.
Eliminating the need to scan your cupboards for the basics when it's time to make your baking shopping list is an excellent habit to get into any time of year.
Be sure that you have stored your baking items, bowls, tools, pans, and even ingredients if there is room, in the cabinets nearest to the largest area of counter space.
Try using clearly labeled containers to make it easy to see what's there.
Look for Storage in Unlikely Places
Is the kitchen feeling cramped?
Square containers can be a parent's version of Legos when it comes to inside-the-cupboards organization.
Round or mismatched containers eat up space and look unattractive.
By investing in a set of nesting-style square containers, like Tupperware or Rubbermaid containers, you will gain shelf space and functionality.
Take Advantage of Wall Space
Awesome space savers like wall-mountable pot racks, knife holders, spice organizers and even measuring cup holders can free up cupboards and drawers and help homeowners take advantage of dead space.
Look Inside Doors
There are a plethora of bathroom-type organizers that mount to regular doors or vanity doors that could easily be converted into kitchen storage as well.
Metal mesh toothbrush holders can be attached to the doors under your sink to hold sponges and cleaners.
A couple of coats of chalk paint on the inside of a cupboard door also turn that space into a handy chalkboard for meal-planning or a place to keep track groceries needed and to-do lists.
Use your imagination and look for unused areas that could easily be converted to extra space for your family.
– – – – –
With a little time and creative thinking, you can use these kitchen hacks to keep your life in order as the seasons change once again.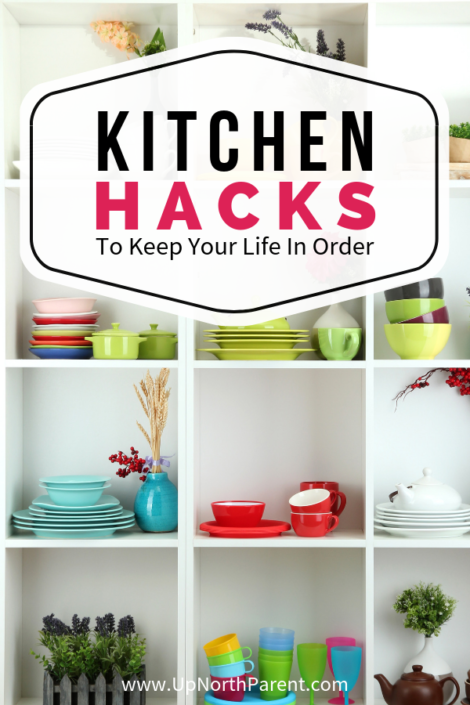 P.S. Before you begin to try to organize your kitchen, you might benefit from a deep decluttering of it first!