**These posts often contain affiliate links. Please see our disclosure policy for details.**
Back to school season is photo season! Here are six creative first day of school picture ideas that will not only commemorate going back to school, but create a memorable keepsake for the future.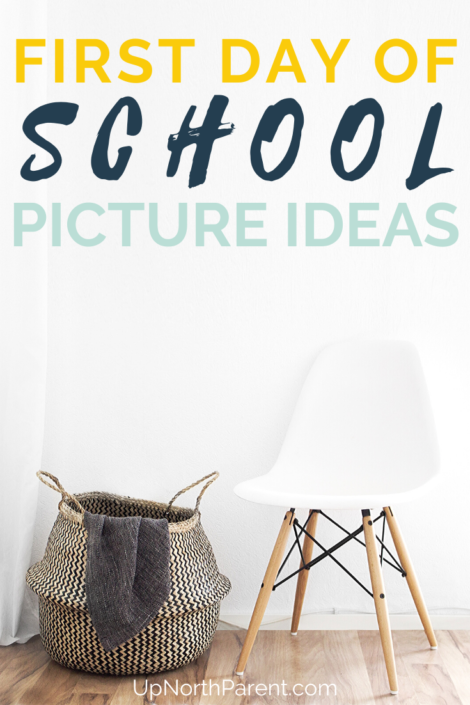 If you're on any form of social media, you are familiar with what happens when the first day of school arrives. (You know what I'm talking about, right?)
First day of school pictures!
The feeds of my Facebook and Instagram accounts are full of cute kids with meticulously selected outfits, standing outside in honor of the first day of school. The little ones are usually beaming with excitement, while the older ones are begrudgingly smiling for mom.
I remember first day of school photos from my childhood; they're fun to look back on now, decades later. And you better believe that once Raleigh starts school, I'll be right there with all of the other photo-happy parents!
The options for back to school photos are endless. They can be as simple as "1st Grade" written on a white piece of paper with a marker or as fancy as a hand-lettered chalkboard sign, and anything in between.
Here are some of our favorite ideas for taking awesome first day of school photos of your kids!
6 Awesome First Day of School Picture Ideas
1. Handwritten Chalkboard Sign
This is the "paper and marker" method, kicked up a notch. Writing on a chalkboard is easier today with the invention of chalk markers; you can write and draw as you would with a marker on paper.
Write as little (1st Grade), or as much as you want (First Day of 1st Grade, Wants to be a Firefighter when he grows up, Favorite Food: Donuts). It's easy to customize it and repeat year after year.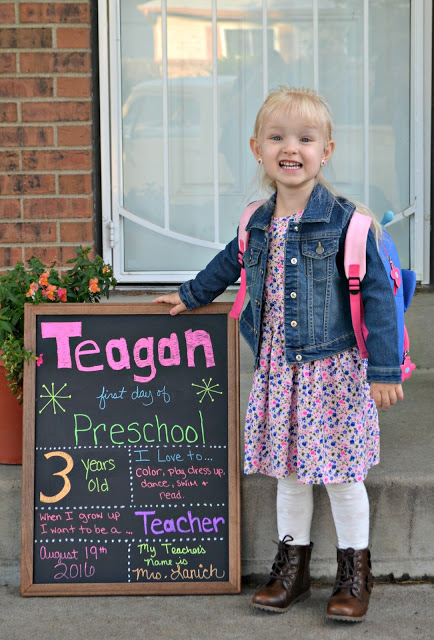 2. A Printable Sign
The internet is full of free back to school printables available for download. Some of them can be customized using programs like Photoshop, and some are ready to be printed and used.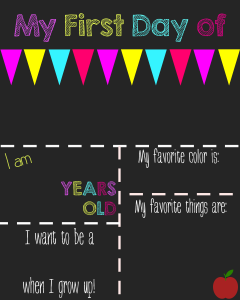 3. Sidewalk Chalk
This is a fun twist on the sign idea, and involves writing on the sidewalk or driveway. I've seen some people write more than just the grade the child is entering (like what they want to be when they grow up etc), but depending on what you're writing on, it can be hard to read if you try to write too much, too small.
Photo from How to Photograph Your Life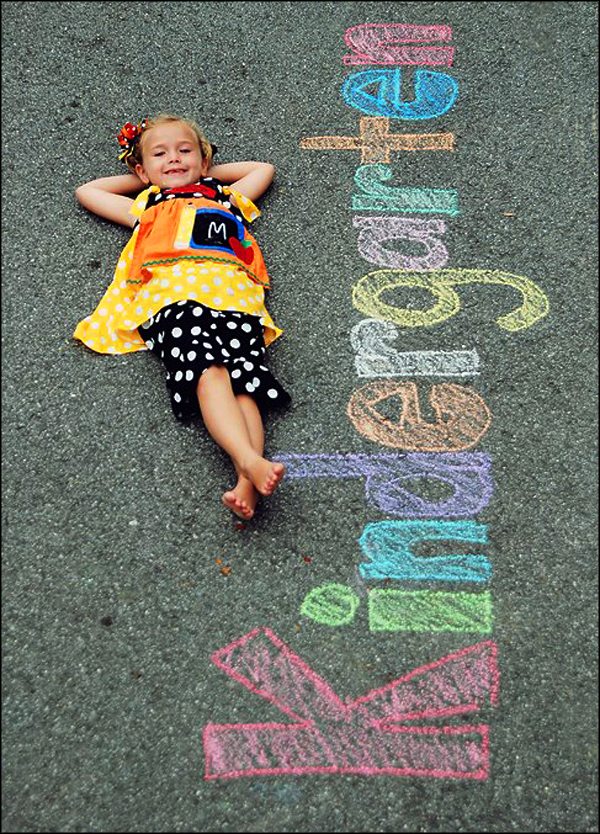 4. Photo of a Photo Series
This is a neat photo idea that can be used for any major milestone. I've seen it used for wedding anniversaries, birthdays, and family photos.
On the first day of school (usually preschool), you take a photo of your child. You print it as an 8×10 and frame it.
Then the next year (kindergarten), you take a first day of school photo of her holding her framed 8×10 from the first day of preschool. Then, you print this new photo as an 8×10 and put it in the frame.
1st grade: you take a photo of her holding the framed kindergarten 8×10 (which shows her holding the framed preschool 8×10 in it.)
It's kind of a mind trick to keep it all straight, but it works! If you continue to print an 8×10 of each year's photo, and then use that as a prop in the following year's photo, you'll end up with an amazing series when they graduate!
Photo from Pinterest
(I couldn't find the actual source. If someone knows, let me know!)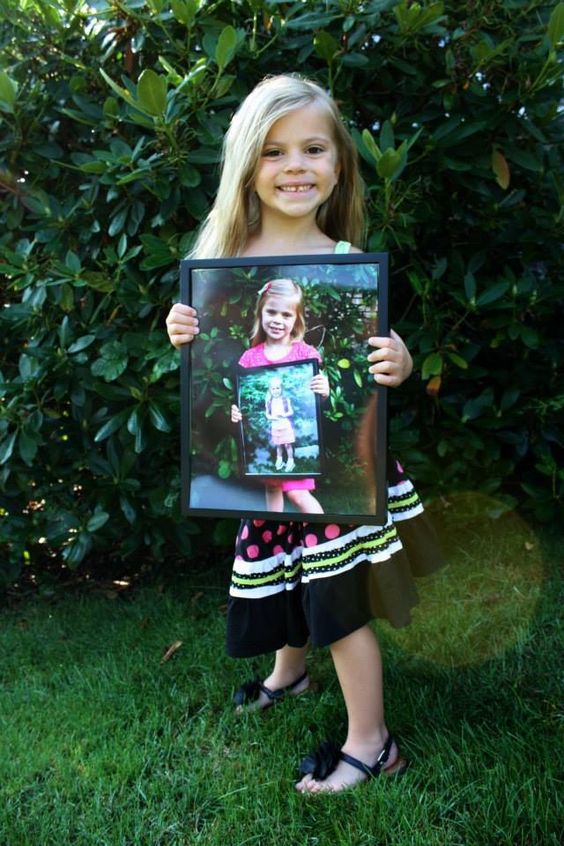 5. A Letter Board
Letter Boards are trendy right now, and for good reason! They're cute, customizable, and classic. You can write whatever message you want, and they are versatile too; you can use it as home decor the rest of the year.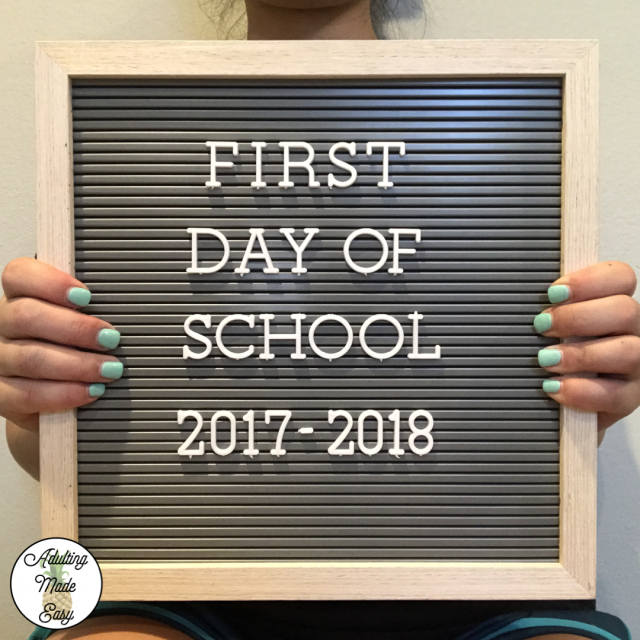 6. "Class of" and Handprint T-Shirt
This is a fun idea I saw on Pinterest. You make a custom t-shirt (adult sized) with the graduation year on your child on the front, and then room for a handprint on the first day of each grade on the back.
You add a handprint year after year, and take a photo of your kid wearing the t-shirt. As they grow, the t-shirt will fit better each year, and the back will be filled in with handprints.
It creates a special keepsake for graduation too.
Photo from Where The Smiles Have Been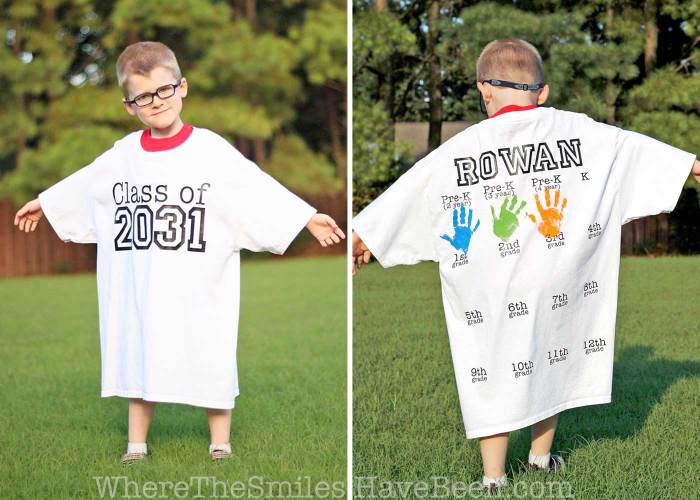 I figured there had to be something similar sold on Etsy for people who didn't want to make one themselves, and sure enough, I found one! This etsy listing has pretty much the same customizable shirt for you to buy!
Bonus #7:
You can make any of these 6 ideas even better by having your child sit or stand in the same place every year; the front porch steps for example. As your child grows, you'll be able to see their growth in relation to the same steps or same tree year after year.
(If you move, remodel or cut down trees, this might not be possible. That's ok. It just adds another element to the annual first day of school photos that make it fun to reflect on, if it's possible.)
– – – – –
Much of the country has been back to school for a few weeks now, so their First Day Photos have come and gone.
But for us in much of the midwest (and Minnesota specifically), school doesn't start until after Labor Day.
Enjoy these last few days of summer, let your kids soak up the last homework-free days, and get ready to take a epic First Day of School photos with these awesome ideas!