**These posts often contain affiliate links. Please see our disclosure policy for details.**
We live in a digital age.
We literally have a computer in our pocket; one that is so much more powerful and advanced than even the fanciest desktop was a decade ago.
Texts are sent with a few thumb swipes, and phone calls are no longer long distance. We are even managing our money online with mobile banking, and many companies are moving to electronic statements in an effort to save paper and postage.
This is a very different era than just a decade or two ago.
Communication Changes in the Digital Age
With the advancement of smartphones and the ease of texting, some parts of communication have begun to fade.
I'll be the first to admit that I much prefer texts or emails to phone calls, and I know I'm not alone in that opinion.
With the growth of social media, we are able to stay in touch with people and watch what is happening in their lives, all without even talking to them at all. The feeds of any social media channel allow us access and knowledge without really connecting.
Social media is great in many ways; allowing us to stay in touch with hundreds of people that we would surely have lost touch with otherwise.
But in many ways, this reliance on social media has pushed us away from in-person, face-to-face contact. Even for an introvert like me, face-to-face contact is necessary. Vital even.
How do we balance the digital age with the human connection that we all need, whether we acknowledge it or not?
4 Tips for Finding Balance and Connection in the Digital Age
1. Engage.
Engage with the people you follow on social media.
Comment, message, "like", connect. Don't just watch silently.
2. Unplug.
I'm so guilty of the mindless social scroll.
Instagram is my biggest downfall; I'll sometimes realize I'm just standing in the middle of my kitchen, staring at my phone as I scroll.
If we can intentionally set limits and give ourselves the opportunity to unplug once in awhile, it gives us a much needed breather from the constant scroll and information overload.
Even something like putting your phone on airplane mode for a half hour during dinner one night or leaving it inside when you go outside for an hour on the weekend is a good place to start. It sounds so simple, but as anyone who is the least bit addicted to technology will attest to, it's NOT easy.
But it's worth it.
3. Get face to face.
If you're an introvert like me, this might not mean making a ton of plans with a bunch of different people. But making plans every so often to meet up with a friend for coffee or lunch and some in-person chatting is crucial.
I have friends I only get together with a couple of times a year. I follow their social media feeds to stay in touch in the meantime, but that face-to-face connection is so important and so appreciated when we are able to make time to get together. It keeps our friendship strong.
4. Remember what matters most.
Remember that the most important parts of your life are right in front of you.
In the walls of your own home.
Our online connections are important. Those of us with online businesses have a lot depending on our online interactions.
But ultimately, those who matter the most are the people we share our homes with. Our family and our friends we do life with.
Let's not get so caught up in the digital age that we forget or neglect the people that matter most.
– – – – –
The digital age is here to stay. And in many ways, technology is a huge blessing that adds to our lives.
However, it's so easy to get sucked into the digital world, and the social media world in particular, and begin to neglect the world inside the walls of our own home.
By using these four key tips for finding balance in the digital age, we can do our best to find much needed connection in the midst of all of it.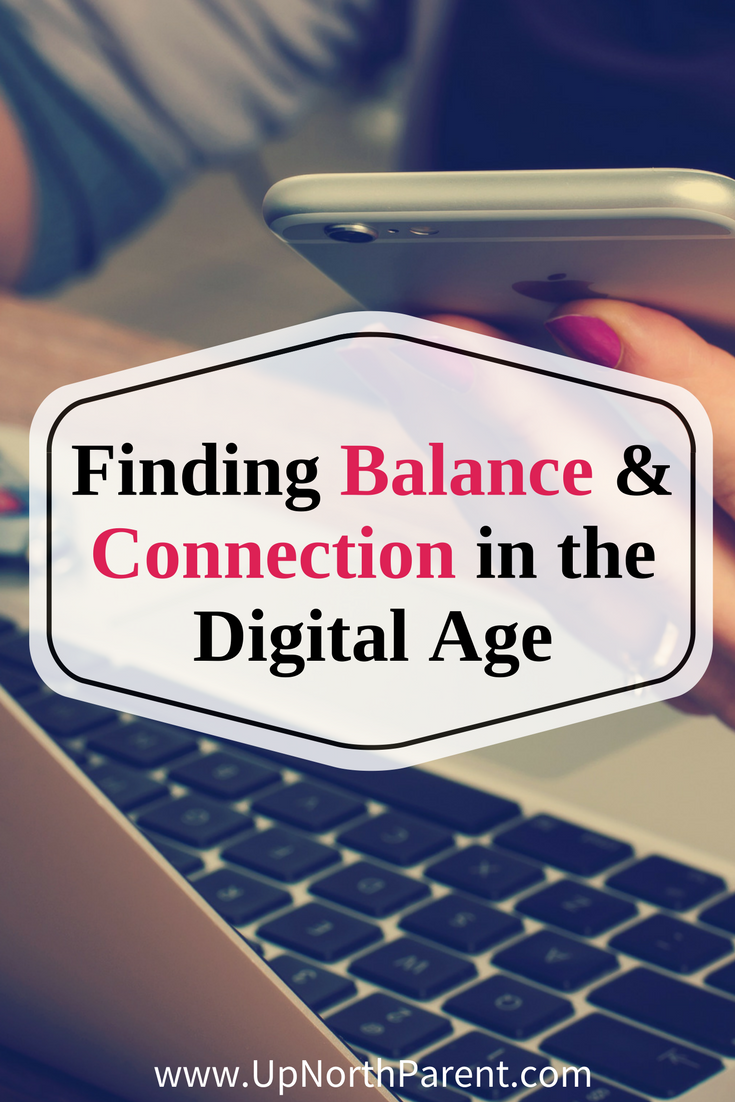 ---
Laura is a motherhood blogger and photographer from the Brainerd Lakes Area in Minnesota. Her mission is to seek joy in the midst of motherhood, and encourage other mamas to do the same. She is married to her high school sweetheart, Matt, a mama to their firstborn son, Raleigh, and a dog-mama to their feisty 6lb toy poodle, Remy. She spends her days chasing after them, while daydreaming about naps, crafts, and donuts with sprinkles. She writes at www.lauraradniecki.com.