**These posts often contain affiliate links. Please see our disclosure policy for details.**
I am in the thick of motherhood right now.
Some people call it being "in the trenches." Whatever name you give it, I'm in the middle of it: the blessedly good but completely exhausting days of raising a young toddler.
It's mind-boggling to me how in the span of a single day, my thoughts and emotions can range from complete adoration and awe over my beautiful first-born toddler son, to delirious exhaustion, overwhelming frustration, and just downright weariness.
I love being a mother. I really and truly do. But if I've learned anything over the last year and a half since I became one, it's that motherhood (while amazing) is also HARD.
PARENTHOOD IS HARD.
The hard and sleepless newborn days give way to tiring days chasing after a crawling, walking baby and then to a running toddler. And then come the emotions and the tantrums…
Gretchen Rubin could not have been more spot on when she coined her famous quote, "The days are long, but the years are short."
Oh how true that is.
As I reflect on the current phase of my life as a mother, this very tiring season of caring for a busy, curious, opinionated toddler son, I am amazing at how I can be so happy and grateful on one hand, and so tired and weary on the other.
That's the dichotomy of parenthood, perhaps.
In addition to Gretchen Rubin's above quote, which is basically my motherhood mantra, there are a few other quotes that help me keep everything in perspective during this season of my life.
1. J. Cole said, "The bad news is nothing lasts forever. The good news is nothing lasts forever."
This quote helps me keep things in perspective when they're hard, by reminding me that these hard times will not stay hard forever. The quote also helps me remember that things are fleeting, especially the good, sweet times. It's often a push to help me remember to savor each and every phase.
2. The concept of "seasons of life" has been helpful to me too. Everything is a season, like the bible says. Time passes, seasons change. This season of raising babies will not last forever, and will soon be only a distant memory.
While that doesn't take away the feelings of exhaustion and frustration that crop up in the thick of it, it does help remind me that time is passing and I know one day, I will miss this.
3. The final thought is something my grandpa used to tell me all the time. He would say, "This too shall pass."
Along the lines of nothing lasting forever, this is a good reminder that time is passing, whether I like it or not. The hard things will not stay hard forever, and I need to cherish the good because they're passing too.
The Mystery of Parenthood
I have yet to meet a parent who isn't mystified both by the passage of time ("I swear, I just blinked and they are ready to graduate high school!") and the dichotomy of the joy of parenthood mixed with the challenges and often just plain HARD times of raising a child.
How parenthood can be all of those things at once is truly a mystery.
As tired as I am, and as much as these toddler emotions are wearing me out, the honor of being my son's mother is not lost on me.
I am grateful.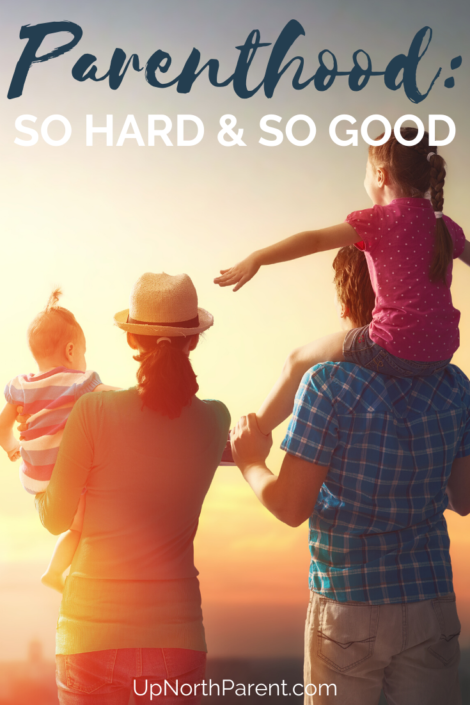 ---
Laura is a motherhood blogger and photographer from the Brainerd Lakes Area in Minnesota. Her mission is to seek joy in the midst of motherhood, and encourage other mamas to do the same. She is married to her high school sweetheart, Matt, a mama to their firstborn son, Raleigh, and a dog-mama to their feisty 6lb toy poodle, Remy. She spends her days chasing after them, while daydreaming about naps, Dairy Queen, and donuts with sprinkles. She writes at www.lauraradniecki.com.