**These posts often contain affiliate links. Please see our disclosure policy for details.**
I've been seeing and hearing about lash extensions all over social media for the past few years.
I knew about false eyelashes (as in, the thick strips you buy at Target), and I've worn them for dance competitions in high school. But I hadn't heard much about eyelash extensions until I started seeing people post about them on Instagram.
In general, I'm a low fuss, low maintenance person, and I'm also a busy mom of a toddler. Most days, I don't wear makeup and if I do, it's usually just face powder and mascara. My eyelashes have always been adequate. They're moderately dark and moderately long, but only if I wear mascara. They've never been something that catches people's eye.
It might seem silly how intrigued I was about lash extensions but the idea of having a wow factor to brighten my tired eyes and add a little lift to my face spoke to me.
Fate Led Me to Lash Extensions
Every time I saw people with them on Instagram, I made a mental note to look into them locally and see who does them around the Brainerd area. But like life is, it's busy and I hadn't gotten around to it yet.
And then recently, Becky and I were at Infinity Medspa to get our facials and right before my turn, I took one of the esthetician's business cards. I flipped the card over and sure enough, "Lash Extensionist" was one of her credentials and featured specialties!
It was FATE!
I proceeded to ask my esthetician, Kelly Vice, all about lash extensions during my facial, and by the end, I was convinced I wanted to try it out. I told my sister about it and she decided to try it as well. We made our appointments and the excited wait began!
My sister got her full set of lashes put on the day before I did, and her photos only made me even MORE excited for my turn. And then, the next day came and it was my turn!
Choosing a Trusted and Experienced Lash Extensionist
Kelly Vice is an esthetician who works in the Infinity Medspa space near Boulder Taphouse. She is certified as a lash extensionist as well, meaning she took specific additional training to learn about lashes and how to do them well. She is an expert.
When talking to her about her training and her work experience, she said she went to school to be an esthetician and then received additional training to specialize in lashes. After her training was complete, she practiced on family and friends for a full year before she felt she had honed her skills enough to start offering the services to the public. She's now been working as an esthetician doing primarily lash extensions for several years and she loves her work.
Kelly's work experience made me feel comfortable and sure that I could trust her with this process.
Plus, she has lash extensions on her own eyes, and has for a long time. That made me trust her even more, because she knows what it's like to wear them and care for them!
The Process of Getting Eyelash Extensions
We began by taking a few photos that would show the "Before" – what my lashes were like before she started. This is without any makeup on.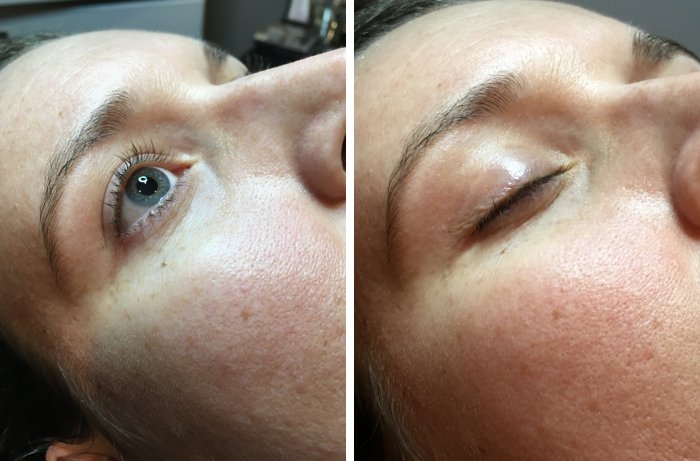 The appointment to put on a full set of lashes took about 1.5 hours. During that time, I laid on her table on top of a heated blanket with my eyes closed, listening to relaxing music.
Before starting, I told Kelly I wanted to go with the "D" shaped lash; the most dramatic curl. I contemplated doing a "C" which is more of a classic shape, but I decided that if I was going to go for it, I wanted to go big or go home!
Kelly uses synthetic mink eyelashes, and there are a variety of thicknesses and lengths that she may use. She makes sure to only use a lash that is as thick as your natural lashes; not any thicker or heavier. This is to protect your natural lashes and your hair follicle. She gave me a choice of the length of lash, and once we had determined how long the longest ones would be, she used two shorter variations so that the end result would be a varied, realistic look.
Each lash extension is glued onto one of my natural lashes, using a medical grade adhesive.
I didn't know what the application process would be like but it was one of the most relaxing experiences I've had in a long time. I was about 30 seconds away from falling asleep at one point, and could easily have taken a nap.
I don't know how Kelly does it; gluing tiny little lashes onto existing lashes one by one. But she does a marvelous job at it and the 1.5 hours passed very quickly.
Soon she told me we were done and it was time to take a look!
I LOVE THEM!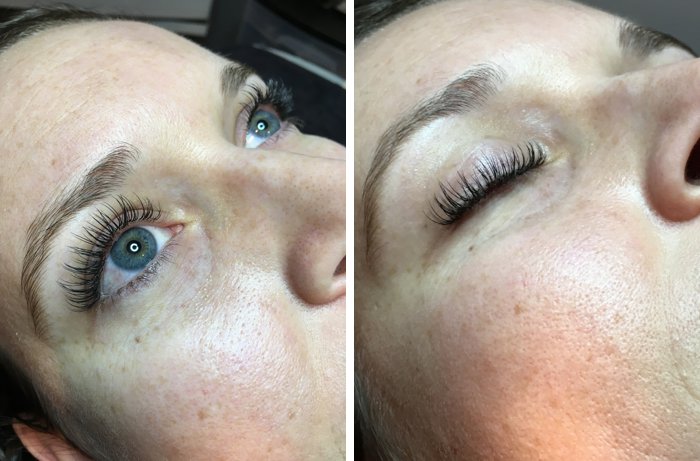 Before and After, looking straight on: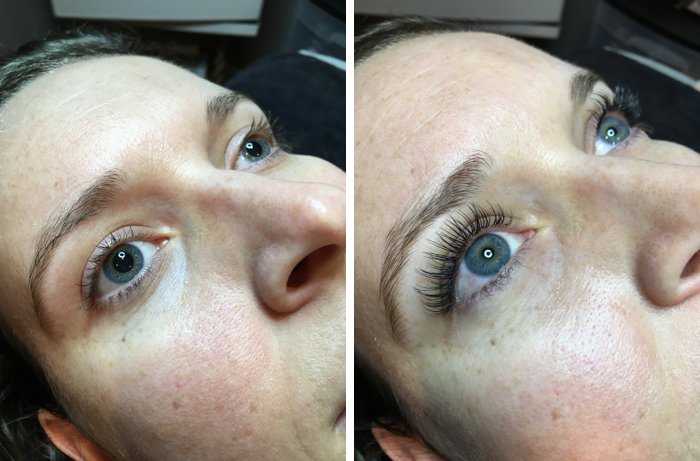 Before and After, looking down from above: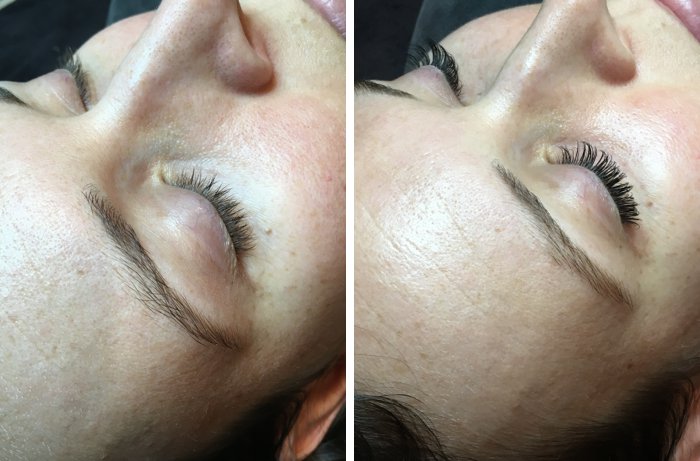 Kelly gave me some care instructions:
Don't get them wet for the first 24 hours. This allows the glue to fully cure so the extensions will last longer.
She told me the more I baby them, the longer they will last. It's normal to shed 1-5 eyelashes a day in our daily life, and as those fall out, the extensions will fall out with them. The more gentle I am with the lashes though, the longer they will last.
Don't vigorously scrub your face, don't sleep on your face, don't wear mascara because it dries out the adhesive and makes the lashes dry and crunchy, and don't use oil-based products on your eyes or face.
She also told me to buy baby shampoo and wash my eyelids and lashes with a little bit of baby shampoo mixed with water every few days. As long as I do this gently and pat my face dry with my towel, I can minimize the loss of any lashes and make mine last longer.
I normally sleep on my stomach, so it's been an adjustment to make sure that I don't press my face into my pillow. As long as I make sure the edge of my face/eyes are off the edge of my pillow, I've been fine as I sleep.
It's a little weird to not be able to quickly and forcefully dry my face after a shower. Instead, I have to be careful and pat my eyes and lashes. Like Kelly said, I'm trying to baby them as much as I can so they last as long as possible.
If this full set is the only money I wanted to spend, I could let them fall out on their own. They would continue to get more and more sparse until all of the lash extensions fell out, leaving new growth of natural lashes behind.
However, for people who want to maintain their lash extensions, it's recommended they go in for a fill every 2-3 weeks. At this shorter appointment, Kelly will add in some new lashes to replace the ones that have fallen out, making sure that my eyes look as full and balanced as they did after this initial full set.
I am not sure yet how long I will maintain my lash extensions. (A few months? Maybe more? I'll see as I go.)
They do require an investment in money as well as time.
But during a time in my life where I am not spending much of my time or energy focusing on myself, I am thrilled to have a small thing just for me, that helps me feel my best.
The Basics of Lash Extensions – What You Need to Know:
Lash extensions can be made of silk, mink or synthetic fibers (Kelly prefers and uses synthetic mink). They are glued carefully onto your existing lashes using a medical grade glue.
The end result is fuller, longer, darker eyelashes that don't require any mascara or even eye shadow or eye liner to be striking and glamorous.
You can choose the shape of the curl and the length to some extent, but it's up to Kelly to determine how thick the lashes are that she will use, depending on how thick your natural lashes are.
The extensions will shed at a rate of 1-5 per day, since that's the rate our normal eyelashes fall out. If you're rough with them, they can fall out faster. If you baby them, you can make them last longer. It's recommended to get a fill every 2-3 weeks to keep them looking their best. The fill appointments are shorter and cheaper than the full set is.
After getting the full set put on, don't get them wet for 24 hours to allow the glue to fully dry. After that, the lashes as well as your eyelids should be washed using baby shampoo mixed water to remove dirt, oil and bacteria to avoid infection.
If you want the lashes removed completely, it's best to go back in and have the technician remove them. Or, you can let them fall out on their own.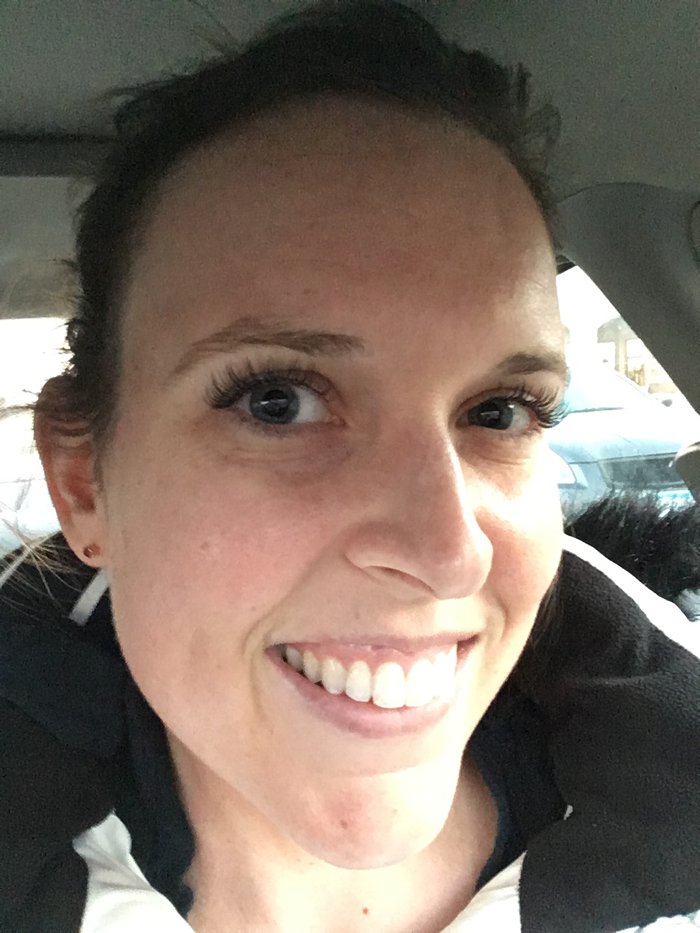 When I first told my husband I wanted to try eyelash extensions, he was a kind of baffled. He said, "I've never looked at you and thought you had a problem with your eyelashes."
Valid point.
It's not that I have a problem with my natural lashes; it's just that I wanted to try something that will give me a boost without me having to put on any makeup in the morning.
It's something that gives me a jolt of confidence and a spring in my step, and makes me smile a little bigger when I see myself in the mirror.
If you've been wondering about lash extensions, my advice to you is to look into it and try it out.
Find someone who is certified and has an extensive work history; this isn't a regulated industry yet – anyone can watch someone else apply them and then turn around and do it on others.
You want to make SURE that your technician is certified and experienced. (If you're in the Brainerd area, I can't recommend Kelly enough. She was amazing.)
And then give it a try! The best part about something like this is it doesn't last forever, so if you hate it, at least you tried it out. You can always go back to how they were before.
But I'm willing to bet you won't hate it! I know I sure don't!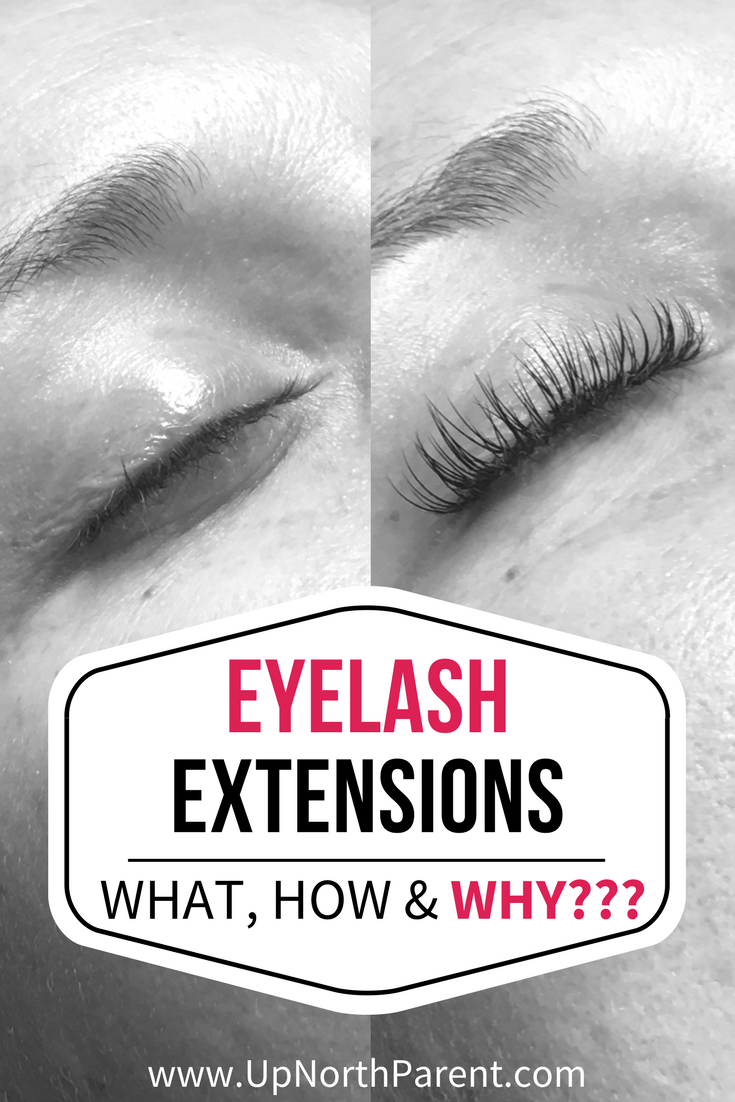 ***EDITED TO ADD: GIVEAWAY IS CLOSED*** Giveaway | Enter to win a $75 Gift Certificate from Infinity Medspa of Baxter!
Thinking lash extensions are for you? Or a stress-melting facial? Or some GLO Minerals makeup?
You are in LUCK! One lucky winner will walk away with a $75 Gift Certificate from Infinity Medspa of Baxter to apply towards the expert medspa service or product of their choice. Enter below or visit the giveaway on Up North Parent's Facebook Page here.
Giveaway Rules
• Prizing courtesy of Infinity Medspa and will be in gift certificate form only (no cash exchange)
• Giveaway open to US addresses only
• ONE lucky winner will win a $75 g.c.
• Residents of USA only please.
• Must be 18 years or older to enter
• One entry per household.
• Staff and family members of UpNorthParent and Infinity Medspa are not eligible.
• Grand Prize winner has 48 hours to claim prize
• Winner will be chosen via Rafflecopter on 12/10/17
---
Laura is a motherhood blogger and photographer from the Brainerd Lakes Area in Minnesota. Her mission is to seek joy in the midst of motherhood, and encourage other mamas to do the same. She is married to her high school sweetheart, Matt, a mama to their firstborn son, Raleigh, and a dog-mama to their feisty 6lb toy poodle, Remy. She spends her days chasing after them, while daydreaming about naps, crafts, and donuts with sprinkles. She writes at www.lauraradniecki.com.