**These posts often contain affiliate links. Please see our disclosure policy for details.**
There's something about the back-to-school season that makes me feel a bit like a giddy kid again.
Maybe it's the aisles full of school supplies, the blank notebooks just waiting to be filled, or the sea of backpacks offering an option in every color and pattern.
(I almost wrote, "Or maybe it's the section of Trapper Keepers…" HAHA! Who remembers Trapper Keepers? Me!!!)
It could also be the atmosphere of hopeful excitement that seems to surround both school-aged kids and parents alike.
My Back to School Memories
Whatever it is, this season of back to school is always one I remember fondly from my childhood. My sister and I would take a trip to the Mall of America with our mom and shop for school clothes. (And eat at Panda Express!)
We would get the lists of school supplies we needed for our class, and stock up on fresh supplies to start the school year off right.
We would deliberate and choose the perfect first day of school outfit, and we would start that first day a little bit excited to get homework again, after the summer break without it.
Granted, the novelty of homework would wear off by day three, but still… that excitement was there as the summer ended and school started back up again.
Back to School in The Future
I'm long past my school days now; I'm even beyond my college years with no plans of going back to school. I am a mom now, so my next back-to-school experience will be getting my son ready for school.
For now, he's only a year and a half; too young to go to preschool. I'm home with him full-time right now, so for us, the back-to-school season doesn't mean much change except signaling the end of the summer, the start of fall, and the approaching holiday season.
Back to School Nostalgia
However, maybe it's the air of change that surrounds the back-to-school season, or maybe it's the emotions I feel when I think about the memories of my own school years, but I feel a distinct sense of nostalgia as the summer wraps up and the school year starts.
It's a season of change for kids and parents everywhere. Good change, yes. But change, all the same.
This year, it makes me take a second look at my son Raleigh, and marvel at the recent changes and growth I see in him.
I compare him this year to how he was last year, and it's shocking how much changes from a 6 month old baby to a 18 month old toddler.
It's night and day, really.
He is not a baby anymore; he's a little boy now.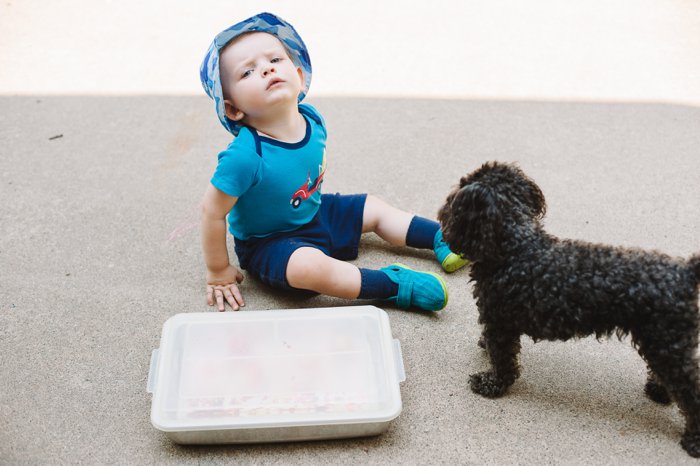 I Have "Time"… But Do I Really?
I know we have a few years before Raleigh is even ready for preschool, so I have time.
"Time"…
But do I really?
It doesn't matter if I have 1 week or 3 years; time will go fast. I know it won't be long before I'm getting Raleigh's back to school list of supplies, and taking him shopping for them.
I know I'll soon be buying him school clothes and packing his lunches, listening to him talk about his teacher and new friends he met at school.
It Will Be Here Before I Know It
So for now, I am soaking up having him at home with me.
Soaking up his toddler years.
No matter how tired or frustrated I get, I know full well this time is sacred and fleeting. The school years are coming, whether I am ready or not.
For now, we will read books, build forts, make a mess in mama's craft room, and make memories with our cousins.
For now, we stay little, just a bit longer.