**These posts often contain affiliate links. Please see our disclosure policy for details.**
EVERYONE IS SEARCHING FOR WORK-LIFE BALANCE. HERE'S A SECRET… WORK-LIFE BALANCE IS A MYTH! INSTEAD, LEARN HOW TO AVOID FEELING LIKE A FAILURE AT EVERYTHING WITH THESE SIMPLE TRICKS TO SUCCEED WHERE WORK-LIFE BALANCE FAILS.
Work-life balance is the ultimate goal for most people.
And if you ask anyone, it is likely one of the things they struggle with the most.
A simple Google search for "work life balance" gives you over 1.6 BILLION hits.
It's obviously something people want and can't seem to master.
THE SECRET: WORK-LIFE BALANCE IS A MYTH
Here's a little secret…
NO ONE has mastered work-life balance.
No one.
WORK-LIFE BALANCE IS A MYTH.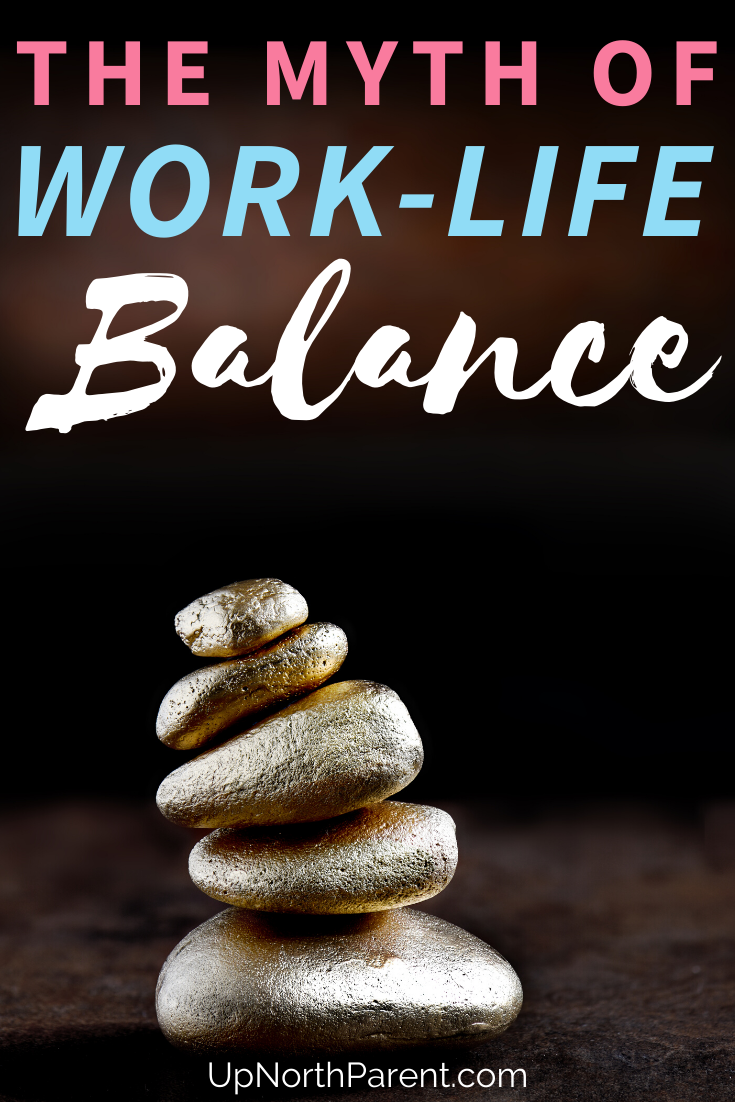 IT'S NOT A BALANCE, IT'S A TEETER TOTTER
That's because everything is a give-and-take.
Everything is more like a teeter-totter than a balance.
That's not to say you can't work and also enjoy life; that's not the truth at all.
But it's never in perfect balance and if you're like most moms who are also business owners and bloggers, it will likely ALWAYS feel like you're failing.
IT WILL PROBABLY ALWAYS FEEL LIKE YOU'RE FAILING AT SOMETHING
And the truth is, you sorta are (AND IT'S OK).
If you are giving your all to being a mom, it will feel like you are failing your business.
(And in that moment, you are kind of "failing" (or at least not focusing on) your business. AND THAT'S OK.)
If you are focused on your business and working hard, it might feel like you're failing as a mom.
(No, you are not failing as a mom. Never. But in that moment, you aren't focusing on being a mom. AND THAT'S OK.)
SO WHAT CAN WE DO?
Do we just accept that we are going to feel like a failure all of the time, either being a bad mom or never being the blogger or business owner we want to be?
No.
HOW TO AVOID FEELING LIKE A FAILURE AT EVERYTHING
Here's how to achieve "work-life balance"… or more accurately, here's how to avoid feeling like a failure at everything:
Realize it's not a balance, it's a teeter totter. You are going to be going back and forth with your attention, and that's ok. When your family needs you more, you'll be focused on them. When you have a big deadline or a big launch coming up, your business will need you more. It's going to ebb and flow, and that's ok. You're on a teeter totter; get used to the back and forth.
Focus on whatever you are doing, when you are doing it. As you go back and forth, work really hard to be solely focused on whatever you are doing when you are doing it. When you're working? WORK. Don't judge yourself for not playing with your kids. And when it's time to be a mom and care for your kids? Focus on your family. When you feel your brain start drifting to work-related things, reel it back in. (This happens to be about 109 times a minute for me, it feels like.) When you are working, work hard. When you are with your family, BE with your family. This is the number one way to feel like you have "balance" or at least are as close to balanced as you are going to get.
Use tools to help. Nothing will derail you and set you up for failure quite like being disorganized and not having a plan. This is true for your family life, but this is especially true of your work life. Suppose you're going to get an hour to work this afternoon. Great! Do you know how you're going to spend it? Do you know exactly what needs to be done, and in what order? Are you primed and ready to get to work as soon as your hour begins? If you aren't, you will spend the majority of that hour floundering around, not getting anything done.***A planner works wonders for keeping things organized and in front of your face. I'm visual and for the last 18 months, I've had a paper planner open on the corner of my kitchen counter. Every single time I walk by, I look at it (mostly without even trying to) so I see it probably at least 30 times a day, no exaggeration needed. The planner is great for showing me my schedule but more importantly, it serves as a place for me to dump any thoughts that pop up throughout the day. Things I need to get done, ideas, reminders, anything. It gets them out of my head and onto paper; somewhere I will see them often.***I also use the NOTES app in my phone and on my computer for many different things. I keep lists of birthday gift ideas for myself and for our kids, as well as a list of questions to ask the doctor at the kids' next checkup. Most importantly, it's the place where I dump business ideas. Blog post ideas? Write them in a Note. Product idea? Write it in a Note. Want to draft up a blog post while the idea is fresh in my head? Write it in a Note. They're automatically synced and updated between my computer and my phone, and I can use the search feature to find whatever I need. Any similar app or program will work. All you need is a consistent place to jot down your ideas so you don't have to constantly hold them in your head.
Make your daily THREE. This is not a unique idea. People all over the world are using this tactic, and have been for decades. My to-do list is huge. I'm sure yours is too. But not all of it needs to get done today. What DOES need to get done today? Or what DOES need to get done FIRST? You should know, and you should make it visible to yourself. THIS is what you will spend the next hour you get, working on.
CONTROL YOUR EMAIL. This is another one of those seemingly cliche tips that you might roll your eyes over. I know I used to too. You've heard it before; DON'T check your email first thing. You'll spend all of your work time responding to emails and putting out fires. You'll eat up all of your available work time on non-urgent matters. Cliche, maybe. But it is no less true just because it's a cliche. The BEST way to WASTE your work time, besides mindlessly checking social media, is to spend the entire time in your inbox. Instead, a better plan is to attack your BIG top task first, before you even open your email. Work on your big task first; make some progress on it. Only then, once you've devoted some time to your big task, only then should you go into your inbox to check your email. Think of it as a reward for your hard, focused work on the projects that matter.
You are never going to achieve perfect work-life balance.
There's a reason everyone seems to be searching for it, but no one seems to have actually found it.
WORK-LIFE BALANCE IS A MYTH.
IT'S NOT REAL.
But being intentional about your time on the teeter totter of work and personal life IS real.
It is possible.
Working HARD when you're working, and BEING with your family, when you're with them; that is the ultimate goal.