**These posts often contain affiliate links. Please see our disclosure policy for details.**
Guest post by Teresa Farrell, RD, LD Essentia Health St. Joseph's-Brainerd Clinic, one of Up North Parent's Sponsors.
With fall in full swing and winter not far away, now is a great time to add sweet rich flavored winter squash recipes to your meals and snacks.
There are many different varieties of winter squash, some of the more common ones in our area include acorn, butternut, and Hubbard. Winter squash is different than summer squash as it is more mature, has a thick skin and is often orange in color, unlike zucchini and yellow summer squash. The orange color is an outward sign of its nutrient content. In fact, winter squash provides numerous health benefits that may help reduce the risk of heart and respiratory disease, cancer, diabetes, and arthritis.
Wonderful Winter Squash Nutritional Components
high levels of beta-carotene, which converts to Vitamin A
good source of Vitamin C
good source of fiber
antioxidant and anti-inflammatory compounds
polysaccharides that help regulate blood sugar
Tips for choosing a good squash:
heavy for its size
thick, hard skin
no cracks or soft spots
Cooking and Storing Winter Squash
Storage tips: Uncut winter squash will generally keep for 3-6 months when stored in a cool, dry place after winter squash is cut it will last about a week in the refrigerator
Microwaved, baked and roasted are some common preparation methods. Be sure to rinse the squash under running water before it is peeled or cut.
When using the microwave, take half of a squash (skin may be left on), wrap it in plastic wrap and microwave for about 5 minutes or until tender. This will create steam so be very careful when removing the plastic wrap. The seeds and skin can easily be removed after it is cooked and cooled.
When baking,  place squash halves or pieces on a baking sheet without peeling, place in a 400-degree oven for 40-50 minutes or until tender.
When roasting your winter squash, place halves or pieces on a baking sheet with the flesh side down or roast skinned chunks by themselves or with other vegetables by coating them with a little olive oil and some seasonings. Place in a 400-degree oven for 40-50 minutes or until tender
Other Winter Squash Prep Ideas:
Add grated, canned or leftover cooked squash to muffins and breads
Puree winter squash as a base for a thick, hearty soup.
Sprinkle a little brown sugar on your squash
Use halved, cooked squash and stuff with other ingredients like rice, corn or beans
Make fries out of butternut squash
Drizzle olive oil and add a little pepper or other low sodium seasonings on cooked squash and eat as a side dish
Enjoy the seeds:
Save the seeds that you scoop out of your squash! Seeds are a healthy and delicious snack and can be prepared the same way as pumpkin seeds. Squash seeds need to be separated from the pulp before baking. They should then be allowed to dry. Place them in a single layer on a cookie sheet lined with parchment paper or aluminum foil and bake at 160-170 degrees for about 15-20 minutes or until tender. The seeds can be drizzled with olive oil and seasoned before baking.
In addition to whole fresh squash, pre-cut squash (in the produce aisle) and frozen is available as well.
Winter Squash Soup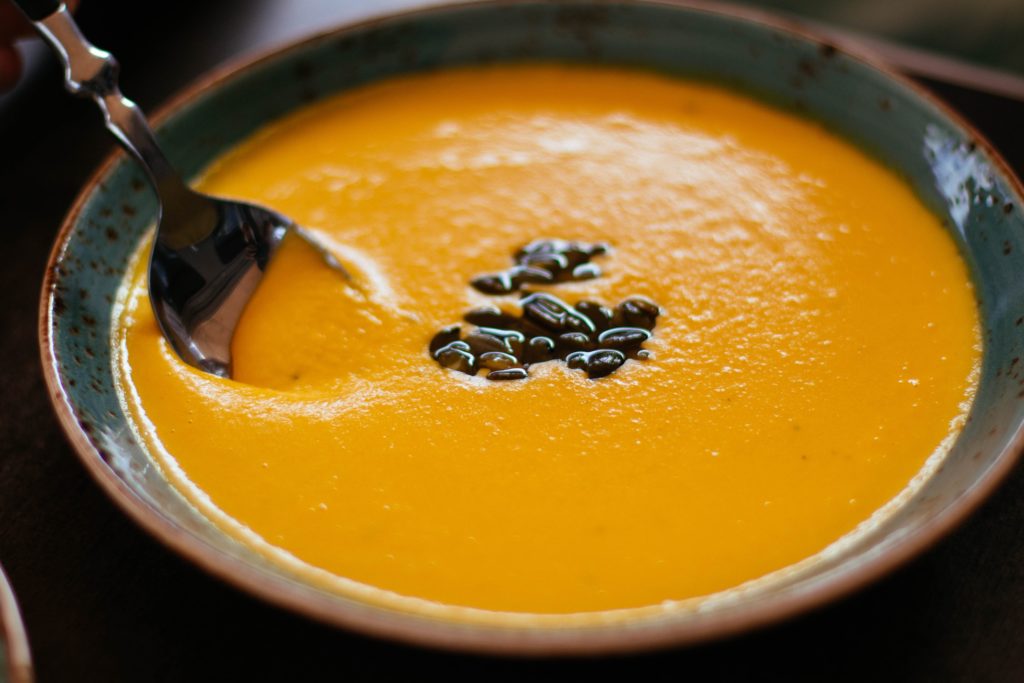 Servings: 4
Ingredients:
2 tablespoons butter
1 tablespoon olive oil
1 large onion, chopped
2 stalks celery, chopped
2 ½ pounds winter squash, peeled, deseeded and cut into chunks
1 tablespoon honey
5 cups low sodium chicken stock
Salt and pepper to taste
Optional: fresh parsley, chopped for garnish
Instructions:
Melt butter and oil in a large saucepan. Add onions and celery, gently cook until very soft-about 15 minutes
Add the squash, cook, stirring for 5 minutes
Add honey and chicken stock, bring to a simmer and cook until the squash is tender
Remove from heat, using a blender or food processor pulse until smooth (adding more stock or water if soup is too thick)
Season to taste with salt and pepper
Reheat before serving
Add parsley to garnish if desired
Nutrition Facts:
Calories: 270
Protein: 7
Carbohydrates: 40
Total fat: 10 grams
Saturated fat: 5 grams
Fiber: 7
Sodium 310 milligrams
Teresa Farrell, RD, LD is Registered and Licensed Dietician at Essentia Health.
Essentia Health is guided by the values of quality, hospitality, respect, justice, stewardship, and teamwork. From emergency care to convenient care, family care to speciality practice, Essentia Health delivers on its promise to be "Here With You" in the Brainerd Lakes Area.  Learn more at www.essentiahealth.org.