**These posts often contain affiliate links. Please see our disclosure policy for details.**
There are some amazing changes happening within our local hospital and medical center.
Changes that perfectly align with Essentia Health-St. Joseph's Medical Center and Clinics' mission of making a healthy difference in people's lives.
As a way to continue to strive to make a positive impact on our community by spreading their core values of Quality, Hospitality, Respect, Joy, Justice, Stewardship and Teamwork, Essentia is proud to share all of their positive changes in 2018.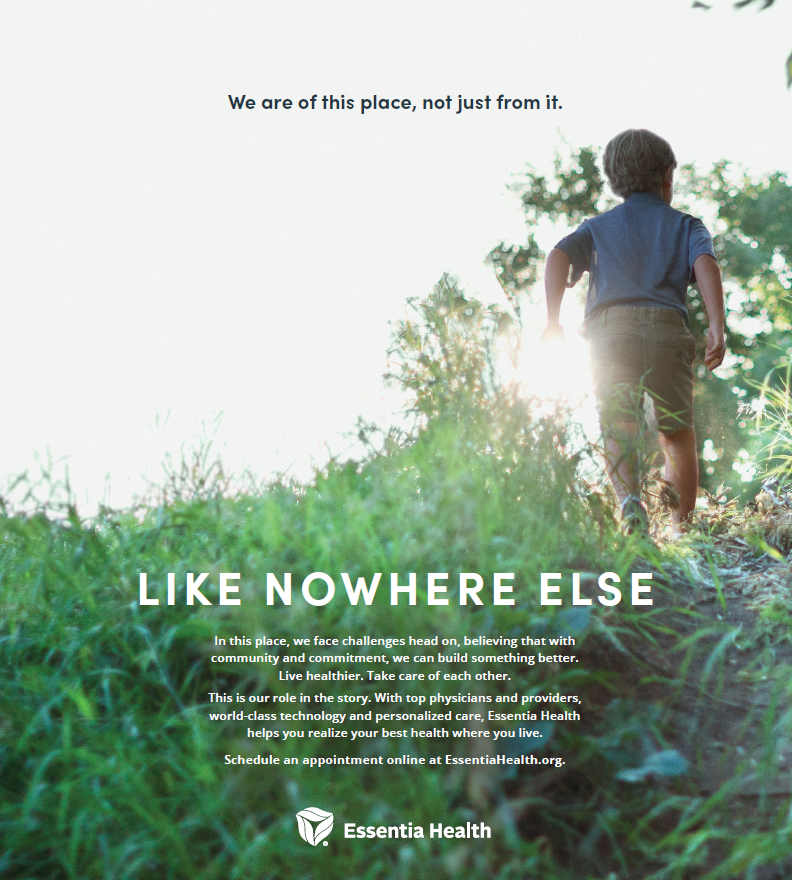 11 Ways Essentia Health's Upgrades are Better Serving this Community
Emergency Department at Essentia Health: In July of 2018, Essentia Health Emergency Department began undergoing a major renovation to improve the patient experience. A $1 million renovation, this monumental project utilized many local contractors with a final goal of improving patient privacy while creating a more comfortable experience for patients and their families. The new layout makes it easier for patients to navigate and flow more efficiently through the emergency department.
NOTE: Emergency Department at Essentia Health-St. Joseph's Medical Center is open 24 hours, 7 days a week. If you are experiencing an emergency, dial 911 or head to the nearest emergency room. This includes suffering chest pain, having trouble breathing, suffering from a trauma, or need care not during Urgent Care or Convenient Care clinic hours.
Expanded Cardiovascular Care: Essentia Health and the Minneapolis Heart Institute are continuing to work to combine their services to heart patients. Driven by the shared vision of bringing the highest level of care closer to home, this expanded access to cardiac care and specialists is happening at the Marilyn Covey Heart & Vascular Center at Brainerd's St. Joseph's Medical Center and Essentia Health St. Joseph's – Brainerd Clinic. Care is provided by sub-specialists in electrocardiography, advanced heart failure, and cardiothoracic surgery, to name several.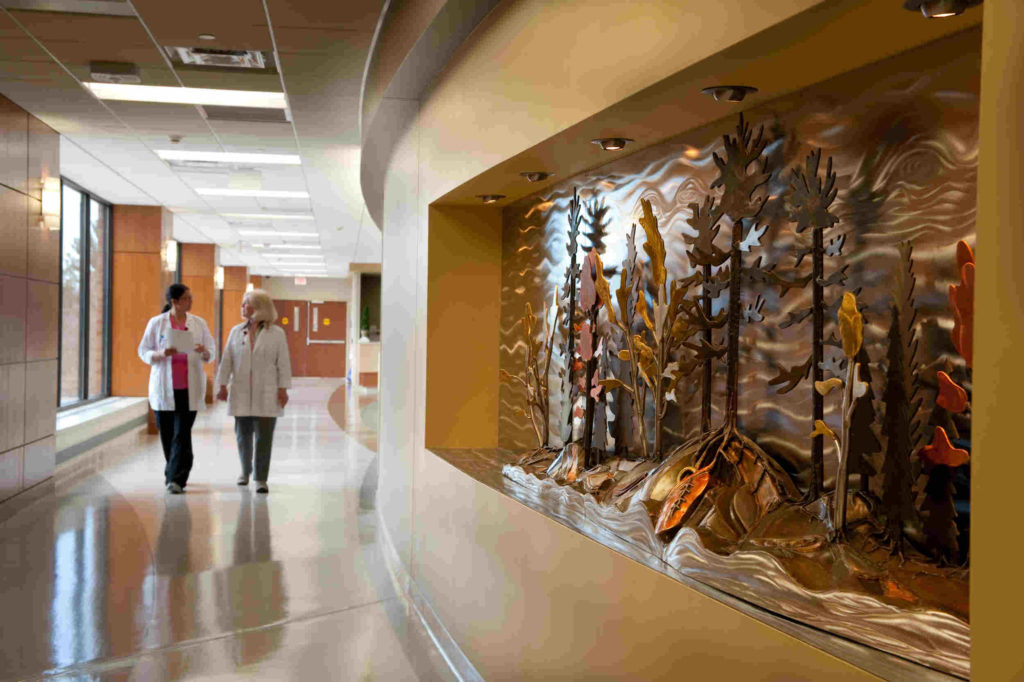 Dr. Michael Rich, Cardiovascular Services Section Physician Leader at the Marilyn Covey Heart & Vascular Center shared, "We are very excited to partner with the respected excellence of the Minneapolis Heart Institute as we continue to expand services for the patients in the area that we are privileged to serve."
New Services for Lakes Area Residents
One Step Strep and Flu Testing: Essentia Health is one of the first healthcare organizations in the United States to roll out a large-scale rapid-result testing system for Influenza A and B, strep and respiratory syncytial virus (RSV) in most of the communities it serves.  Starting in November, those who go to their local Essentia Health clinic to be tested for these common ailments will be given accurate results within a half hour, rather than waiting for a hospital laboratory to confirm an initial diagnosis.
Essentia also recently added Palliative Care services, helping patients and their families make decisions about health care and create a plan to meet a patient's goals and wishes to allow chronically or seriously ill people to live the best life they can.
"The patient is the center of our focus," shared Dr. Julie Olson, Essentia's palliative care provider. "It's all about them, their concerns and goals. We help them talk to their family because many are uncomfortable with these conversations. I open the door to talk about difficult things."
No One Dies Alone: This unique program launched September of 2018 as a way to ensure terminal patients aren't alone when they die. Often when a patient is in their final hours, they are comforted by family and friends. At the heart of the program are dedicated and empathetic volunteers who are well-trained and available on a 24-hour basis, in 4-hour shifts, to provide peace and comfort when no one else is available during the last 2-3 days of life. This program is an extension of living out Essentia's Benedictine values of hospitality and respect.
New and Dedicated Physicians and Surgeons

Fellowship-trained Hand Surgeon, Dr. Ashley Nord brings a new and unique offering to the area. Although Dr. Nord has special training in hand surgery, she will see patients with any orthopedic surgery need.
"Although I enjoy taking care of all orthopedic needs, my sub-specialty training is in hand and upper extremity surgery," Dr. Nord shared. "This ranges from all types of ailments including arthritis, fractures, nerve injuries, and nerve compression syndromes. I provide patients with the information they need to determine a course of action, and then we move toward a detailed plan for treatment and recovery."
Julie Jenson, a community paramedic, has joined Essentia Health-St. Joseph's Medical Center in Brainerd, Minnesota. The addition of a community paramedic offers patients the opportunity to be health assessed or have routine, non-emergency care provided in the comfort and privacy of their home. Community paramedics are experienced Paramedics with additional, specialized training in primary and preventive care. Community paramedic services are free to eligible Essentia Health patients with a referral from a primary care provider or a specialist for this service.
Dr. Kristin Bergstrom has joined the Urgent Care Department at the Essentia Health St. Joseph's-Baxter Clinic in Baxter. Dr. Bergstrom has 25 years of experience in emergency medicine and is very comfortable caring for patients of all ages, with any illness or injury.
Dr. Andrew Bader, a family medicine physician, has joined the Essentia Health St. Joseph's-Baxter Clinic in Baxter, in September. Dr. Bader specializes in Osteopathic Manipulative Treatment (OMT), specifically Facial Distortion model (FDM) treatments. These treatments can be used to ease pain, improve mobility, and promote health in patients of all ages. In addition to caring for patients of all ages, Dr. Bader will also provide prenatal care for pregnant women.
Dr. Dustie Samuels, a family medicine physician, has joined the Essentia Health St. Joseph-Pierz Clinic in Pierz, Minnesota.
"I'm originally from a small town in Kansas, and when I first arrived in Pierz, it immediately felt like home," says Dr. Samuels. "I was looking for an opportunity in a small, close-knit community, and I'm very excited to care for patients here. I'm a small-town girl at heart, and I really enjoy getting to know my patients and their families."
Dr. Krishna Kolandaivel, an oncologist and hematologist, has joined the Cancer Center at Essentia Health-St. Joseph's Medical Center in Brainerd, Minnesota.
"One of the reasons I chose this specialty is because it's very rewarding," says Dr. Kolandaivel. "The treatments we provide can be life-altering, and we can really make a difference for our patients."
To see provider profiles, visit EssentiaHealth.org and click on "Find a Doctor or Provider."
Patient-Centered Partnerships:
Essentia Health announced back in September that Northern Orthopedics is now Essentia Health St. Joseph's – Northern Orthopedics Clinic.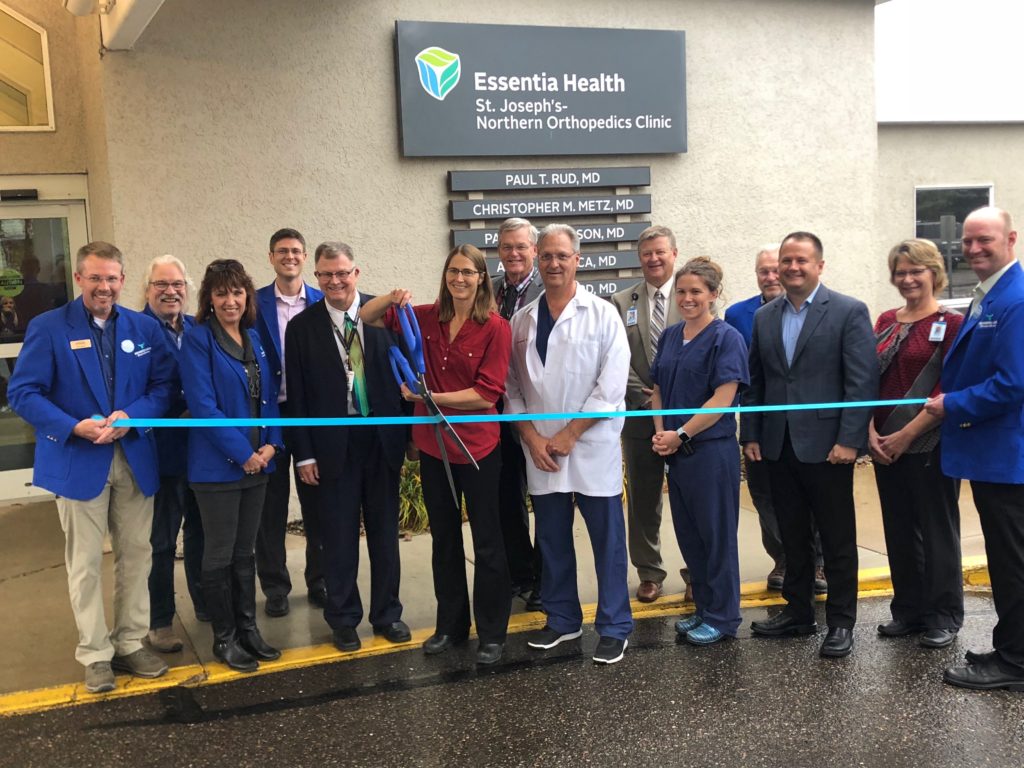 The two entities have been working closely together for years, but the official merger was a natural and beneficial way for both to grow the services they can offer the Brainerd Lakes Area community. Highly-rated orthopedic services like Joint Camp and Rehabilitation Services will continue to help patients return to their lives quickly.
Awards and Recognitions:
The Joint Camp at Essentia Health – St. Joseph's Medical Center is the first program in Greater Minnesota and the second program in the state to earn the Joint Commission's Gold Seal of Approval for Advanced Certification for Total Hip and Total Knee Replacement.
Committed to the Community
The continuation of these patient-centered and value-added changes at Essentia Health brings home the overarching message of This Place, These People, are Like Nowhere Else.
We are proud that our hometown healthcare system not only continues to look for opportunities to enhance health and vitality within our community but does so with a focus of that care more accessible and more affordable. At Up North Parent, we are incredibly proud to "be of this place."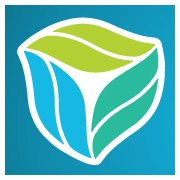 Essentia Health is guided by the values of quality, hospitality, respect, justice, stewardship, joy, and teamwork. From emergency care to convenient care, family care to speciality practice, Essentia Health delivers on its promise to be "Here With You" in the Brainerd Lakes Area.  Learn more at www.essentiahealth.org.