**These posts often contain affiliate links. Please see our disclosure policy for details.**
Parenting is tough. Many moons ago I heard another mom liken parenthood to trying to peel an orange with a screwdriver.
It's super messy and someone is bound to get hurt.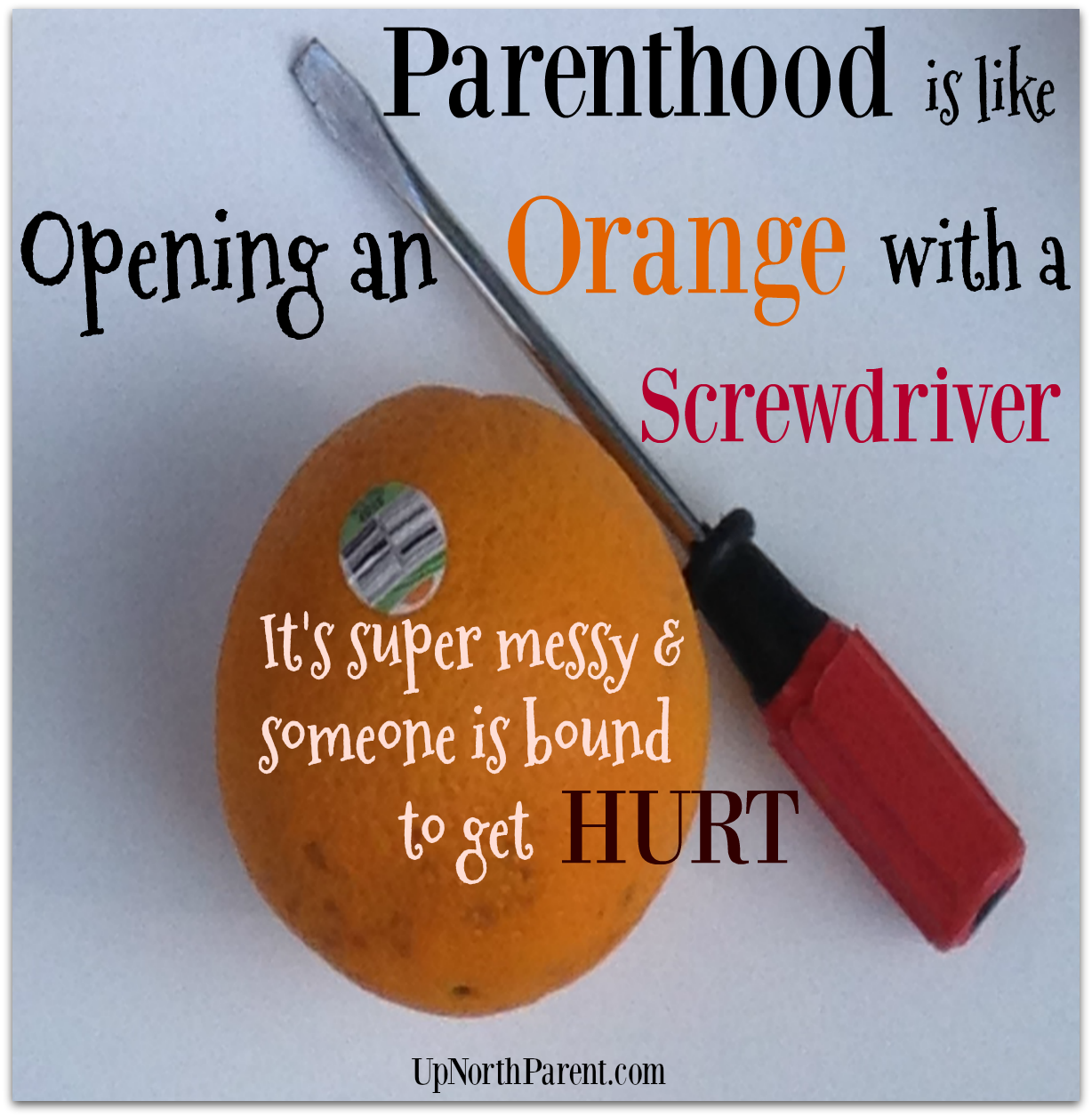 But being a parent is filled with many heart-warming moments too. Raising children is an amazing experience, and one that will fill your heart with memories for years to come. However, there are many less than stellar moments that will leave you scratching your head, or even worse – wondering if you will survive until bedtime. The below info has a two-pronged purpose:
Provide some "heads up!"details that these Extreme Parenting Moments are in your future…
…and act as a "Thank goodness it's not just ME!" reassurance that you are not alone in your Season of Parenthood.
I've always said: if your kids don't mortally embarrass you at least once a week…
…you're just not paying attention! 😉
Extreme Parenting Moments
Here are a few examples that most parents can relate to; episodes that have us silently praying that the floor would open up and swallow us whole.
The Grocery Store Epic Meltdown
Whether your kid is two or twelve…tantrums, pouting sessions and meltdowns are at the top of "please God, give me STRENGTH" parenting moments. Not only is a grocery store meltdown difficult to handle, but it will most certainly damage your pride. Ooohhhh, and the side-eye and greasy looks from other parents! It's inevitable that some judge-y witness to this episode will make you wish you could order your groceries online and never leave home again.
The Ultimate Blow-Out
Also known as Mudslide South of the Border or Crap-a-Geddeon, this needs no further explanation to anyone who has experienced it. Your baby's bowels move when they want to, and do not ever adhere to your schedule. The ultimate blow-out happens at the worst times, such as right before you leave for a long-awaited appointment, while trying to get your other school-aged kids off to school or while waiting in line at the store. Note: there is a 99.9% chance it will occur when you've forgotten to bring baby wipes with you. Good times.
The Lactose Flood and Food Volcano
Small Humans are adorably messy, though most of the time "adorable" can't be used in these scenarios. They are also clumsy and tend to trip when they are holding something they shouldn't….and somewhere they shouldn't. The problem is that "spilled milk" isn't always milk. Sometimes it's a bright red sugary drink… and it's usually spilled on white carpet. Or it can be Christmas dessert foods that are fudge-y and caramel-y…on your sister-in-laws brand new beige carpet. Sorry, Sis. And that's all I've got say about that. 
The Need to be an Extreme Photographer
::guiltily sneaks hand up into the air:: You take your camera everywhere. Your beloved offspring can't do anything without you being their personal paparazzi of one documenting every detail. And after all that work, years later your children may not even appreciate all the photos of them wearing their underwear on their head. My tween and teen children groan and moan during the moments when I say I need to pause quick and "Instagram this." Their frustration is only heightened when it takes me five minutes to create the Instagram caption and proofread my work because I "don't have my glasses on."
The Alarming Rash
A rash is terrifying to all parents. It is the symbol of everything wrong with the world. Although most rashes are fairly innocuous, they are a horrible sight to a parent who is convinced that every little change in their child is a signal of ill-health to come. Rashes can also send any parent's Worry Monster spinning out of control. What is likely something harmless like heat rash becomes Flesh Eating Bacteria in our minds. Thank goodness for Google and patient pediatricians.
Extreme Parenting Moments Become Memories
Parenting is full of both heart-warming and bone-chilling moments. There are times when you experience things that you wish you didn't have to, but it's all part of the process, people. Keep your sense of humor, know that these situations are just gonna happen, don't be too hard on yourself when they do and laugh when the time is right.
These extreme parenting moments may be some of the fondest memories of your life.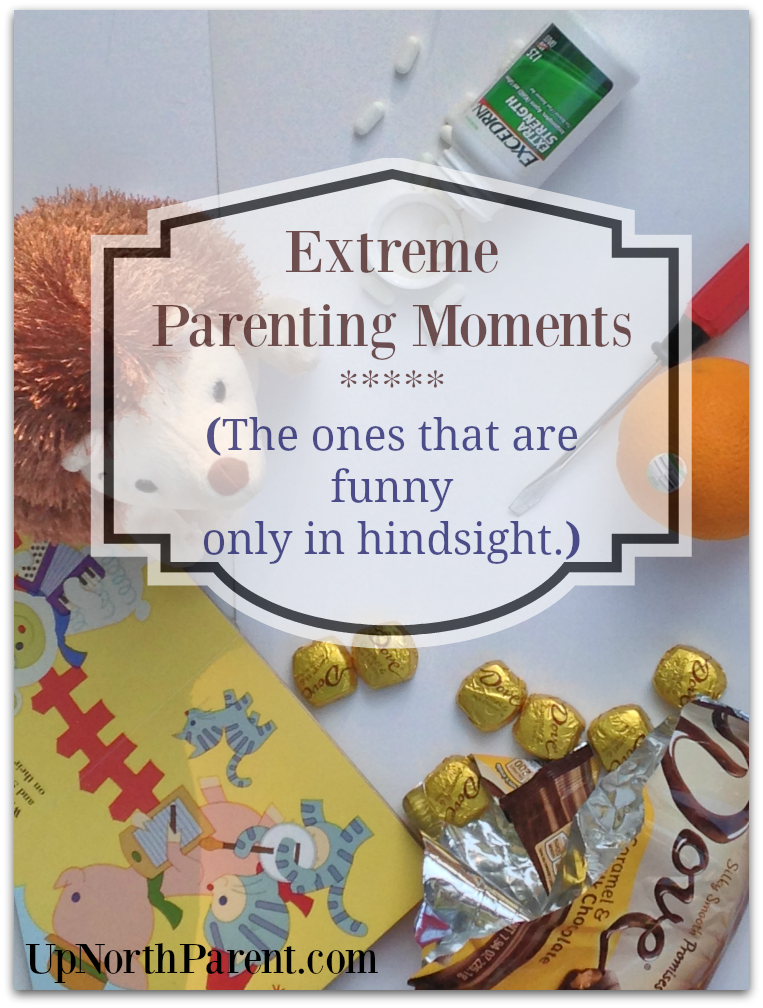 ---
Becky is an "old-ish" mom of "young-ish" kids who thinks bacon is the world's most perfect food. She is a veteran blogger, freelance writer, virtual assistant and project manager for the non-profit children's literacy event, Multicultural Children's Book Day. She is also a proud mom to her amazing 11 year-old daughter Sara and 14 year-old son Jake. Parenting a tween and a teen is a challenge, but she truly believes that being a mom is the Best.Thing.Ever. When she is not hiking (#plussizehiker), reading, selling on eBay, playing with her pets or working on a story for the various magazines she writes for, you can find her on her main blog, Franticmommy. Connect with Becky on Mom Squad Central or on social media: Twitter, Pinterest, Instagram and Facebook!