**These posts often contain affiliate links. Please see our disclosure policy for details.**
Looking for ways to make money from home? Here are 10 work from home job ideas for stay-at-home moms looking to earn income at home.
Working from home is the perfect way for stay-at-home moms to make some money on the side while enjoying flexible hours to spend with their kids as a family.
That's the ultimate goal, isn't it?!
If you are ready to make some extra cash when the kids are asleep, at school, or busy playing, here are ten work-from-home (WFH) job ideas for you.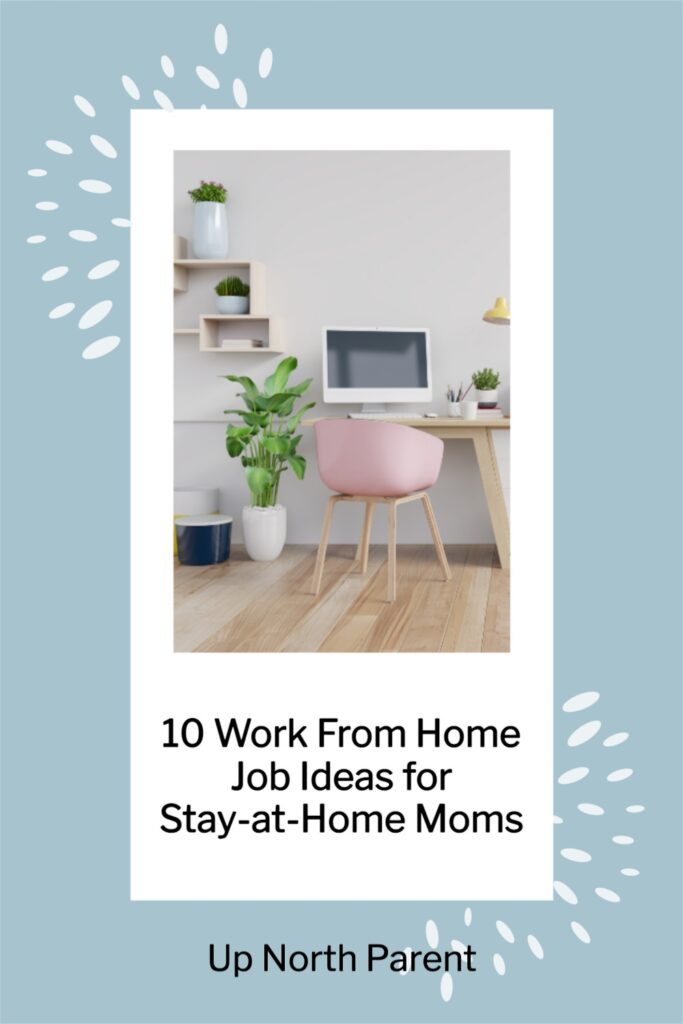 10 Work From Home Jobs for Stay at Home Moms
1. Data Entry Specialist
A data entry specialists' main tasks include sourcing data, keying data into spreadsheets or databases, and checking for data discrepancies.
So, as you might have guessed, you need to have a keen eye for detail to do this job.
What makes this work-from-home job option really appealing is that you don't need a specific background, degree, or training. 
It doesn't require much apart from basic computer skills, accurate typing, and a good sense of organization.
So, you can basically apply to an offer, hit the ground running, and start earning some money quickly. Plus, these assignments are usually super flexible, so you can fit them around your busy schedule.
Here's a list of companies that regularly hire for freelance data entry jobs.
2. Copywriter
If you have a knack for words and love turning raw ideas into engaging copy, a freelance copywriter job could be right up your alley!
More and more businesses need online content to promote their products or services and engage with their customers.
That's where you can help them!
Register on freelance websites like Fiverr, Upwork, or Freelancer and start advertising your services. 
Clients will soon be knocking your (virtual) door and sending some great projects your way.
And, the beauty of being a freelance copywriter is that you can write at night or here and there during the day when the kids aren't around.
3. Proofreader
A proofreader specializes in correcting and editing documents, blogs, articles, whitepapers, books, and any other written form of communication.
If you're good with words and have a sharp eye for detail, this is another flexible online job worth considering.
Some of the best places to check for proofreading work include the platforms mentioned above, proofreading services, and Flexjobs.
And who knows, you could end up working on the next Harry Potter!
4. Transcriptionist
What if you could be paid to transcribe an audio file? As in, type out what you hear on an audio recording.
Sounds too easy, right?
This job exists, and it's called transcriptionist! 
Writing down what you hear is literally all there is to this easy and flexible online job.
Some companies will pay you by project and others by the minute of recording.
Here's a list of businesses often looking for freelance transcriptionists.
5. Virtual Assistant
With the number of companies moving online, the demand for virtual assistants to support remote teams has increased. From scheduling appointments and posting on social media to managing emails, the tasks are wide and varied.
This flexible online job might require more hours than the previous roles, but it's also one that pays quite well.
So, if you have a few spare hours during the week, that could be a great option!
This article features a great list of companies regularly hiring for virtual assistant jobs. 
And of course, you can also check out Fiverr, Freelancer, and Truelancer.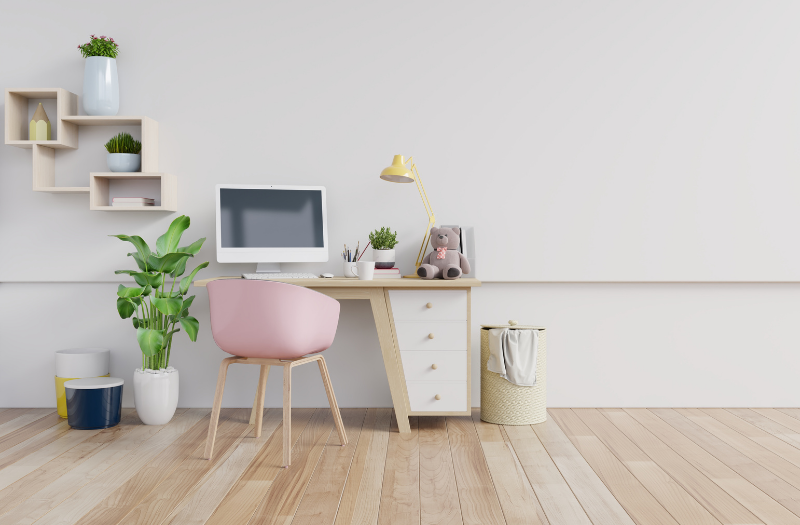 6. Online Tutor
If you've got kids, you've most likely homeschooled them at some point over the last few years.
So, why not use those teaching skills and become an online tutor? 
Since you've already been teaching your kids, helping other kids while their parents are busy working can be a great way to make extra cash.
And that's not all. If you have specific skills in another area, like speaking another language, you can also teach students or adults.
All you need is a laptop, an internet connection, and a quiet space. 
Websites such as Cambly are a great place to start looking for this type of opportunity as they don't require any degree or experience.
7. Audio Book Narrator
Do you love reading books?
If that's the case, you can get paid to read books as an audio book narrator!
Depending on the project and platform, it can pay anywhere between $20 and $100 per hour.
Not bad for reading cool stories from the comfort of your own couch.
What do you need to become an audiobook narrator?
A clear voice, a laptop, high-quality headphones, and recording software like Audacity.
You can check websites like ACX or Voices to find opportunities.
8. Social Media Manager
Do you love spending time on social media?
How about getting paid to post and comment on Instagram, Facebook, or Twitter?
Many companies and brands need help managing their social media pages, posting great content, responding to all comments, and ensuring no one is spamming.
Some of the skills and equipment you'll need include a good grasp of English, basic knowledge of the type of content that works well across social media platforms, and a smartphone.
Two great websites to check for social media manager jobs are 99 Dollar Social and ModSquad.
9. Bookkeeper
Are you good with numbers? 
Do you love Excel spreadsheets?
If the answer is yes to both these questions, a part-time online bookkeeper job could be a great side hustle for you.
A bookkeeper keeps track of inventory, expenses, sales, and invoices.
Their work allows companies to better understand their overall financial situation and process critical daily transactions.
So, if you love crunching numbers, check out Flexjobs and Indeed for remote bookkeeping opportunities.
10. Create an Online Store
Do you know how to make cute baby clothes?
Are you into crochet or maybe you're great at taking photos?
If you have a specific talent, craft, or skill you can sell, why not create your own online store and offer your products or services there? 
Some of the easiest platforms to get started include Shopify and Wix. 
You can also use eBay, Etsy and join dedicated Facebook Groups to sell your craft.
– – – – –
With the rise of technology, working online has never been easier. 
So, no matter what your skills, abilities, passions, or hobbies are, there's something for you out there.
Set aside some time, start searching online, and you'll soon be on your way to making extra money for yourself and your family with these work-from-home jobs for stay-at-home moms.