**These posts often contain affiliate links. Please see our disclosure policy for details.**
Thank you to Maren and Frugal Farmhouse for graciously inviting us to the Word of the Year Wooden Sign Project. It was wonderful!
A warm crackling fire, yummy snacks, good friends and a nail gun.
How could you go wrong?
I (Becky) recently had an amazing opportunity to participate in yet another The Frugal Farmhouse DIY class hosted at Prairie Bay. Whereas UpNoPa Laura is the Super Crafting Mama, I am the Anti-Crafter. But, these woodworking projects through The Frugal Farmhouse are completely my jam.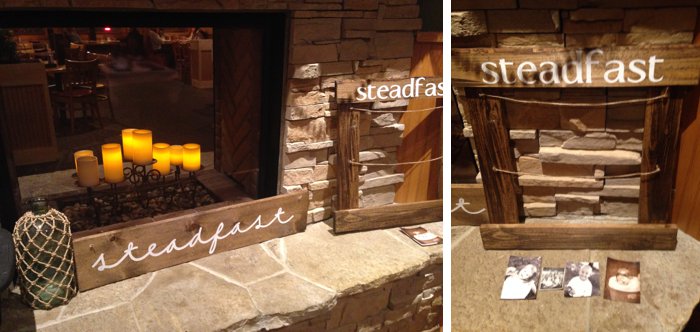 The Word of the Year Wooden Sign Project was born of some great brainstorming between FF owner, Maren LaVoie, and the UpNoPa Moms during the last crazy-fun class. That seed of an idea blossomed into a brilliant class and a home accent piece that will be cherished forever.
How It All Began | Word of the Year Signs with Frugal Farmhouse
"This year I have a challenge for you. To do something different as you reflect on last year and look forward to the coming year. I challenge you to pick a word. Just one. One that motivates you, inspires you and one that is a daily reminder to reach those goals or aspirations.
I stumbled upon this idea from Becky Flansburg who is a writer from Up North Parent. She came to one of my classes and we were talking about future projects and she said the idea of picking a word. I loved it!  So the process started of finding my "word." You may already know your word or maybe it's family, home or thankful. It doesn't need to be complex. Just something that resonates with you. My word just popped into my brain one day as most my ideas do.?

So I decided that word needed a sign and that sign needed to hold my goals and visions that supported my word. I have pictures of my kids, husband, a label for my business and bible verses about steadfastness to support my faith. I hung it where I see it every day and love it. I knew my class students would love this concept as well and that was when the Word of the Year Wooden Sign Project was born." -Maren LaVoie
Maren then created the Word of the Year Wooden Sign Project in two different options.
Fun with Stencils and Nail Guns
Laura was vacationing in Arizona so my neighbor Michelle and I carpooled to Prairie Bay the evening of the class.
As usual, Maren had a beautiful and efficient set-up ready for us and was an excellent guide and teacher. It's so nice to be able to create beautiful things under the guidance of a creative artist like Maren.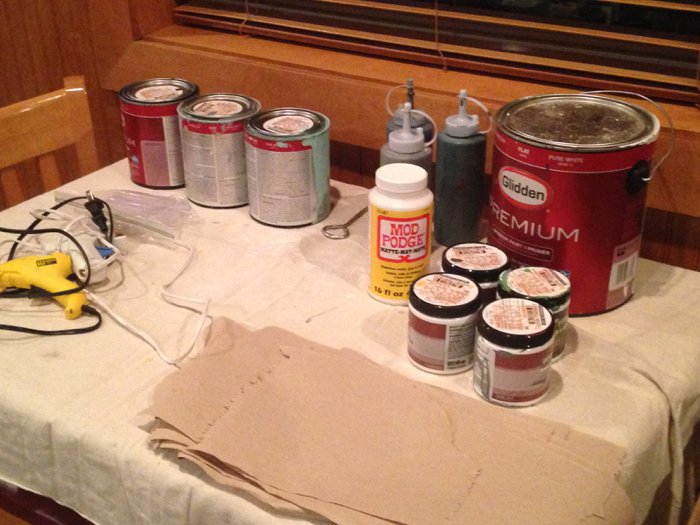 I also appreciate having all the supplies on hand so I don't have to wonder and worry that I bought the wrong thing!
Maren had arranged for Prairie Bay to provide some delightful munchies. From beautiful bruschetta to mouth water-pizzas, there were abundant treats to nosh on while our paint dried.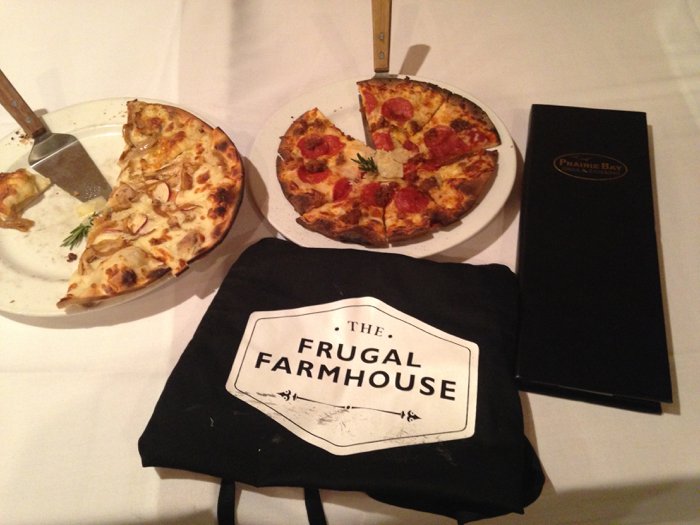 I was also blown away by the words and creations of the other participants. From Happiness and Grace to Michelle's word, Deye mon gen mon; a Haitian proverb meaning "beyond mountains, are mountains," the Words were unique, beautiful and personal.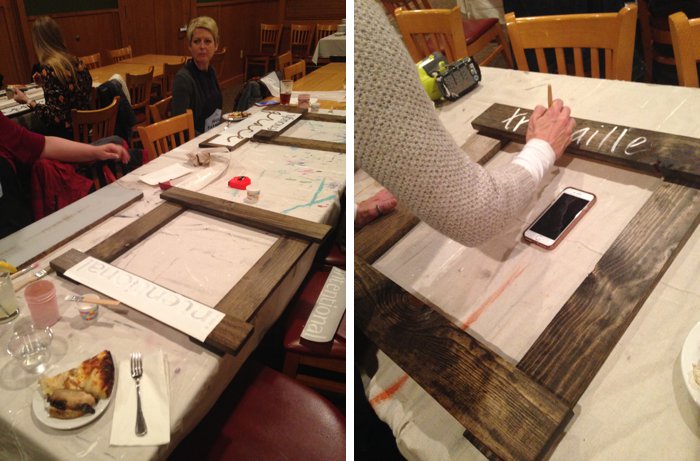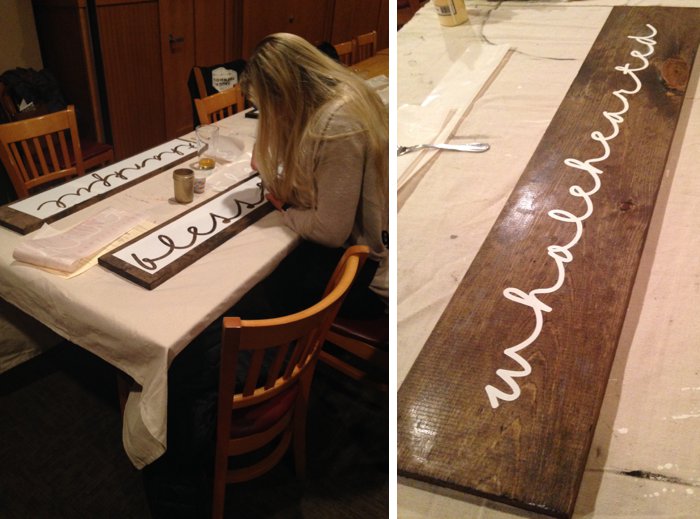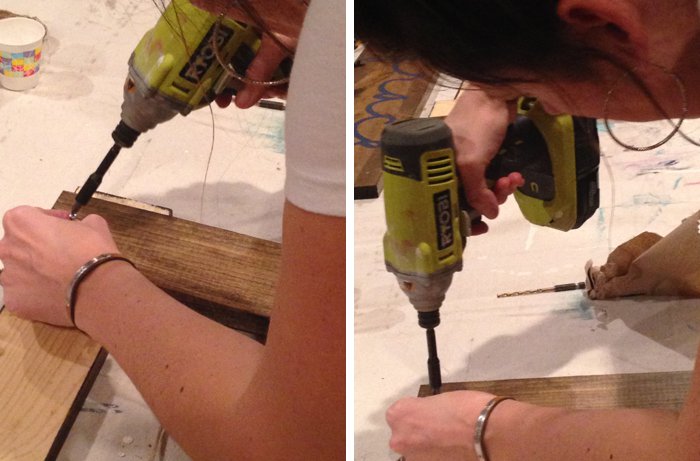 Needless to say, it was a relaxing and amazing evening and I am thrilled that, as a "non-crafty" person, I was able to bring home a beautiful decor piece that will continue to remind me of my One Word during the next 12 months.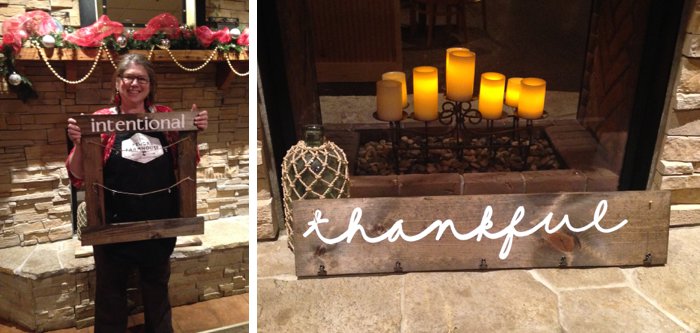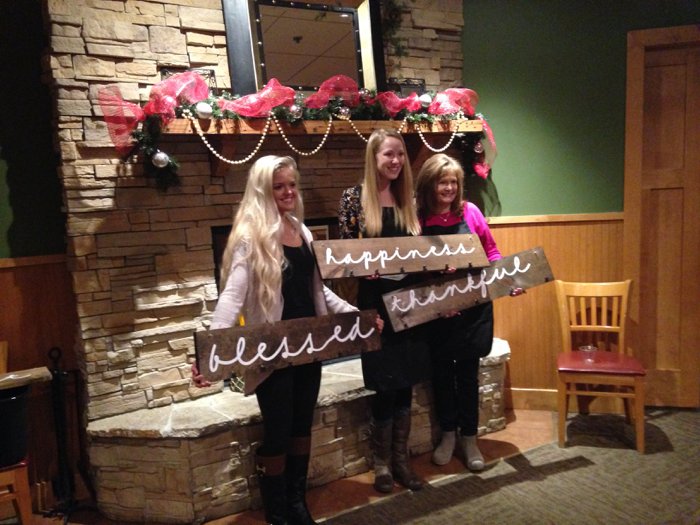 If you'd like to experience a Frugal Farmhouse class for yourself (we highly recommend that you do!) you are in luck! Maren's Be Still My Heart Sign Class is coming up February 8th!
Go here for more details or to sign up!
Connect with Maren and The Frugal Farmhouse on Facebook and on her website.