**These posts often contain affiliate links. Please see our disclosure policy for details.**
When you're in the midst of hardship, it's easy to look inward and get stuck in your trouble.
Your field of vision narrows and you may have a hard time thinking beyond your struggles and pain.
This is normal.
But there are small things you can do that will make a big difference on your mood and spirit during an especially hard time.
Here are a few ways to help yourself feel better; 11 ways to lift your spirit when you're going through hard times.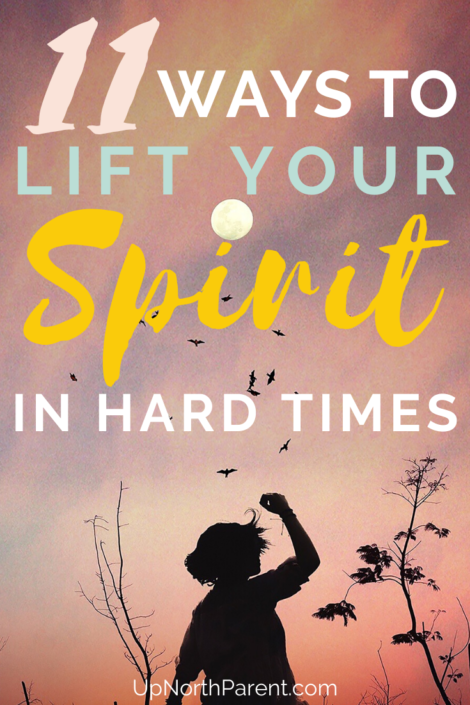 11 Ways to Lift Your Spirit in Hard Times
Text 5 people and say something nice. Encourage them, thank them, lift them up in some way.
Write out 5 of your favorite quotes and tape them up around your house. Feed your mind with positivity and it will lift your mood.
Write 5 handwritten cards to family, friends, coworkers etc; address them, and mail them. The surprise note in their mailbox will surely brighten their day.
Have a 5 minute dance party. Set a timer for 5 minutes, turn on some music, and have a dance party until the timer dings. The more upbeat the music, the better. A favorite of ours is Happiest Man Alive by Machel Montano; it's impossible NOT to be happy when you hear that beat! (Fyi, the song's not explicit, but it's not exactly kid-friendly either, especially the video.)
Walk around and pick 5 items to donate to charity. Put them in a bag or box, and get them into your car for easy donation drop off.
Make a list of 5 favorite family meals and tape the list to the fridge for easy meal planning.
Set a timer for 5 minutes, sit down, close your eyes, and focus on your breath moving in and out of your body. When your mind wanders (which it will), refocus on your breath. This is meditation.
Read a book for 5 minutes. Small chunks of time reading a few pages add up to reading full books in no time. (Two of our top favorites are Simplicity Parenting and A Simplified Life.)
Open your journal, set a 5 minute timer, and do a brain dump. Write everything that's swirling in your head down onto the paper. Clear it all out without censoring. Chances are you will feel mentally lighter when you're done, because you don't have to constantly carry all of those thoughts anymore.
Make a gift wish list of 5 things you'd like to own in the future. Make it digitally on your phone, and keep it handy when people ask you for gift ideas. You can also start an Amazon wish list and add to it over time. This works especially well for book recommendations; simply add new titles to the list and send links for any gift-giving occasion. (Birthday, Christmas, Mother's Day, Anniversary etc.)
Start wish lists for your kids too. Add to them over time as you discover gaps in their wardrobes, practical items they need, and fun items they want. This is super helpful when grandparents, aunts, uncles, and friends ask for gift ideas for birthday or Christmas.
Most of these items take five or ten minutes to do, but the impact is much bigger.
These tasks infuse positivity into your life through small, intentional actions that inspire optimism and gratitude.
When you're having a hard time and need to find ways to make yourself feel better, these 11 tricks will help lift your spirit little by little.
Try them and see what happens.