**These posts often contain affiliate links. Please see our disclosure policy for details.**
Paul Bunyan is one of the best-known heroes in American folklore. He is also a highly recognizable legend in the Land of Up North. This legendary lumberjack (and his faithful companion Babe the Blue Ox) starred in many of the "tall tales" told in the Midwest during the 1800s. According to the stories, Bunyan was a huge man with an amazing amount of physical strength. He single-handedly founded the logging industry, cut down whole forests in North Dakota, created Lake Superior with his bare hands, and even trained carpenter ants to help him with his tasks! This Big Guy and his trusty side-kick are also said to be responsible for Minnesota's 10,000 lakes, the Great Lakes, the Grand Canyon and other natural wonders.
The Up North History of Paul Bunyan
But here's where it gets interesting; a slew of communities and storytellers dispute the origin and even ownership of this plaid-wearing lumberjack. Some online reports claim that a young woman named K. Bernice Stewart was the first person to document the original Bunyan "tall tales." But then again, the father of well-respected resort owner Dutch Cragun (Cragun's Resort on Gull Lake), Merrill K. Cragun Sr., also has dibs on this iconic figure. Merrill graduated from the University of MN in 1931 with a degree in journalism and his first job was at the Rock County Herald in Luverne, MN.  During this time, he borrowed $300 from his father-in-law to buy a small printing press shop in St. Paul but printing jobs were hard to find . To develop work for his press Merrill Sr. began writing up stories, publishing booklets and postcards, copy writing, and developing our current Lakes Area's icon, Paul Bunyan and his crew.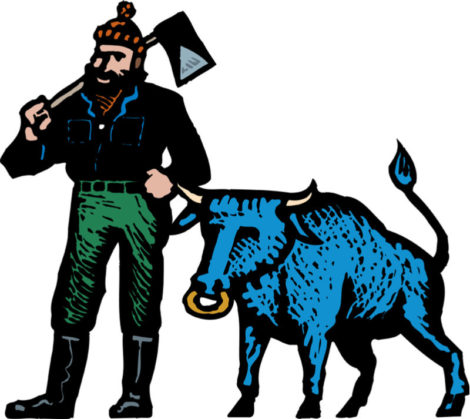 Merrill Sr. and his wife, Louise, set to work creating audacious Paul Bunyan stories that included memorable characters like the cook, Sourdough Sam and Johnny Inkslinger, the camp's head clerk. Johnny kept track of everything down to the last bean. He invented a pen connected to an ink barrel by a hose. In one payroll week he saved a barrel of ink by not crossing his t's or dotting his i's. The Cragun's also secured the Minnesota copyright to the name of Paul Bunyan Playground, Inc. The objective was to develop and promote tourism in Minnesota and also his Paul Bunyan books.
In 1936-1938, Dutch and his college pal, Jack Madden (founder of Madden's On Gull Lake Resort), convinced the Brainerd Chamber of Commerce to develop an event called Paul Bunyan Days. This area-inspired celebration featured parades, live bands and contests that including beard growing, tobacco spitting, tall-tale-telling and log-rolling. Hickerson Garment Factory created 3000 Paul Bunyan flannel shirts for sale at the event and in department stores.
Today, Paul Bunyan is mentioned in more than 1,000 books and has become one of the most widespread icons in American culture.
Where to Find Paul and Babe
Disagreements aside, it's no secret that Paul Bunyan is firmly woven into the fabric of the Brainerd Lakes Area and beyond. Paul Bunyan Land has been an iconic attraction for over 60 years and the amusement park is now located in Brainerd, Minnesota on the same property as This Old Farm.

The focal point and trademark of this attraction is the 26-foot-tall animated and talking statue of Paul Bunyan. As children enter, Paul welcomes them by name and kids can even pose next to Sport the Reversible Dog.
The original location of the park was on the Corner of 210 and 371. The attraction soon grew to fill six acres with amusement rides and buildings. In 2003 Paul Bunyan Amusement Center was relocated and moved six miles East of Brainerd (12 miles West of Garrison) on State Highway 18 due to technology, innovation and plain old industrial growth. Similar the story of Paul & Babe v. Steam Locomotive & Chainsaw, it was time for Paul and his trusted sidekick to move on. Kohls shopping center now resides in the original home of Paul Bunyan Amusement Center.
References that are "non-local" include several cities that claim to be the birthplace of American folklore's largest lumberjack, including Bemidji, Minn., and Bangor, Maine (the city claims his "birth certificate" hangs in the city clerk's office, listing the location as Bangor). Even Akeley, Minn. has an odd attachment to this wood-cutting legend. So much so that they rally the state to celebrate Paul Bunyan Day every June with a multi-day community event and celebration.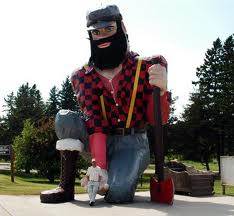 Then there is the Paul Bunyan Trail; the longest MN Bike trail at 120-miles. It connects the Heartland Trail, the Blue Ox Trail and the Cuyuna State Trail.  The portion of the Minnesota bike trail from Guthrie south through Laporte toward Walker is now paved and the segment from Brainerd/Baxter south to Crow Wing State Park was paved in July 2014–providing the final paved link. With the paving of these segments, the Paul Bunyan Trail now yields 120 miles of continuously paved MN bike trails from Crow Wing State Park just south of Brainerd MN to Lake Bemidji State Park in Bemidji Minnesota!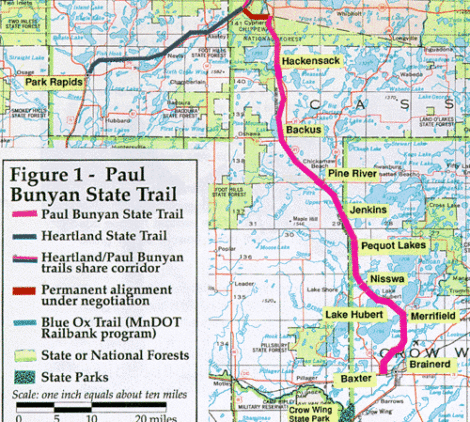 Interested in a few more "non-Minnesota" Paul Bunyan claims? Here's a great list of places to view Paul, Babe and even his sweetie, Lucinda.
Happy travels and Happy Paul Bunyan Day!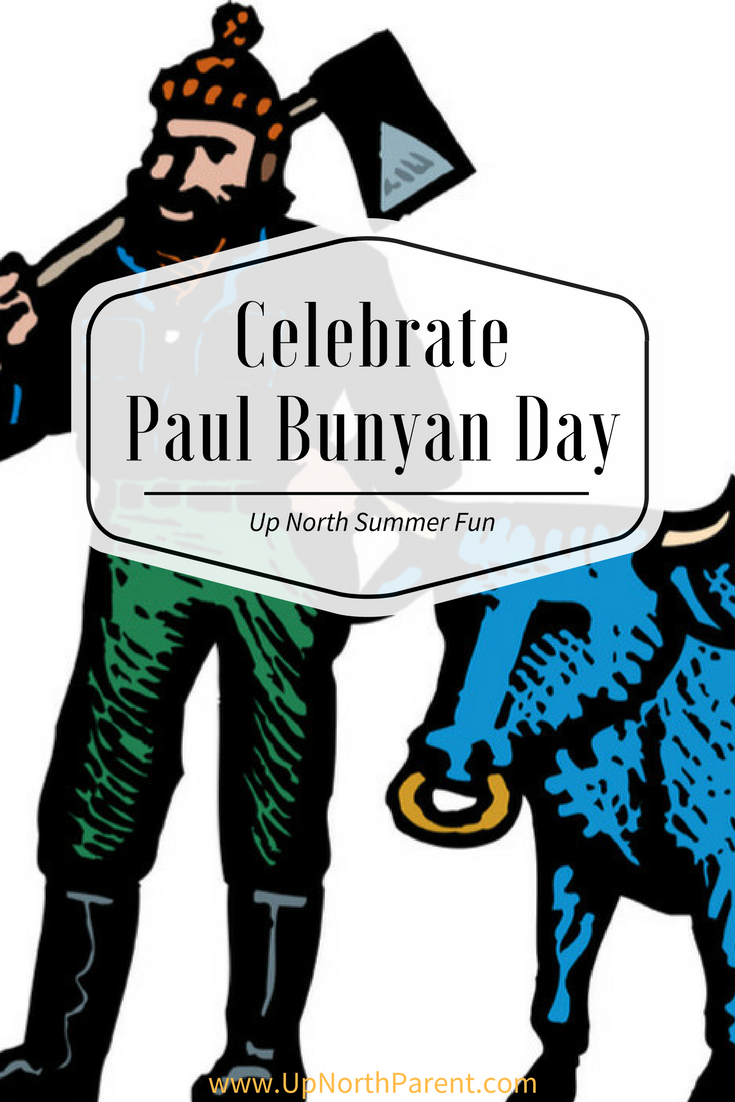 ---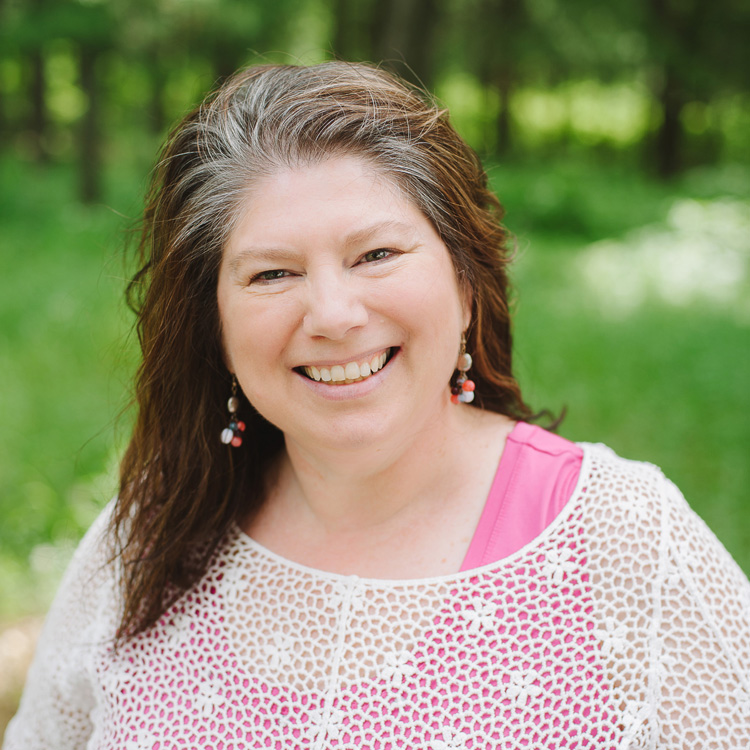 Becky is an "old-ish" mom of "young-ish" kids who thinks bacon is the world's most perfect food. She is a veteran blogger, freelance writer, virtual assistant and project manager for the non-profit children's literacy event, Multicultural Children's Book Day. She is also a proud mom to her amazing 11 year-old daughter Sara and 14 year-old son Jake. Parenting a tween and a teen is a challenge, but she truly believes that being a mom is the Best.Thing.Ever. When she is not hiking (#plussizehiker), reading, selling on eBay, playing with her pets or working on a story for the various magazines she writes for, you can find her on her main blog, Franticmommy. Connect with Becky on Mom Squad Central or on social media: Twitter, Pinterest, Instagram and Facebook!