**These posts often contain affiliate links. Please see our disclosure policy for details.**
THINKING OF STARTING A BLOG? HERE ARE THREE REASONS YOU SHOULDN'T START A BLOG. IT'S A MUST READ FOR ANYONE CONSIDERING BEING A BLOGGER!
A blog is short for a weblog; a website full of blog posts written about a topic, usually for the purpose of informing others and done so in a conversational way.
Blogs have been around for over two decades, and many people have thought, "I should start a blog!"
And it's true… you probably should.
Everyone has something to share and something to teach other people.
Everyone's experiences are unique.
But there are three reasons why you SHOULDN'T start a blog; three WRONG reasons to start a blog.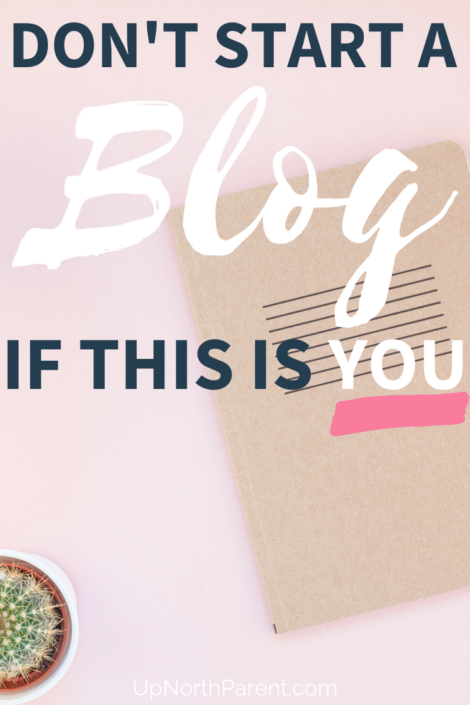 Three Reasons You SHOULDN'T Start a Blog
You don't like to write.
You want an easy way to make money
You don't want to learn new things
YOU DON'T LIKE TO WRITE
Bloggers write.
That's the whole point of a blog; a place where you write blog posts or articles on the topic(s) of your choice, and post them online for people to read.
If you don't like to write, a blog is not a good fit for you.
If you want to share information but don't like to write, you can consider a vlog – video log, and share videos instead.
However, if you are thinking about starting a blog, but writing is painful for you? A blog is likely a waste of your time.
You won't be excited to write new posts, you won't be excited to proof-read the posts you do write, and things will likely fall apart very quickly.
YOU WANT AN EASY WAY TO MAKE MONEY
"What? You can make money from a blog??"
Yes, you can.
Bloggers can make money with their blogs and some bloggers even make more than most other high paying jobs out there.
But the simple truth is that making money with a blog is NOT easy.
It's completely possible, but it is far from easy.
You have to work really hard, and try a lot of different things in order to make anything more than pocket change with a blog.
If you are willing to work hard, you CAN make money with your blog.
But if you're looking for an easy way to make money? Blogging isn't it.
YOU DON'T WANT TO LEARN NEW THINGS
The internet is changing rapidly, and so are digital businesses.
Blogging is a constantly evolving, changing landscape; especially if you are planning to blog as a business.
I've been a blogger for more than a decade, and the best practices, hottest apps, "everyone is doing it" trends, and even photography fads have changed a lot throughout the years.
I am always learning something new.
If you're going to be a blogger, you're going to need to continually learn and be willing to adapt to the changing landscape.
It might be as simple as learning new rules for Google SEO, or as difficult as trying out a brand new email marketing system.
Blogging requires adaptation and continual learning, and a willingness to always be the student.
If you're looking for something that will never change, blogging isn't it.
– – – – –
Blogging is a fantastic hobby and it can be a remarkable business too.
Blogging harnesses the power of the internet, and combines that power with your passion and knowledge about any topic under the sun.
The result is a blog with the potential to replace even the most impressive income.
But blogging is not easy.
Blogging is not easy money.
Blogging is not something you do for a few minutes a day and call it good, expecting to grow a profitable business.
Blogging is a unique opportunity for creative expression and income potential, but if these three reasons describe you?
Then you probably shouldn't start a blog.