**These posts often contain affiliate links. Please see our disclosure policy for details.**
We want to say a huge heartfelt THANK YOU to Maren and The Frugal Farmhouse for allowing us to join her DIY woodworking class so we could experience it and share about it with you. We loved every second of it, Maren!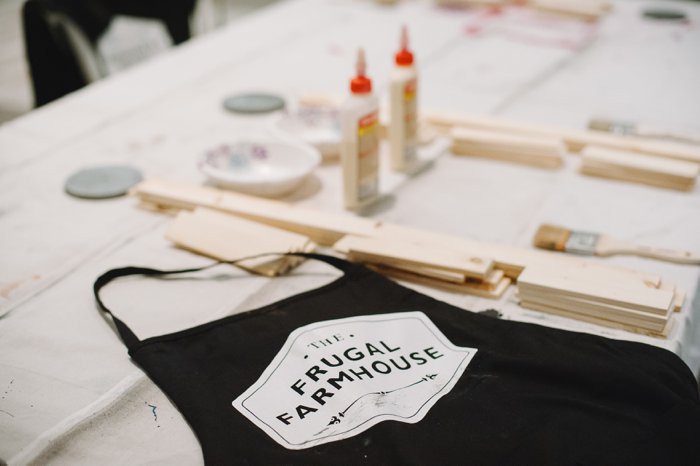 It was one of those weeks where, by Friday afternoon, all I (Becky) wanted to do was crash in my favorite easy chair and wrap up like a burrito in my blanket.
But I also remembered I had signed up for The Frugal Farmhouse's Christmas at The Quarterdeck Rustic Snowflake class later that evening. I really wanted to go, but my brain was saying "DONE."
I texted UpNoPa mama Laura and I may or may not have whined a little.
"We're going," she answered. "You and I both need a break. Plus, it will be fun!"
Long-story-short, I am glad I listened to her! 🙂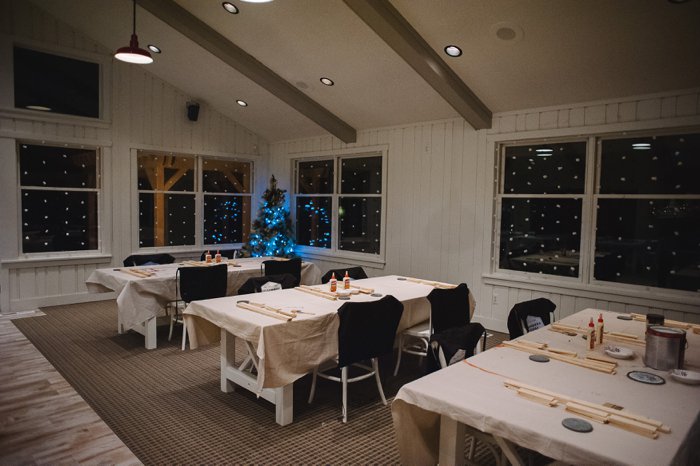 When we arrived for the DIY woodworking class at The Boathouse, we were blown away by the warm, inviting and elegant ambiance.
The Frugal Farmhouse owner, Maren LaVoie, greeted us with a warm hug and directed us to the wine, cheese and crackers spread.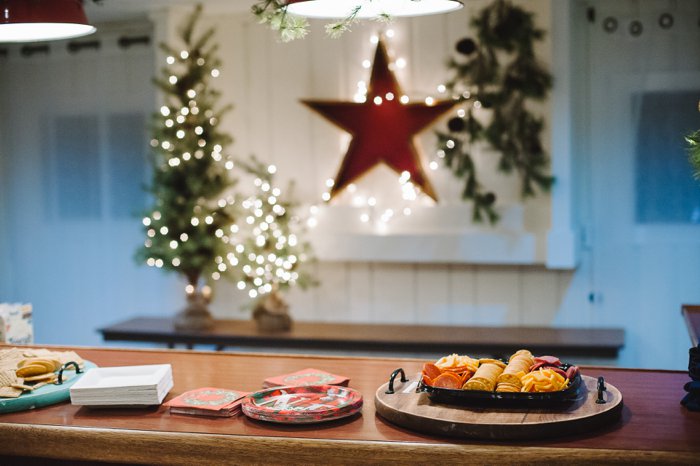 And then the fun, relaxation and creating began!
The Birth of The Frugal Farmhouse
I first "met" Maren when I was assigned to write an article about her for Her Voice Magazine. I immediately loved her enthusiasm and talent.
Maren's home-based business was born after years of renovating an old farmhouse that she and husband had bought.
Feeling compelled to re-purpose the beautifully weathered wood of an old fence that had fallen down on the property, she began making farmhouse-style rustic signs for her home. Friends and family who visited loved the creations as well and encouraged the young mother to consider creating pieces to sell.
Maren began doing just that and The Frugal Farmhouse was born.
Today, the successful business offers hand-crafted wooden signs and home decor with a rustic farmhouse look for local residents as well as customers from all over the U.S.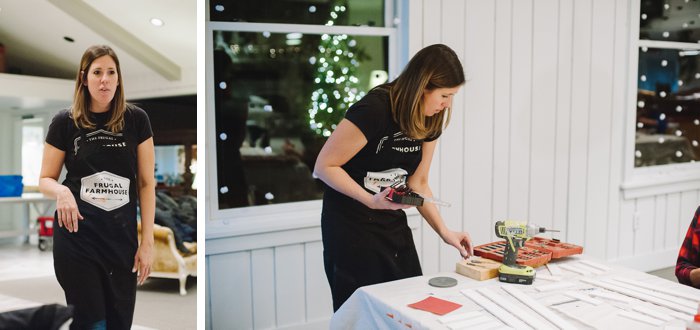 "All my items have that farmhouse, rustic, industrial, distressed look to them and my customers seem to love that," Maren shared.
"I can also customize pieces to fit anyone's home. In 2017, I added fun DIY woodworking workshops to The Frugal Farmhouse's offerings so people can learn how to make some of these fun signs and rustic pieces themselves."
And those DIY woodworking workshops are thriving!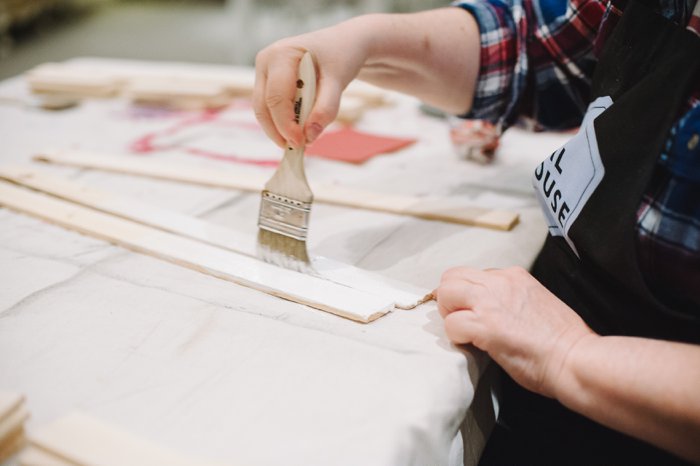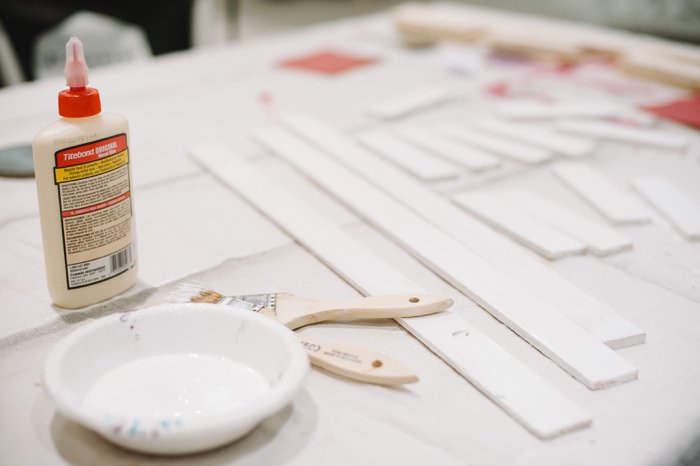 Laura and I had a ball at the Rustic Snowflake class; it was just the stress-relieving camaraderie we needed.
As the host, Maren was very attentive, helpful and hands-on with her students. If someone was not comfortable using a drill or nail gun, no problem; she gladly jumped in and helped.
We were lucky enough to share a table with Maren's bestie, Belinda, who is also a talented artist and a ton of fun to chat with as well.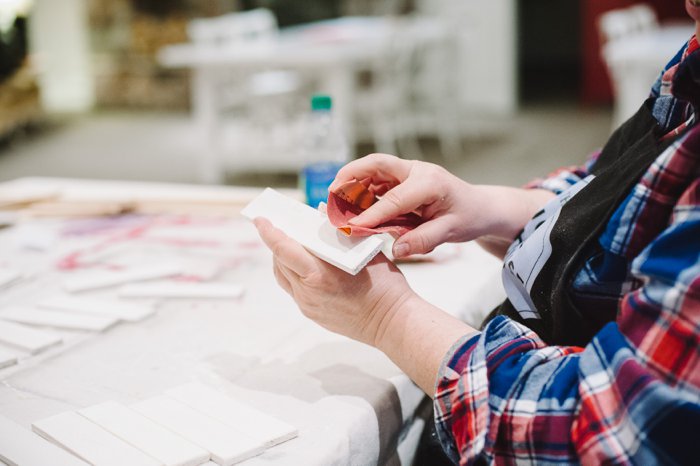 DIY Woodworking Classes for Creatives and Non-Creatives Alike!
Piece by piece, with easy-to-follow step-by-step instructions, our snowflake creations came to life.
I (Becky) personally don't consider myself a "crafty" person but I was thrilled with how my snowflake turned out. I also discovered that, when it comes to creating and DIY crafts, woodworking is my jam.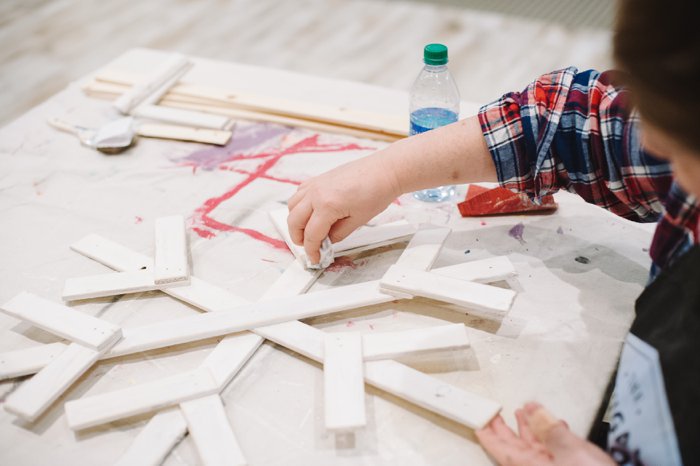 Laura loved the class as well!
While she's well versed in most areas of DIY and crafts, she hasn't dabbled in woodworking much. It was a fun challenge for her to try something new.
Her wooden snowflake is now proudly hanging in her entryway where she sees it every day as she walks by.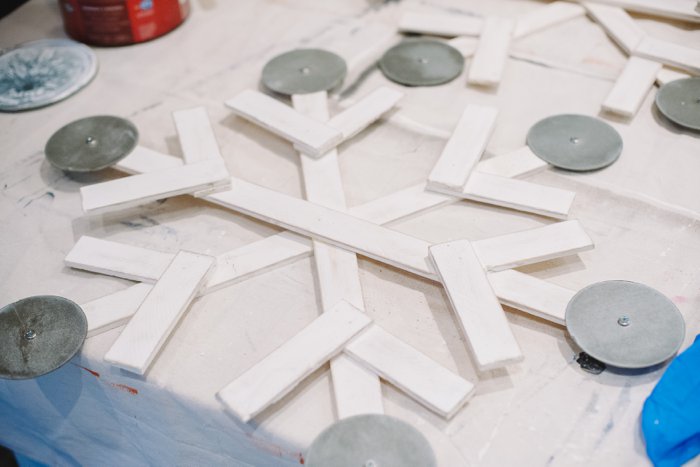 Laura and I both agreed that we will be attending more of Maren's classes in the new year.
We are excited about her plan to build a Frugal Farmhouse studio and workshop on the LaVoie property in 2018.
We also admire the fact that she is proof that a passion for making something old, new again, can serve a purpose while also creating a source of income.
Ambitious women like Maren are a force to be reckoned with and we plan to continue to support her and her dream for years to come. #TeamMaren!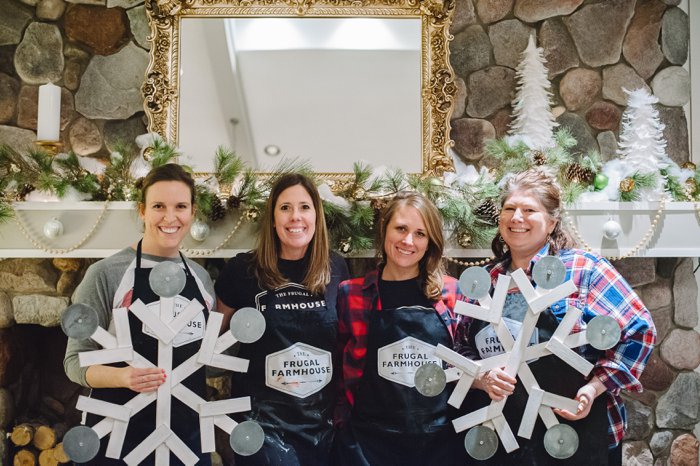 Connect with Maren and The Frugal Farmhouse on Facebook and on her website.
Her DIY woodworking classes are truly memorable, and we know you will love them!