**These posts often contain affiliate links. Please see our disclosure policy for details.**
WONDERING WHAT YOU SHOULD NAME YOUR BLOG? HERE'S A LOOK AT WHETHER YOU SHOULD USE YOUR OWN NAME AS THE NAME OF YOUR BLOG, OR PICK A DIFFERENT NAME.
"Should I use my own name for the name of my blog?"
There's an ongoing debate in the business world; especially in service businesses like photography, design, and consulting.
The debate revolves around what to name your business.
Should you use your own name?
Or should you choose a different name for your business?
Should your photography business be called Laura Radniecki Images (like I decided to do) or Those Moments Photography (what I called my business for the first month of it's existence)?
There are pros and cons to each side, so let's break it down.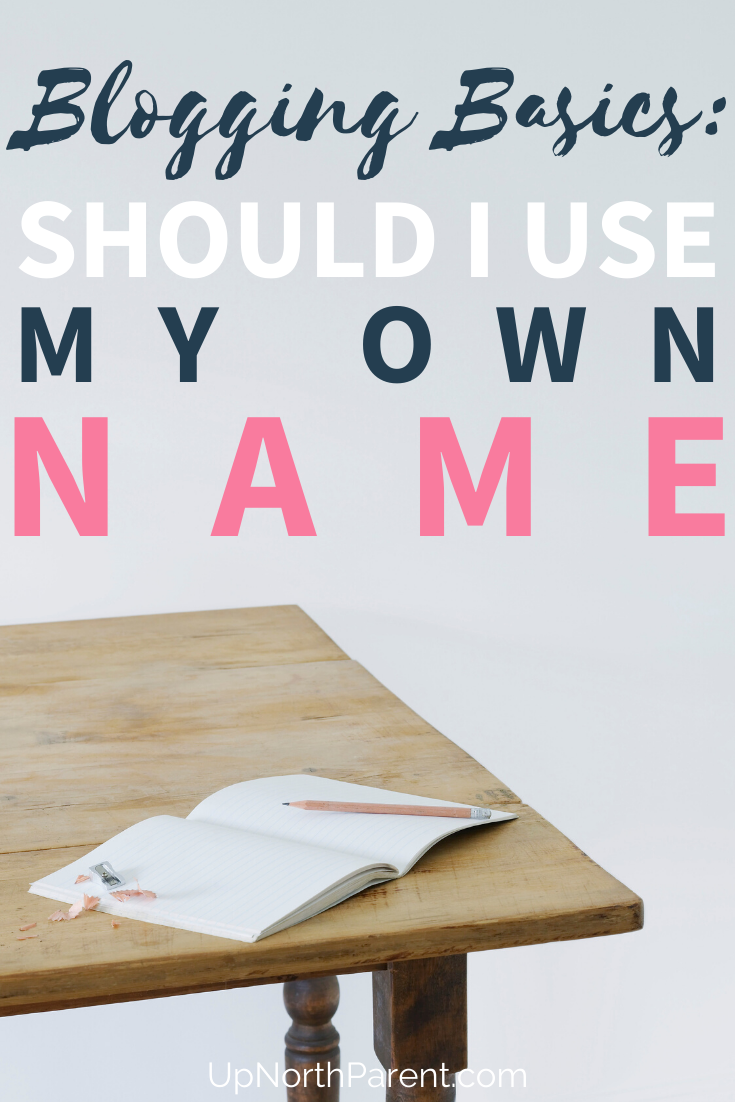 Using your own name as your business name:
The first question to ask yourself when considering using your own name as a business name is: how unique is your name?
If your name is Ashley Johnson, there are likely many other Ashley Johnson's who are also in business too.
Chances are that domain name might already be taken, and so might the social media handles.
But if your name is unique like mine is (perks of having a hard-to-spell last name!), it's unlikely anyone else has used that same name for their business or social media accounts.
Pros of using your name as your business name:
Unique to you if you have an uncommon name. If people search your name, they will find your business.
Creates a brand around yourself, making YOU what sets you apart from someone else. In industries where people are often competing on price, you can build your brand around yourself and market it as your differentiating factor.
Allows for adaptation and change if your business pivots in the future. If you switch from photography to parenting blogger to craft blogger (like I did!) your blog can move with you because it's still just your own name.
Cons of using your name as your business name:
You are visible to the public, for better or worse. There's no anonymity when your name yields hundreds or thousands of google search results.
Your name is tied to your business. This can make it harder to transition out of if you were to sell it in the future.
Choosing a different name for your business:
Pros of choosing a different name for your business:
Can choose a name that tells people what the business or blog is about. When it's your name, people can't immediately tell the niche of the site. But if your blog is called Garden Grow, they can immediately tell it's a blog about gardening.
Gives you a degree of anonymity (or full anonymity depending how you structure the business) by not having your name directly tied to the business name. If you use your name in the bio or about me section, your name will still be tied to the business and will show up in search results. But it's MUCH less than it would if your name WAS your business name. And in some cases, people want full anonymity. This is possible (though challenging) to do when using a different name for your business name. You just never mention your own name in any parts of your blog, and you can retain your privacy.
Cons of choosing a different name for your business:
Usually niche specific so that makes it hard to pivot in the future. If you started a blog called Garden Grow and then ended up wanting to write more about parenting, the name wouldn't fit as intuitively as it did when you were writing a gardening blog. (And yes, this is exactly the case with Up North Parent. It began as a parenting website for people in the north woods of Minnesota. But with time, it went through many revisions and is now a blogging resource for stay-at-home moms. The Up North Parent name doesn't have anything to do with blogging for SAH moms… but I am using it anyway out of convenience sake, since the site was already built and set up that way.)
May be harder to differentiate from other businesses since your name, face, and personality are more removed from the business. This leads to competing solely on price.
– – – – –
There is no right or wrong choice when it comes to deciding what to name your business.
Whether you decide to use your own name for the name of your business, or go a different route and choose something completely different, there are pros and cons to both options.
But whatever you choose, it lays the foundation for your business or blog, and gives you a spring board to get your voice out into the world!