**These posts often contain affiliate links. Please see our disclosure policy for details.**
I can't even begin to tell you how stoked I am as to how popular our previous post, Gently Used & Previously Loved -Thrift Stores in the Brainerd Lakes Area has been with UpNoPa readers.
This subject is near-and-dear to my heart for many reasons, but the main one is how, over the last 20+ years, thrift store shopping has enabled me to get things for myself and my family that we otherwise would not have been able to afford.
But let's hold that thought for a moment.
I know there are MANY people who are creeped out by the thought of buying something "gently used." If that's the case, I totally respect your decision, but I can promise you it's not as gnarly as you think.
Just like regular brick-n-mortar stores, there is a wide range of quality and presentation when it comes to thrift stores. They can range from a store that specializes in "holy cow that belongs in the dumpster!" to very upscale and boutique-like thrift stores like Common Goods.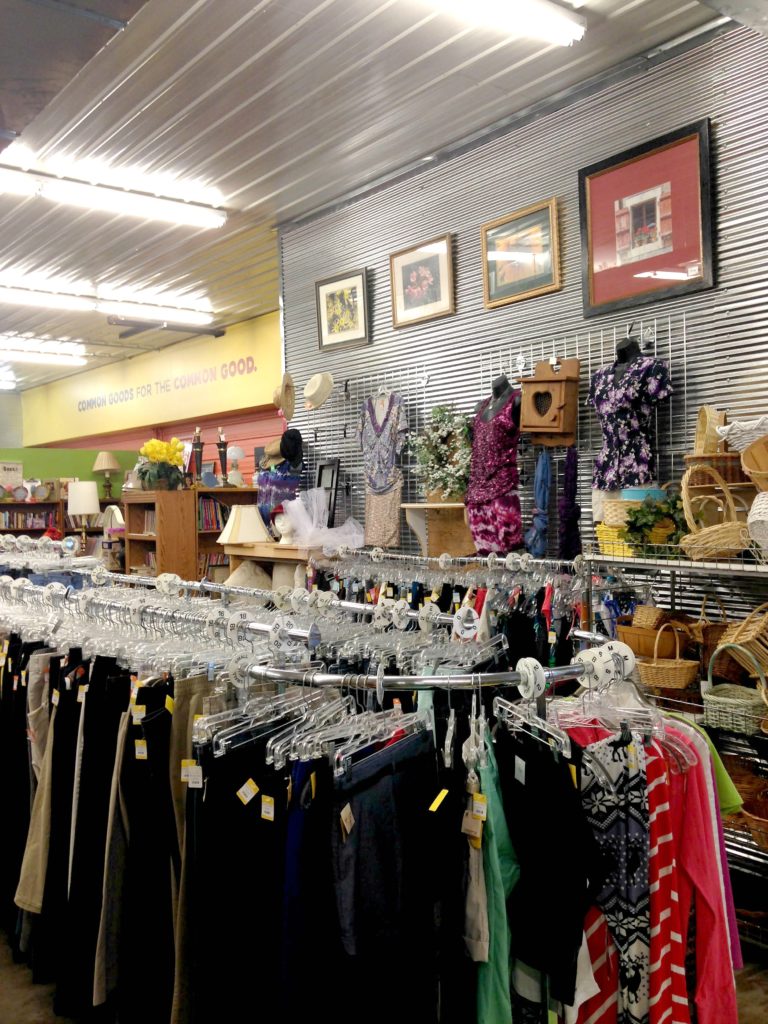 And I'll let y'all in on a little secret…much of what I buy at thrift stores are brand new items with the retail tags still on them! A $118 skirt for four bucks?? YES, PLEASE.
In my opinion, thrifting is fun and it's cheap, but it's also a good deed.
By shopping, supporting and even donating to thrift stores, people are providing funds for various charities as well as keeping perfectly usable goods out of landfills and incinerators.
If you are new to the thrift scene, or just want to up your game a little, here are some of my words of wisdom and advice. Thrift stores are a great place to buy household items, holiday decor, household decor, clothes, baby items, books, toys, accessories, movies, antiques and vintage items, furniture and craft supplies.
Thrift Store Shopping Hacks: Why Thrift Stores Can be Better Than Garage Sales
Thrift stores can be better than garage sales (I love those too) but the main advantage is having everything you may be seeking all in one tidy place.
Instead of driving to six garage sales to find wall art or 2T pants for your rugrat, a thrift store should have all of those items under one roof.
Another thing to not forget is that some (not all) thrift stores will allow returns. You won't get that deal at a garage sale.
Thrift Store Shopping Hacks: Making the Most out of your Thrift Shopping Adventure
Be Reasonable about Distance Traveled: I love a good thrift road trip, but shoppers need to be reasonable about time, effort and gas they put into their deal-seeking efforts. Spending $30 on gas is not a "savings" if all you are on the hunt for is one or two items. Plan your trips accordingly and leave home with a mission. And a list.
Make a List, and Check it Twice: Before you embark on your thrift shopping extravaganza, know your sizes and the sizes of anyone you are shopping for.  Don't be shy about carrying a tape measure with you or trying things on in the store. And have a budget in mind. You truly don't want to empty your wallet just to fill your closet.
Know Your Brands: This may be a bit tricky for some people…but better brands are going to be your best values at thrifts. Too many times I've seen shoppers buy a Big Box Store brand item used for only a few bucks less than what they would have paid for it new at said Big Box Store itself. Sometimes it's a matter of convenience, other times shoppers may be making buying decisions based on emotions (I just LOVE that color!). If you fall into that category, no worries…you are normal. But it is a good idea to get to know brands carried by clothing boutiques or upscale department stores and gravitate towards those brands.
I recently came across a pair of immaculate condition Paige Jeans at a thrift and I know for a fact, this is a boutique brand that sells for over $100 brand new. Thrift store price? Five bucks. #Score.
Quality brands for adults that I look for include J.Jill, Chico, Misook, Ann Taylor Loft, Eileen Fisher, North Face, Torrid, Lululemon, Under Armour, Columbia, Free People and Nike.
For tots, I recommend Baby Gap, Zutano, and Gymboree.
For kids/tweens/teens I gravitate towards Gap, Children's Place, Hanna Anderssen, Columbia, Anthropologie, and Aeropostale.
Condition, Condition, Condition: In my opinion, the condition is everything when it comes to clothing or items bought "previously loved." If you are buying dishes or glassware, check for chips, cracks, and damage. Open up DVD cases and make sure the movie isn't visibly scratched or damaged. Turn clothing inside out to examine its interior for lining tears or stains, loose threading along the hem, missing tags and other hard-to-see issues.
The BIG deal-breaker for me on ANYTHING is smell. Specifically, cigarette smell which is a nightmare to get out of clothes and impossible to get out of other things. Books are another thing that can pick up smells that the buyer is stuck with. If you see some weird chick standing in the book section sniffing books…it's probably me 🙂
Make Sure It's Complete: When it comes to buying things like games, toys, sports items and housewares, make sure everything is there. Nothing is more frustrating than playing a game that's missing instructions, putting together a puzzle that's missing pieces or finding out your 8 piece dish set is really only a 7 piece. If something is battery operated, check the battery compartment to make sure it's not corroded and ask to plug-in items to make sure they work. Most thrifts test all of these appliances and electronics, but taking an extra minute to double-check is also a good practice.
Go with Cash if Possible: While some thrift stores accept debit and credit cards, just as many don't. I also believe that by using cash, I am more mindful of my budget and careful about my purchases.
Thrift Store Shopping Hacks: Things I shy away from
When it's all said-n-done there are a handful of things I prefer not to buy used for a variety of reasons:
Underwear (that's all I need to say about that)
Shoes
Makeup
Hygiene Items (shampoo, lotions, toothbrushes etc)
Worn plates, pots and other cookware (Rust, flaky non-stick coatings, and chemicals that leach out are just a few of the safety problems you can run into with older cookware. No, it's not even good for "deer camp.")
Masks (Keep in mind, someone sweated, drooled and sneezed inside one of those…possibly a lot)
Wigs and Hats (I know cooties aren't real…but still)
Stuffed Animals (I've heard rumors that lice can come home with you via stuffed critters. I don't know if it's true so why take the chance)
Anything that could have been in someone's mouth (harmonicas, noisemakers, whistles)
Ready to check out the local deals to be had? If you are unsure where the thrift stores are in your area (or elsewhere) just enter a zip code on thethriftshopper.com and see what pops up.
Take a day to explore the thrift stores in your area and see what you come up with. I think you will be pleasantly surprised at the treasures you find.
**If anyone has interest in knowing more about finding thrift deals to resell on sites like eBay, leave me a comment below and I can put together a post on that topic as well!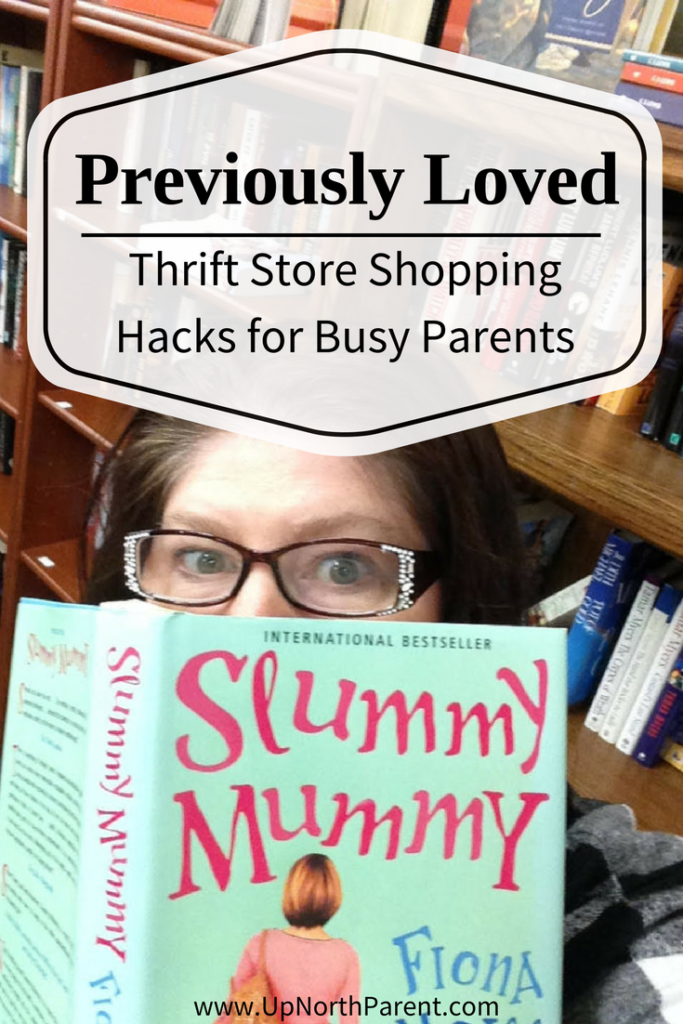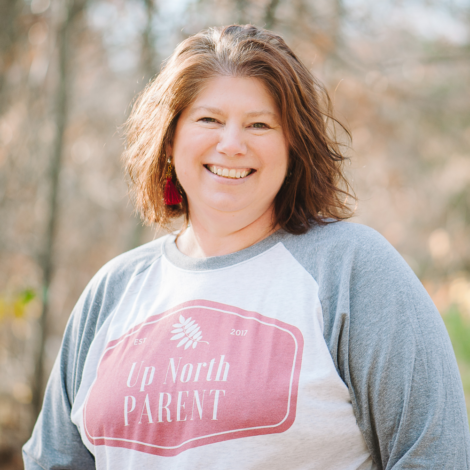 Becky is an "old-ish" mom of "young-ish" kids who thinks bacon is the world's most perfect food. She is a veteran blogger, freelance writer, virtual assistant and project manager for the non-profit children's literacy event, Multicultural Children's Book Day. She is also a proud mom to her amazing 12-year-old daughter Sara and 15-year-old son Jake. Parenting a tween and a teen is a challenge, but she truly believes that being a mom is the Best.Thing.Ever. When she is not hiking (#plussizehiker), reading, selling on eBay, playing with her pets or working on a story for the various magazines she writes for, you can find her on her main blog, Franticmommy.   Connect with Becky on social media: Twitter, Pinterest, Instagram, and Facebook!