**These posts often contain affiliate links. Please see our disclosure policy for details.**
Grandparents love every gift they get from their grandchildren.
It doesn't matter if that gift is a leaf, rock, flower or a beautiful painted canvas, it's the thought (and the cute gift giver) that counts.
September 10th is National Grandparents Day, an unofficial holiday focused on celebrating grandparents everywhere.
And while even a hug would make any grandparent smile, it's worth going a little above and beyond to honor the special grandparents in our lives.
4 Ways to Celebrate Grandparents on National Grandparents Day
1. Handprint Art for Kids
Recently, I shared a handprint craft that my son Raleigh and I made, and then sent to all of his grandparents. It involved red paint, making an apple out of his handprint, and then writing "I APPLEsolutely Love You, Grandma and Grandpa!" on it. We mailed them to his grandparents and they LOVED them!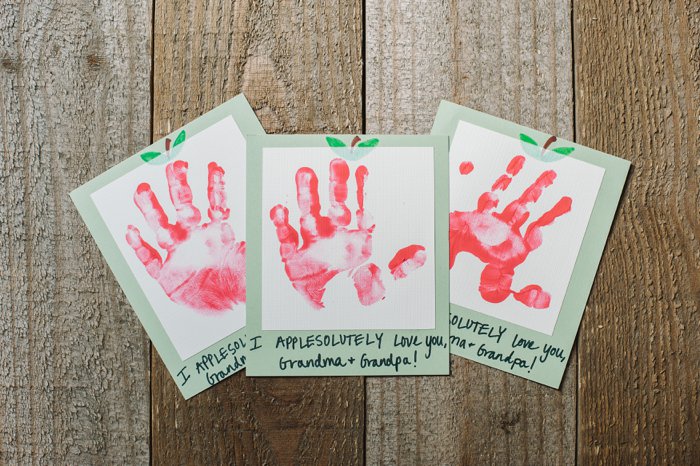 There are lots of other variations of handprint or footprint art projects that can be turned into a super sweet Grandparents Day craft. One we made in last year's Early Childhood class was the same red handprint turned into an apple idea, and the phrase "You're the Apple of My Eye!" written on it.
A quick Pinterest or Google search will give you tons of ideas! All you need is paper, a little kid-friendly paint and some markers.
2. A Framed Photo
It's a universal rule that grandparents can never have too many photos of their grandkids.
By taking a favorite photo and putting it into a cute frame, you've got an instant gift they'll love!
3. Photo Calendar
This is a gift that I've made for Raleigh's grandparents for Christmas, and it is always a huge crowd pleaser.
There are lots of different companies to choose from but one of my favorites is Shutterfly. The calendar is a practical gift (everyone needs a calendar, even in this smartphone era!) and yet it's so sweet and sentimental too. The photo pages can even be saved after the year passes.
4. A Grandparent Date
Maybe it's out to lunch or for an ice cream treat. Either way, it would make any grandparent feel extra special to go on a date with their grandchilden!
– – – – –
No matter what way you choose to love on your child's grandparents for National Grandparents Day, the gesture will be very appreciated.
Grandparents are a wonderful part of a child's life, and they deserve to be honored and celebrated!