**These posts often contain affiliate links. Please see our disclosure policy for details.**
Guest post by Lakes Area Eyecare of Baxter, MN; one of Up North Parent's Sponsors.
May is Healthy Vision Month!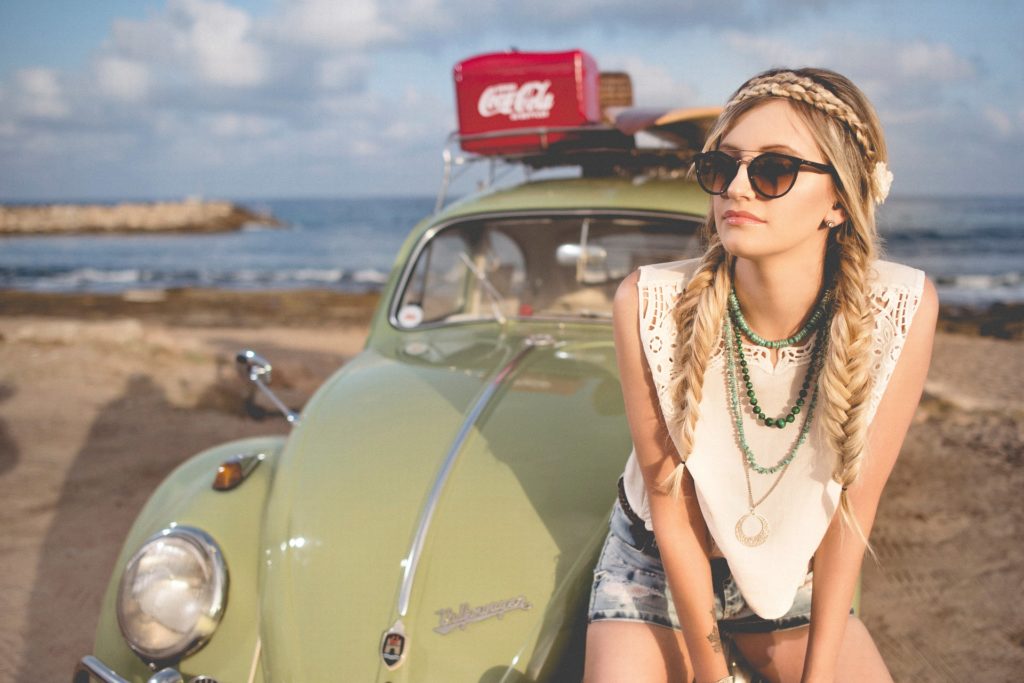 What does that mean?
This annual event is a national eye health observance that was established by the National Eye Institute (NEI) in May 2003. NEI is part of the National Institutes of Health, an agency of the United States Department of Health and Human Services.
Approximately 37 million adults in America have age-related macular degeneration, cataract, diabetic retinopathy, or glaucoma, all of which can cause visual impairment or blindness. The good news is that recent studies have shown that making healthy choices and getting regular eye exams can help reduce a person's risk of vision loss.
In a nutshell; take care of your eyes and they will take care of you!
In support of Healthy Vision Month in May, Lakes Area Eyecare of Baxter is encouraging everyone to take charge of their eye health. With that in mind, Dr. Kristel Schamber and Dr. Brooke Fenstad would like to share a few easy tips on how to keep your eyes healthy.

Smart Tips to Keep Your Peepers Healthy | Healthy Vision Month
Get an eye exam.  Many serious eye diseases do not have any signs.  Get checked out yearly including dilation of your pupils and scan of your retina!

Know your family's eye health history and discuss with your eye doctor.

Give your eyes a break.  When doing near work, take a break every 20 minutes to look far away (at least 20 feet) for at least 20 seconds.  20/20/20 Rule.

Eat eye-healthy foods.  A diet rich in fruits and vegetables, especially spinach and kale, is important for keeping eyes healthy!  Salmon, tuna, and halibut are high in omega-3 fatty acids and are also helpful. 

While there is no single pill that will restore perfect vision or optimal eye health, there is new evidence from Bausch and Lomb Pharmaceuticals that certain minerals and vitamins may be part of the eye's normal defense system against damage. The formulation of high-potency zinc and the anti-oxidants vitamin C, vitamin E, vitamin A (as beta-carotene), selenium and copper have been shown to be effective in assisting the eye's defenses against certain degenerative conditions.

Wear sunglasses even on cloudy days.  This blocks out harmful UV rays which can cause earlier cataracts, retinal damage and damage to the skin around the eyes.  Sunglasses also block out harmful glare which can be debilitating to vision. When buying sunglasses, look for those that block out 99 to 100 percent of both UVA and UVB rays.

Stay at a healthy weight and get plenty of physical activity. Many systemic health issues cause complications with the eyes.
Trust the Experts | Healthy Vision Month
If your current eyewear options are looking a little thin, you're in luck!
During the months of May and June, Lakes Area Eyecare is offering discounts on multiple pairs of eyewear at their Baxter location.
This is the perfect time to gain a fresh perspective and invest in a second pair of glasses! (Offer ends June 30, 2018)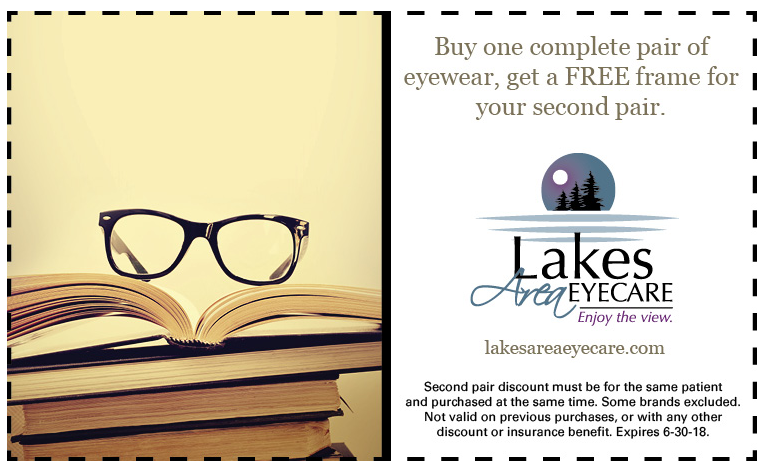 Located on Excelsior Road, Dr. Schamber and Dr. Fenstad and their team have been offering comprehensive vision examinations and the diagnosis and treatment of a wide array of eye diseases, conditions and problems to the people of the Lakes Area since 2014. Also available to help clients is optician Greg Olson, and customer care expert, Ellen Kraling. Together, this dynamic duo works with patients of all ages, but have a true passion for ensuring that area kids are seeing clearly.
For more information about them, visit Lakes Area Eyecare on the web or on Facebook.