**These posts often contain affiliate links. Please see our disclosure policy for details.**
This post is sponsored by Jack Pine Brewery. Thank you for welcoming us and making this post possible!
Some of the best businesses in the Brainerd Lakes Area are the ones who had humble and authentic beginnings.
Jack Pine Brewery is one such company.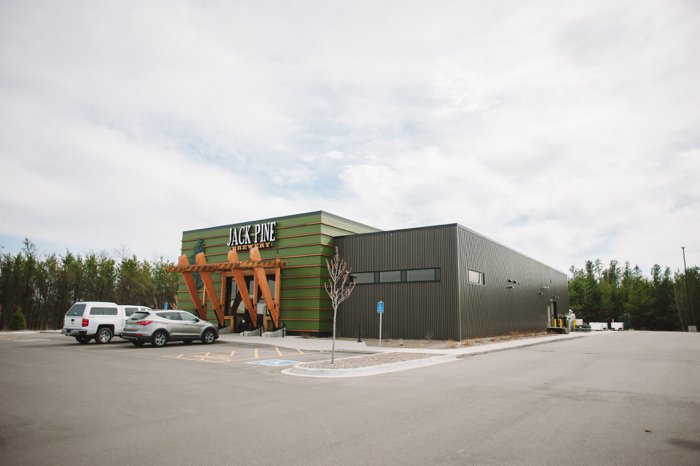 Laura and I (Becky) recently had the pleasure of visiting this beautiful taproom for a leisurely afternoon of sampling beverages, relaxing, and fun family time.
With two-year-old Raleigh (Laura's toddler son) and 15-year-old Jake (Becky's teen) in tow, there was plenty of activity, kid-friendly drinks, and wide-eyed wonder to be had.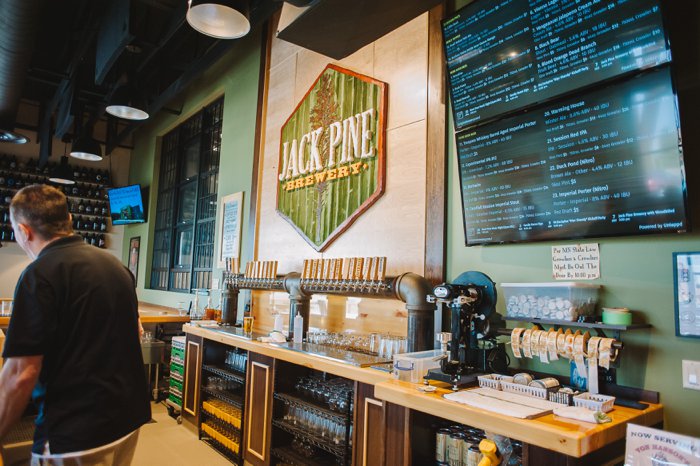 The Start of Jack Pine Brewery of Baxter, MN
Jack Pine Brewery (JPB) is the first brewery to operate in the Brainerd area since prohibition! There may be others popping up often, but this business is bursting with things that make it unique from other taprooms.
It all began with the purchase of a home brewing kit in 2001. With that simple purchase, Founder, Patrick Sundberg was hooked and spent many afternoons and evening tinkering with flavors and blends like a not-so-mad scientist.
As his skills as a brewmaster evolved, so did his desire to create a family-friendly gathering place where he could showcase his own private craft beer label, and a seed of possibility was planted.
By 2011, he felt he was brewing enough good beer to take the next steps in creating a unique local brewery that would stand out from the competition and set to work gaining the knowledge needed to make his business ownership dreams come true. Soon the seed of an idea took root and then bloomed into what area residents and visitors know as Jack Pine Brewery in 2012.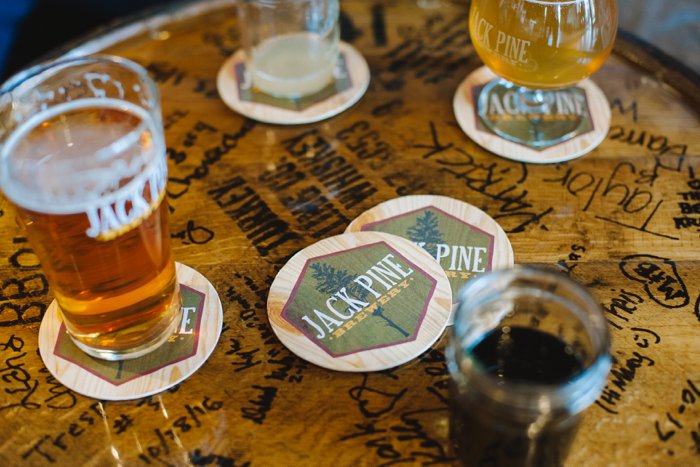 Now, in its sixth year of business, JPB maintains its strong community standing as a family-friendly brewery that is the perfect example of what happens when great brewers, great ingredients, and great passion collide.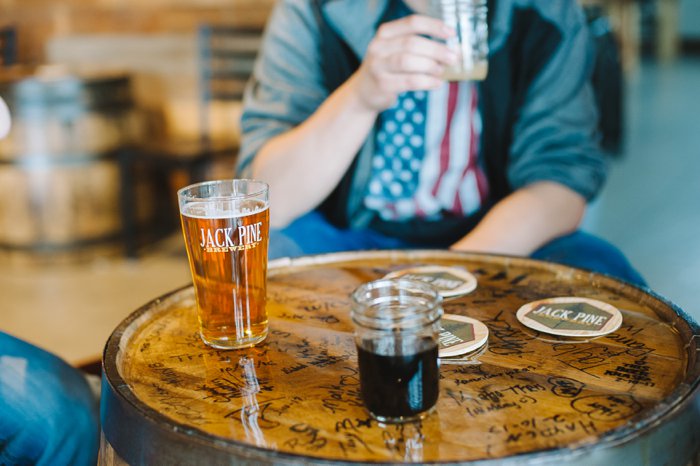 YES, a Brewery CAN be Family-Friendly!
"We are first and foremost, a family-friendly taproom, " Patrick shared. "We have house-made sodas for $1 with free refills for the kids. Cold Press nitro coffee and Kombucha on tap for the non-drinkers and a wide array of beers that suit all tastes including unique blends like Blood Orange Cream Ale, Hornets Nest Honey Lemon Wheat, Fenceline Pale Ale, and Vengeance! Jalapeno Cream Ale. We offer custom crafts beers that are bound to please every palette and our customers appreciate that these fresh beers are made right in their hometown."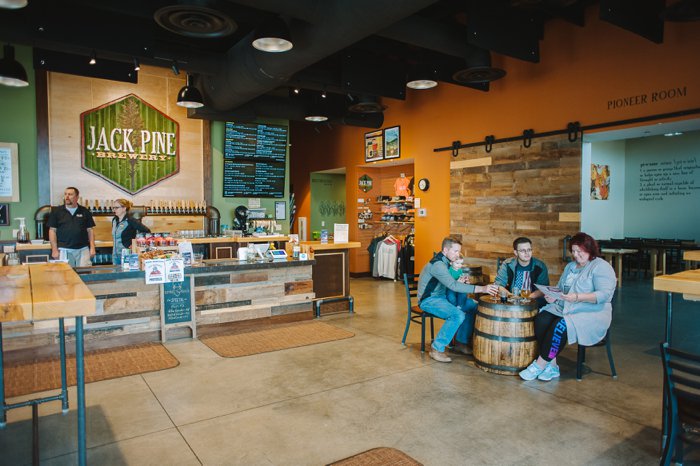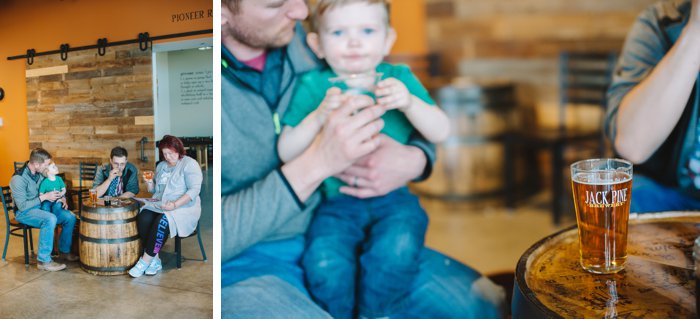 Patrick went on to share that the popular Blood Orange Ale will be replaced by the much-anticipated Lemon Shandy on Memorial Day Weekend.
"Going forward, we will plan on having some form of fruit beer on tap at all times since that's what people seem to be interested in at this time.  That's the great thing about our Tap Room, we are able to play with different flavors and styles and see what people enjoy."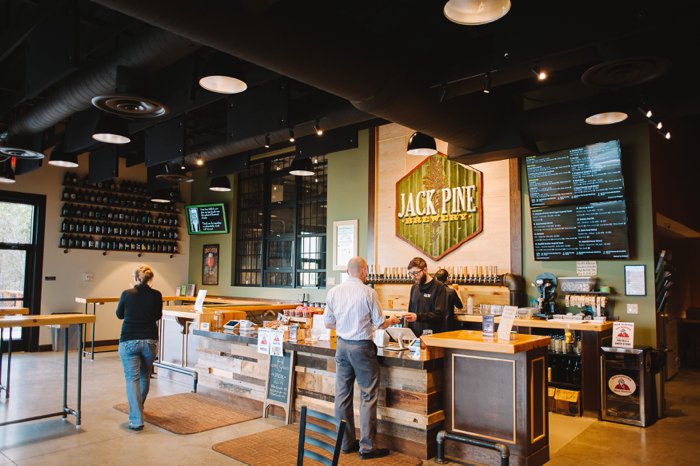 Jack Pine Brewery may have started "nano-brewery small," but under the guidance of Patrick and his team, the business continues to grow by leaps and bounds.
Armed with a state-of-the-art warehouse filled with stainless steel brewing equipment and knowledgeable staff, their brands like Duck Pond and Fenceline Pale Ale can be found in cans in liquor stores throughout the area and on tap in many local bars and restaurants like Black Bear Lodge and Saloon and Boomer Pizza.
This coming winter, Patrick shared that JPB will also be putting their popular Blood Orange Cream Ale into cans in the liquor stores.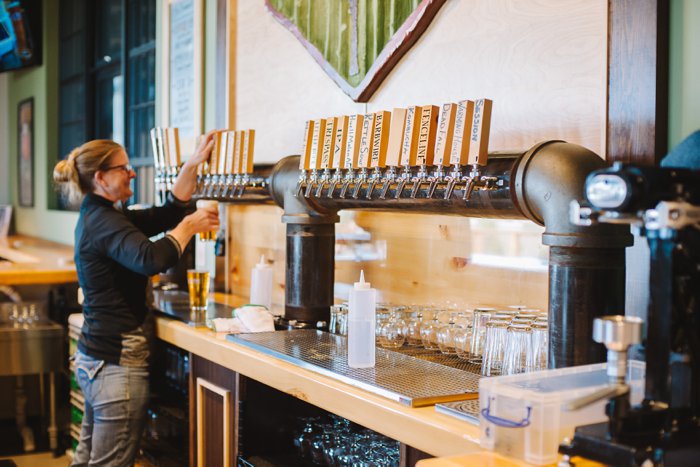 JPB offers brewery tours at 2 pm every Saturday, but Taproom Manager, Mary Baumann was kind enough to let us tour the brewery area and see for ourselves the lengthy and meticulous process that goes into producing every drop of Jack Pine Brewery's unique and delicious brews.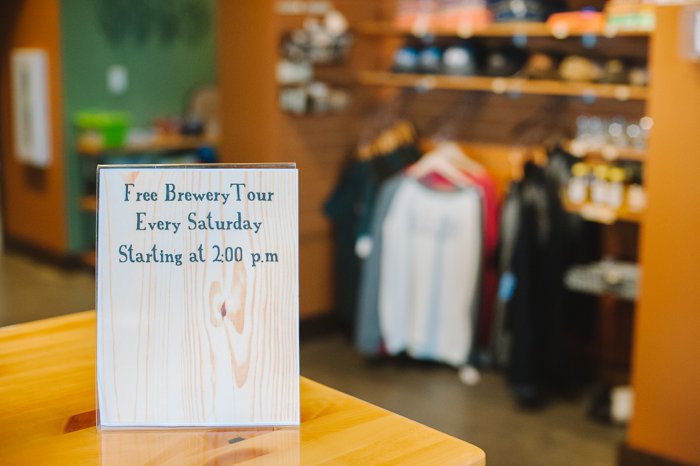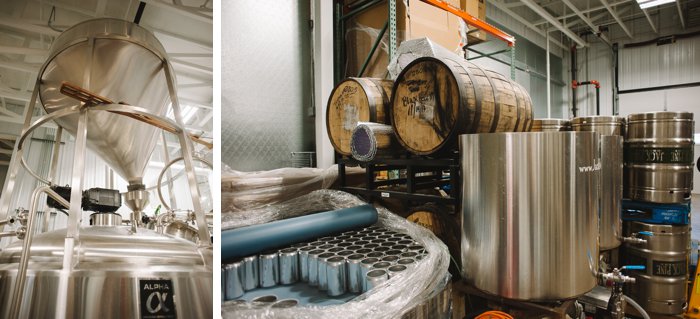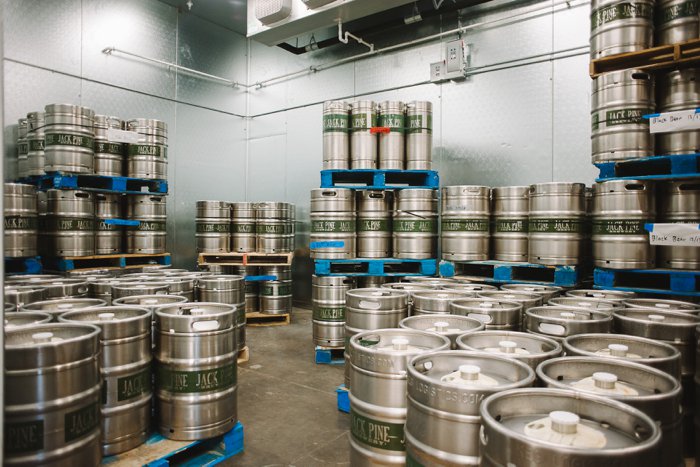 Family and Pet-Friendly, and Full of Events!
From a parent's perspective, this establishment is a true "family friendly" one. With its rustic décor, excellent lighting and spacious outdoor patio, there's plenty of room to move around or just chill and decompress.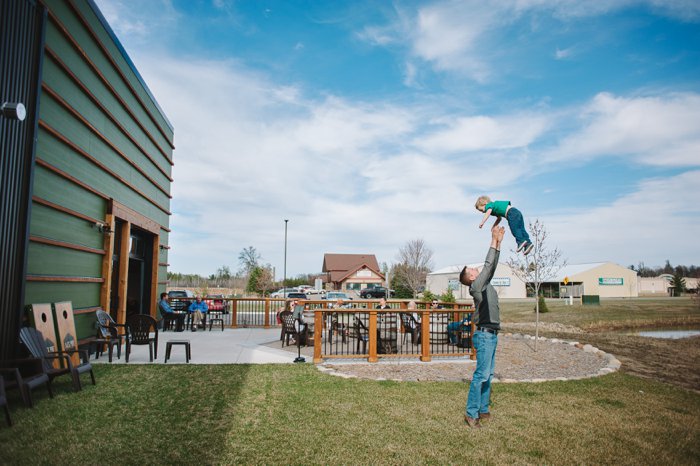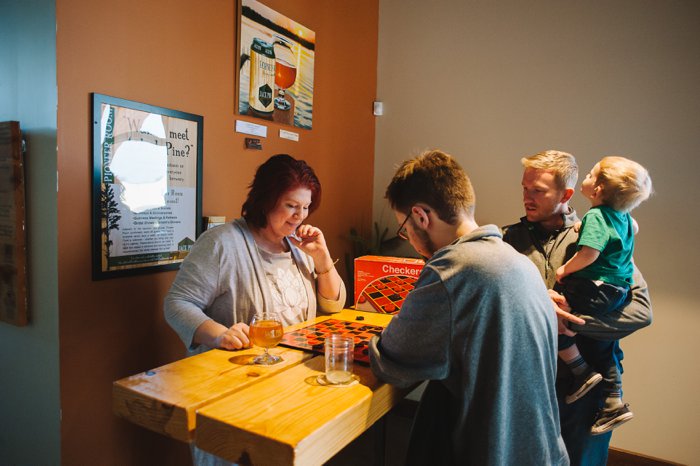 Jake and I had a ball playing checkers at one of their standing tables while little Raleigh happily played with blocks and toys with mom (Laura) and dad (Matt).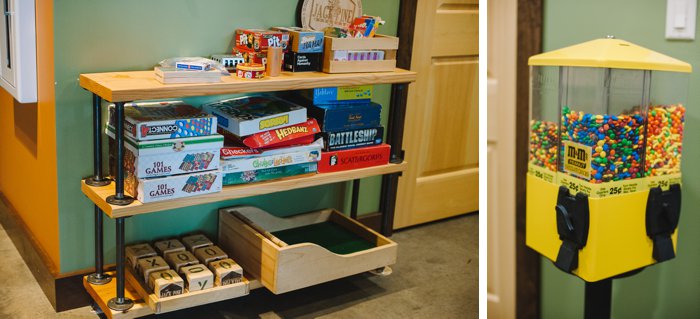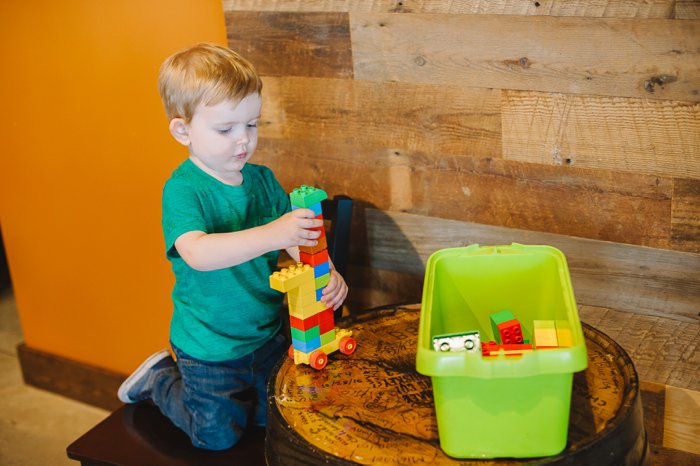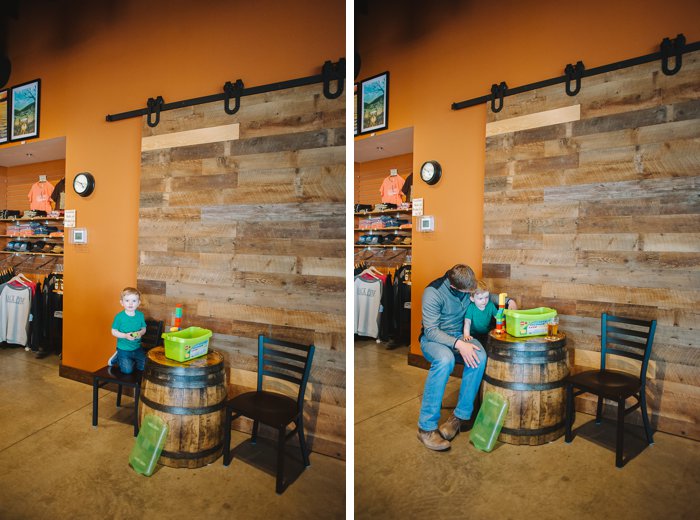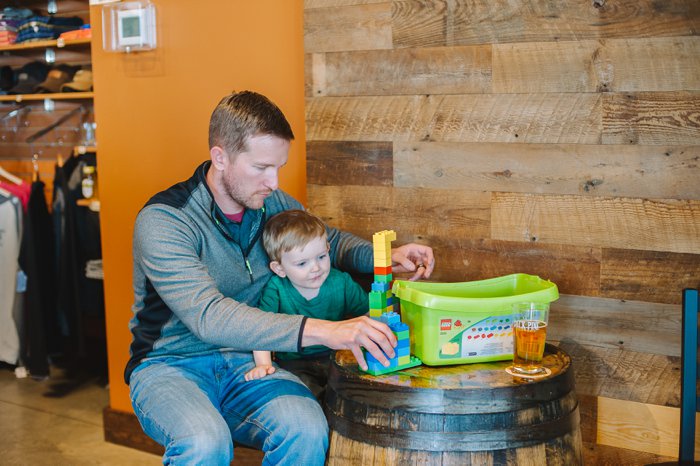 We were also delighted when a customer came in with their canine companion and settled into the patio area. Mary swooped in immediately with a fresh doggie bowl of water for the furry customer. (Jack Pine Brewery is pet-friendly!)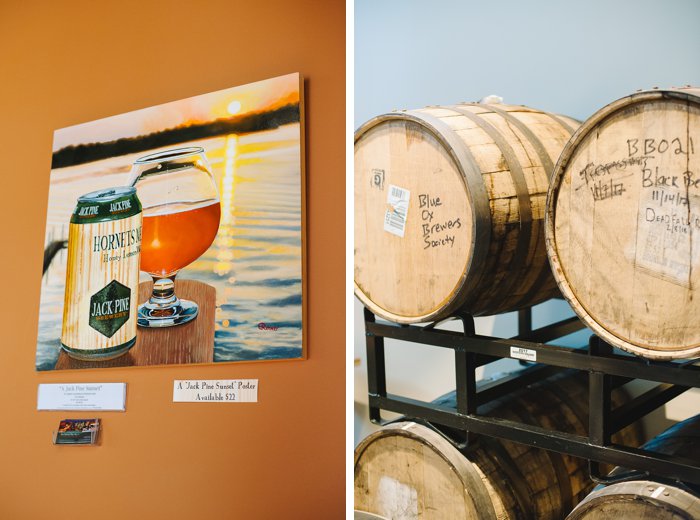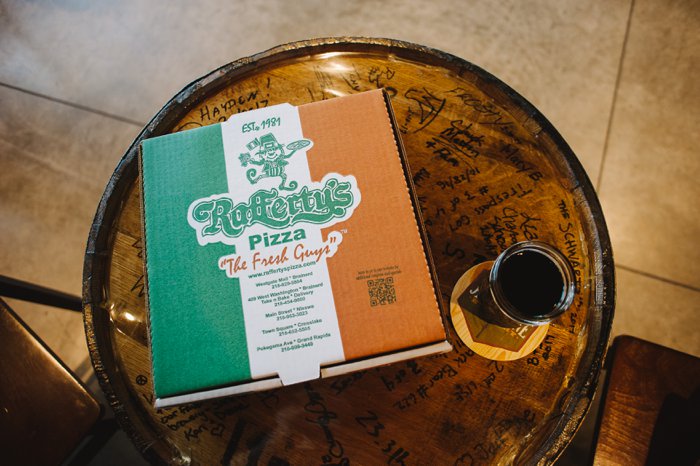 We also had a chance to wave "Hi" to Maren LaVoie as she set up for her Frugal Farmhouse class in JPB's large event room.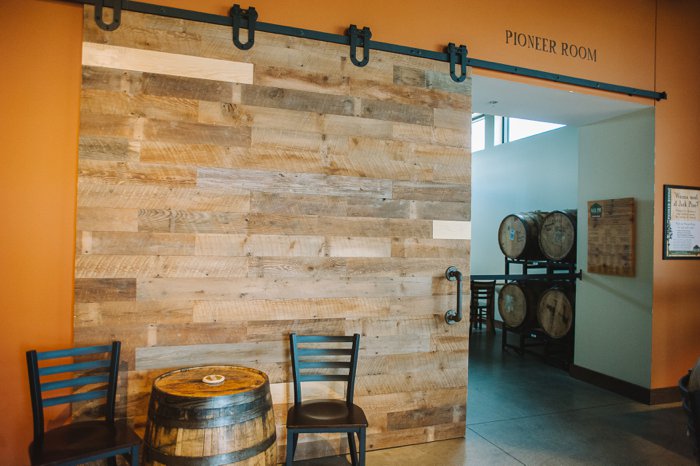 Between live music events, yoga classes on Saturdays, fundraisers, painting classes or craft classes, "Short Pour Music Night" (open mic), and trivia competitions, this local taproom's in-house events keep everyone entertained and delighted.

Mark Your Calendars: The Church of CASH at Jack Pine Brewery
"We have an extra special event coming up," Mary revealed. "The Church of Cash will be performing here June 2nd in the JPB parking lot. This group is arguably the best Johnny Cash Tribute band around and we're putting up a tent in the parking lot to accommodate the festivities. Tickets are now on sale in the taproom for $15 each, the gates open at 6 pm, show starts at 7 pm and runs until 10 pm. Guests will be able to drink outside under the tent and the tent area will be fenced so everyone will be able to watch the show and enjoy their beverage. A food truck will be on site for the day and the event will be held rain or shine. We are very excited about this event and we know our patrons will love it as well."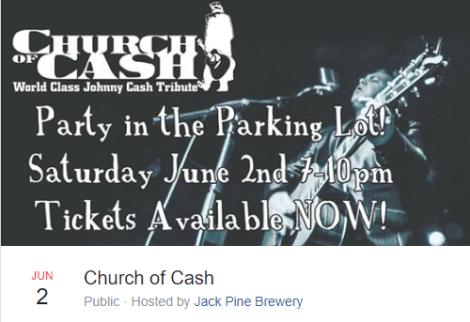 With summer knocking at our door, we will be visiting Jack Pine Brewery often. (Laura's husband Matt is a HUGE fan of Jack Pine Brewery too.)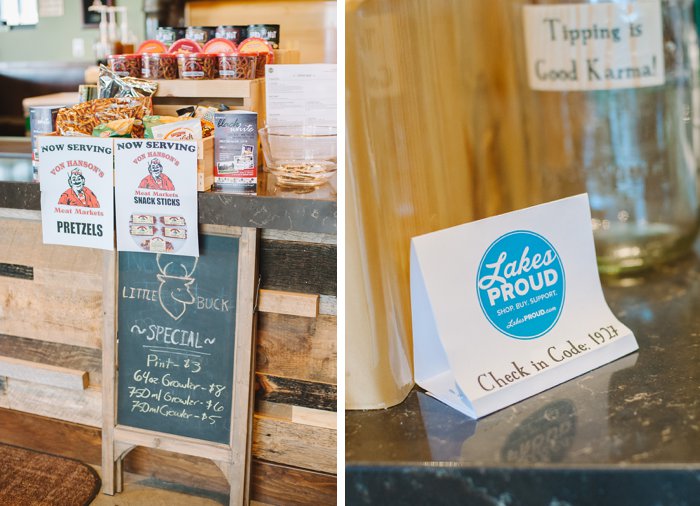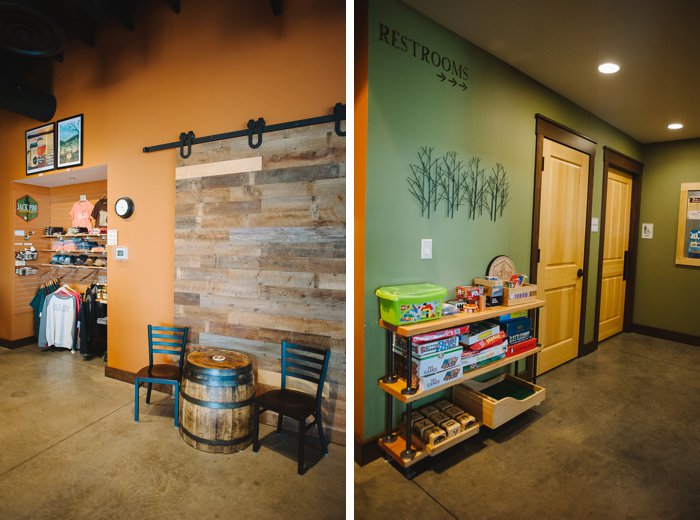 Nothing quite says summer like a drink on the patio, and knowing it's a family-friendly (and pet-friendly!) spot only makes it all the more welcoming!
*For those looking for a relaxed and friendly atmosphere with mind-blowing craft beers, right now our hours are:
Monday 4-10, Tuesday 4-10, Wednesday 4-10, Thursday 2-10, Friday and Saturday 12-10, And Sunday 12-6.
After Labor day Jack Pine Brewery switches over to their summer hours which are:
Monday through Thursday 2-10, Friday and Saturday 12-11, and Sunday 12-8.
Visit their website at www.jackpinebrewery.com for additional information, locations and a full list of beers.*