**These posts often contain affiliate links. Please see our disclosure policy for details.**
Thinking about starting a lash business? Here is a comprehensive guide showing step by step, exactly how to start a lash business.
Ever found yourself wondering how to start a lash business?
With the typical hourly wage of lash artists ranging from $20-$25 a year, there's a ton of money that can be made in this industry.
However, there are so many different things that go into starting a successful lash business.
You'll need to understand what is involved in the process and how much time it will take for you to get your business up and running.
If there's one thing we know about starting any type of small business, it's that it can be overwhelming because there's always so much to do!
In this article, we're going to walk through the basics of what goes into starting a lash business today – from licensing, and start-up costs all the way down to finding clients and growing your business.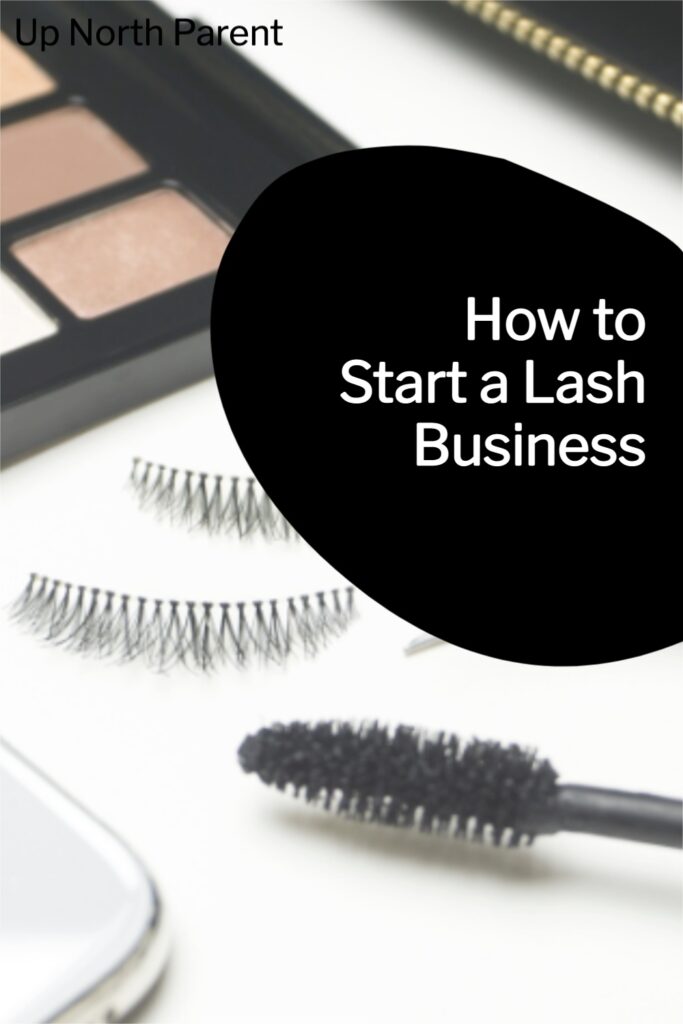 How to Start a Lash Business
Step 1. Choose The Right Type Of Lash Business 
Before getting started, you'll want to understand the type of lash business you want to open.
There are many different ways to create a lash business.
You could choose to work with clients applying lashes, sell them through an online store, or even offer courses on how to correctly apply lash extensions.
Here are a few of the most common businesses you can start within the lash industry.
Start A Lash Application Business
The most traditional way to start a lash business is to offer lash services to clients. This type of business allows you to work with one client at a time, applying lashes or touching up existing lashes. Many people start this type of lash business on their own, but it can also be good to team up with an already established salon in order to learn more about the industry or rent out existing space.
Offer Online Training Courses
Another option for starting a lash business is to offer online courses teaching people how to apply lashes, whether that's for other technicians that want to learn your technique or for customers who want to learn how to do this process for themselves. Online courses are created one-time and then sold or distributed to a wide range of customers. However, you won't meet with any clients face to face.
Create an In-Person Workshop
The third option for starting a lash business is to offer in-person workshops. These are more intensive and require the most time commitment, but they also give you the opportunity to meet with a larger group of clients who want to learn how to work on applying lashes themselves or grow their own lash business. These workshops can be very profitable and ensure that you're only reaching committed clientele.
One of the newest trends in lash businesses is to become a wholesaler. This means you would buy your lashes wholesale and then resell them for more than what they cost, allowing you to profit off your sales. However, this may be harder to grow due to the high volume of the same lashes available on the market.
Start Your Own Lash Label
Another option for starting a lash business is to create your own label. This means that you would work with a manufacturer to create a new type of lash that is not currently available within the industry. Branding is often crucial in this type of small business because many people want to purchase products from companies they trust.
You are not limited in which type of lash business you want to start, as many who want to create a lash business will offer multiple services at one time. For example, you might provide an in-person lash business, as well as an online shop for those who want to purchase the type of lashes you recommend. In this article, we'll focus more on opening a lash application business.
Step 2. Understand The State Requirements For Eyelash Businesses 
Before beginning the process of how to open a lash business, you'll want to understand all state requirements.
This includes understanding what type of license is required in your state and which fees are necessary for obtaining the said license. Since the lash industry is newer, there are varying licenses and requirements needed before you can open your business.
To find out precisely what you'll need, you should consider contacting your state licensing board to understand the specific requirements needed so you don't run into any trouble down the road.
Step 3. Calculate Your Start-Up Costs
The costs of opening a lash business vary depending on what type of service you're offering and where you are located. However, most lash businesses will incur similar types of costs before you're able to start accepting clients, including:
Business license and registration fee

: This is the cost of obtaining your business license to operate legally in your state. This may cost anywhere from a hundred to a few hundred dollars.

Lash Certifications:

 While there are no specific requirements for the course you choose, you'll want to make sure that you're selecting a certification or course that will teach you the skills you need to know to run a successful business.

Insurance: 

You'll want to make sure you have the appropriate insurance coverage for your business. This can vary in cost depending on where you are located.

Inventory:

 This includes lash glue, falsies, and other supplies needed before you can start accepting new clients. Remember that you'll also need to consider the decor and furniture set-up of your space. This may already be included if you're renting from an already established location.
These costs will typically add up to a few thousand dollars to get started.
Therefore, it's important to make sure you have the capital backing to start your project.
If you don't, you may potentially be able to take out a business loan to create your new business.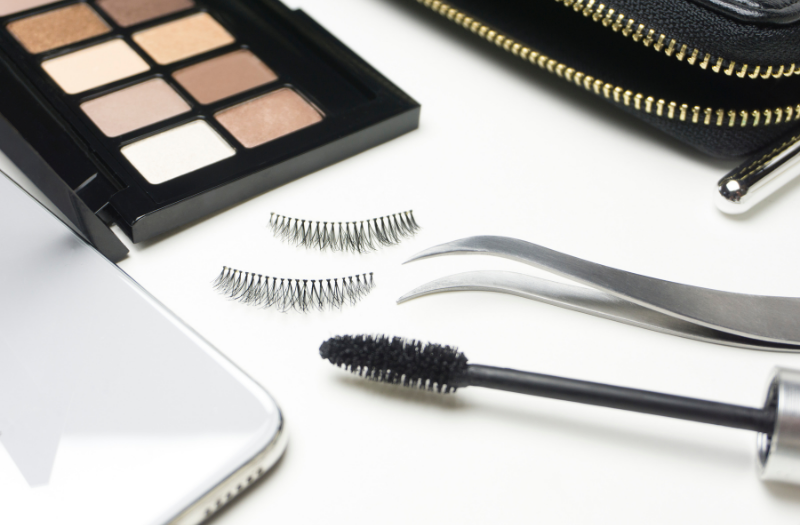 Step 4. Find A Course to Learn How To Run A Lash Business
If you've decided that you still want to start a lash business, you'll want to find the right course or certification to help teach you the skills you want to know.
Search for reputable artists who offer the quality of work you want to achieve within your own business.
You'll want to find a course that will help you understand the different types of lash extensions, the process for applying lashes, how to keep your clients happy, and coming back for more applications.
With this knowledge, it's easier to grow your business from what was once just an idea into something extraordinary.
The courses can range in price anywhere from $400 to $1500 depending on whether they offer certification and where you are located. You might be able to enroll in a course with monthly payments based on income levels which could make things even easier!
Step 5. Rent Your Studio Space
One of the most important things you'll want to do is find your studio space.
You can either choose to open your own stand-alone salon or rent space from an existing salon.
Ensure that the location of your room makes sense. Is there ample parking? Is your studio easy to find? Does your location reflect the type of salon you're looking to run?
This will be where all of your business operations take place, so this area must reflect what kind of business you have in mind.
Depending on the size of space you need, this will significantly impact what you can afford to pay each month for rent and utilities.
The average square footage cost ranges between $50-$200 per sq ft depending both on where you are located as well as how much commercial real estate is available at that time.
Step 6. Start Finding Potential Lash Clients
One of the most important aspects of starting a successful business is finding clients. You want to make sure that you're reaching out in your local area and finding the correct marketing technique for your business.
You can market your business through social media, word of mouth, or by joining professional organizations in your area.
You'll want to make sure that you're reaching out and marketing in a way that is not aggressive but instead meets the needs of potential clients, such as showing off before and after pictures or providing testimonials.
You can also consider partnering with an existing salon if they don't offer lash services yet!
This will allow them to reach more people while giving you access to their clientele which could help fuel your success without any additional work on your end.
Step 7. Grow Your Online Presence and Reputation
You want to create an online presence for your business that reflects the types of services you offer.
Create a website and social media pages so potential clients can find them easily! This will allow people interested in lash extensions to learn more about what you have to offer without contacting you directly by phone or email.
It's also essential to maintain a good reputation on these sites. Make sure any reviews left from happy customers reflect positively on your company while preventing dissatisfied clients from posting negative comments. You'll need this positive feedback at all times if you plan on becoming successful with running your own lash extension salon!
– – – – –
How to Start Your Lash Business Today
It's definitely doable to learn how to start a lash business.
While it will take some dedication, time, and patience to obtain the necessary certification, equipment, as well as space to get started, it can turn out to be a very profitable business.
By following our suggestions above, you'll be on your way to starting your own lash business in no time.