**These posts often contain affiliate links. Please see our disclosure policy for details.**
Wondering how to start a cleaning business? Here is a step-by-step guide to starting a business cleaning houses or commercial businesses, so you can get your new cleaning company off the ground.
If you're looking to start a new business or want to change careers, starting a cleaning business may be for you.
Not only does a cleaning business provide you with reliable demand and low overhead, but you won't have to invest a ton of money in order to get started. In fact, it's one of the few businesses that you can start with just a few hundred dollars.
There are a ton of benefits that come along with starting your own cleaning company.
However, if you're looking to get started, you'll need to know the steps you need to take to build your cleaning business.
Here are the steps needed to start a cleaning business from scratch, so that you can get started today!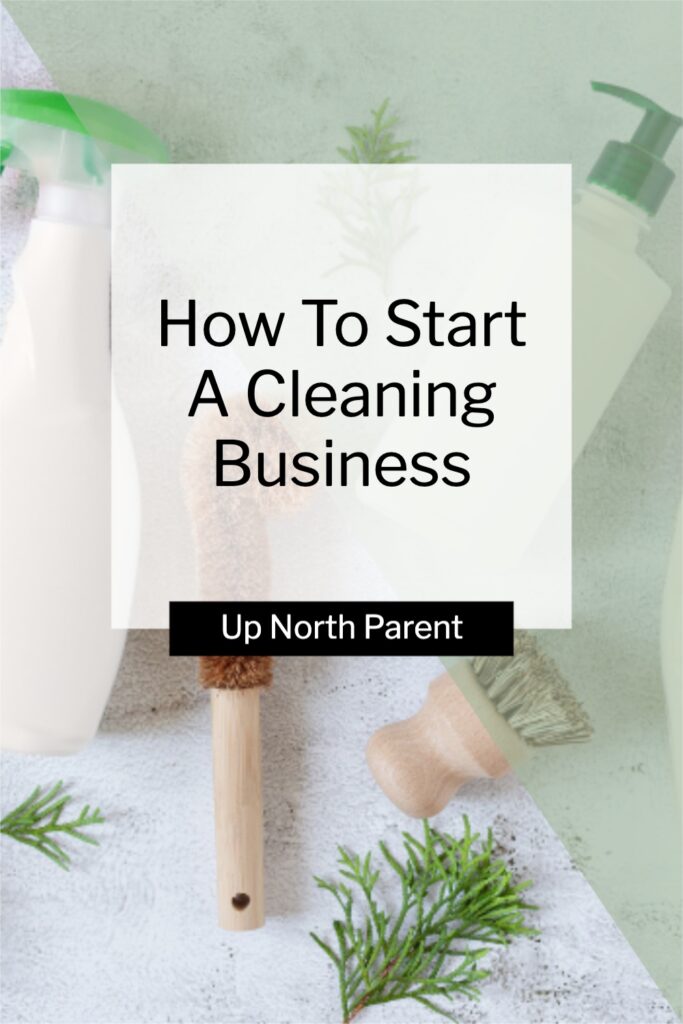 How to Start a Cleaning Business
Step 1: Choose Your Cleaning Niche
The first step is to decide what your niche will be for your cleaning business.
Some jobs pay between $25 to $55 an hour, depending on the type of cleaning you decide to offer.
Some of the most popular niches to choose from includes:
Home Maintenance Cleaning Business: 

Home maintenance jobs are the most common types of cleaning business. This includes going to the client's home and participating in tasks such as cleaning ovens, stoves, microwaves, sinks, counters, and floors, as well as dusting furniture or vacuuming carpets.

Deep Cleaning Business: 

Deep cleaning businesses offers more extensive cleaning than regular maintenance. This may include cleaning duties such as cleaning baseboards, fans, office or home areas, and clearing out cupboards or closets.

Moving Cleaning Business: 

Moving cleaning jobs involve cleaning out homes for owners or landlords that need a deep cleaning before the house is put on the market or available for rent. This is a very popular niche, especially with the booming housing industry.

Construction Clean-Up Business: 

Construction clean-ups are a niche that you may want to consider as well. This is the perfect business for cleaning up job sites of construction projects and removing debris, including paint chips or pieces of drywall. For this specific type of cleaning business, you may need specialized cleaning equipment and permits for your services.

Event Clean-Up Business: 

Everyone loves throwing parties, but the clean-up can be brutal. If you're looking for a niche, how about event clean-ups? These are perfect for helping with the clean-up after events like weddings or parties.

Office Cleaning Business:

 If you're looking for a consistent clean-up business, you might want to consider office cleaning. This involves cleaning up after a company has closed for the day, including trash removal, general tidying, and vacuuming.

Disaster Cleaning Business: 

Disaster cleaning is a less known type of cleaning business but is essential for specific circumstances. If you choose this type of cleaning business, you'll need to invest in training and specialized equipment, as well as work 

under OSHA guidelines

.
Step 2. Figure Out Your Costs
The next step in how to start a cleaning business is figuring out how much it costs you to run your company.
While there aren't a ton of start-up costs, you'll generally need to make sure you have the following items before opening your cleaning business:
Depending on the type of cleaning services that your company offers, make sure that you purchase the appropriate types of equipment, such as:
Buckets for basic jobs

Vacuum cleaners or carpet shampooers for more specialized tasks like carpets and upholstery

Floor buffers or scrubbers for deep-cleaning floors
You'll also want to make sure that you have clothes appropriate for your job, including coats or overalls for deep cleaning jobs, rubber gloves, and eye protection- even if the work is only going on in a kitchen area!
In order to get started, you'll want to understand the requirements surrounding a business license for your cleaning business.
This can vary depending on the state you live in, so you'll want to check directly about the fees associated with obtaining a license.
Typically this ranges between $200-$600 bucks per year with an additional cost every time you renew your licenses annually.
Depending on the type of cleaning business you want to open, such as a disaster cleaning or construction cleaning company, you might be required to get a certification before you can start your cleaning business.
However, this is typically not required for most cleaning businesses.
In order to stay on the safe side, it's always crucial that companies have appropriate types of insurance in place- even if this is just individual liability coverage for when things go wrong during a job site visit.
Making sure you are covered will allow you to continue with your work without worrying about potential harm coming back at you later down the road!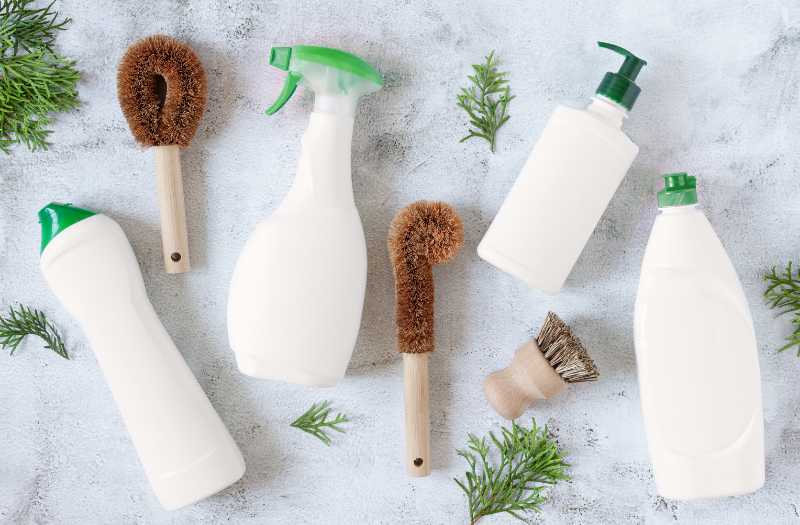 Step 3. Register Your Business
The laws for small cleaning enterprises are not always clear, so the extent of your enterprise (and more specifically, the level of revenue you earn) determines what you need to do on a governmental level.
If you're only providing services for family members, then it may be best to hold off on registering your business. However, if you earn more than $500 a year in profit, it's essential to report your income formally.
Operating a cleaning business on your own can be risky, which is why some entrepreneurs choose to set up a partnership with another individual. Other people prefer the safety of setting up their own limited liability corporation instead.
In addition to considering your own possibilities, you might also examine the possibility of being a franchisee for a large chain. With large chains, you'll already have a built-in customer base and procedures created for your business. However, you will not be the boss of your own business.
Regardless of your chosen path, you must register your business and pay appropriate taxes for your cleaning business.
Step 4. Set Up Your Bookkeeping and Accounting
When you're deciding how to start a cleaning business, it's essential that you have an organized bookkeeping and accounting system in place.
You'll always want to keep accurate records of the type of work being done, how much time is spent on each task, and how many hours are worked per week for your company. All this information will be crucial later down the road when determining how profitable your company has been.
Keep track of taxes (including income and payroll tax), expenses related to paying labor or materials used during job site visits; bank accounts for deposits and withdrawals; and invoices sent out from customers who do not pay their bills close enough. You might also want to set up a retirement account if available! Speaking with a licensed professional can help speed up this process and help you create sustainable routines around your finances.
Step 5. Find Your Cleaning Clients
There are many ways that you can find clients if you want to learn how to start a cleaning business.
You'll need to set up your own website, as well as utilize service platforms to connect with individuals.
You could even ask clients that like your services to share your information to receive more word-of-mouth clients.
Some common ways to attract the clients you need might include:
Referrals: 

One of the best ways to get new clients is by word-of-mouth. When your client feels happy with how you've done a job, they're more likely to share information on how great of a cleaner you are!

Advertising Through Local Magazines: 

Having a local magazine or paper presence in the local community can help attract the business you need. It can help build up buzz around your name with potential prospects and establish your reputation.

Social Media:

 Social media is a great and simple way to tell people about your cleaning services. You can post on Facebook, Twitter, or other social platforms that will help attract potential clients.
The goal is to let people know that you're in business and ready to take on clients! Using different forms of advertising, as we've mentioned above, can help you establish this conversation.
Step 6. Hire The Right Help
Successful cleaning business owners know that hiring the right help makes all the difference. When you're first starting out, you need to find someone who is reliable and will work well with your needs.
It might be tempting to get started by yourself and not immediately hire any employees – or only hire one person instead of hiring more people on the team. However, this can leave you spread too thin in terms of workload and being able to provide quality customer service!
Hire the staff you need for your current workload and for where you want to grow your business in the future.
A few good employees that already know how to do the job and can provide quality customer service will make a massive difference in how effective your business is and how quickly you can scale your operations.
– – – – –
Start Your Cleaning Business Today!
If you're like most people, the idea of starting a business can be intimidating.
Whether you're looking for a profitable side hustle or want to find a brand-new career, knowing how to start and grow your own cleaning company may be a great way to go into business for yourself.