**These posts often contain affiliate links. Please see our disclosure policy for details.**
Stained glass is a mesmerizing art form, which is probably why it's found in churches everywhere.
It's beautiful on its own, and when light hits it? MAGIC.
We decided to recreate the look of a stained glass patio door at our house with a kid-friendly activity involving washable paint and painter's tape.
Simple and fun, (my 4 year old had a blast!), this easy faux stained glass project is a winner!
Here's how to do it.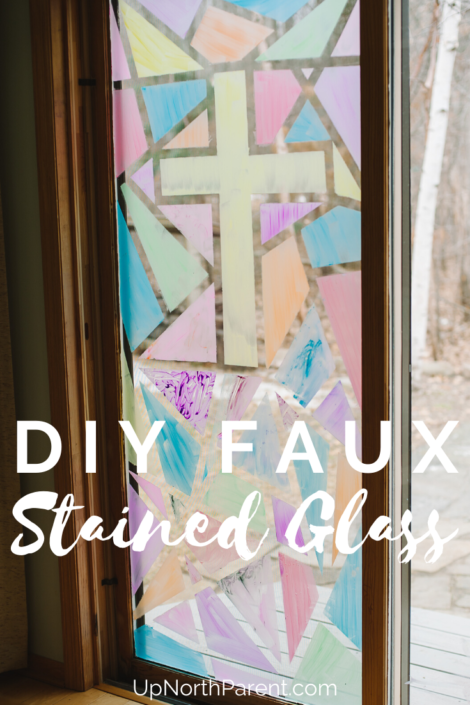 How to Make a DIY Faux Stained Glass Window for Kids
1. GATHER SUPPLIES
The supplies needed for this kids craft project are: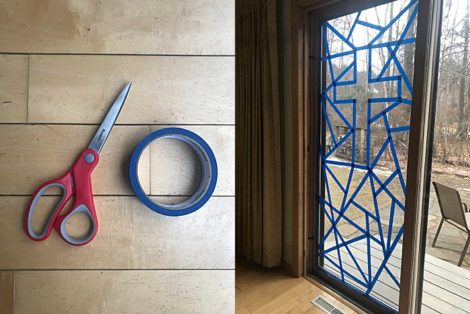 2. MASK WINDOW WITH TAPE TO CREATE SECTIONS
Using the painters tape, begin taping off sections to create a staggered design.
For our door, I taped a cross in the center (this was an Easter-themed stained glass project), and then added geometric shapes beyond the cross.
Make sure the tape is sticking well; this will prevent paint bleed under the tape.
3. PAINT SECTIONS WITH WASHABLE PAINT
Some tutorials suggest thinning the paint with water and a drop of dish soap. I tried this but it made the paint so watery, there was almost no color being added to the window.
In the end, I used plain washable Crayola kids paint for our window without diluting it, and it worked perfect. Washable paint is watery by nature, so I didn't need to add anything else.
(See my little helper's painted sections haha? Perfection!)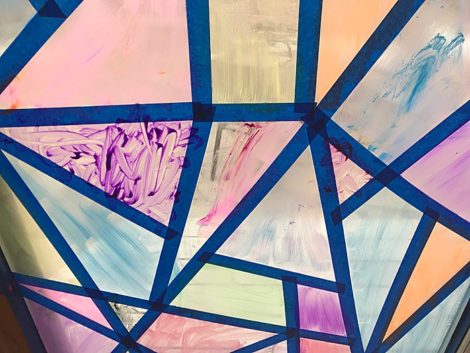 If you are using really thick paint, a little water will thin it enough to make it look translucent and more like actual stained glass.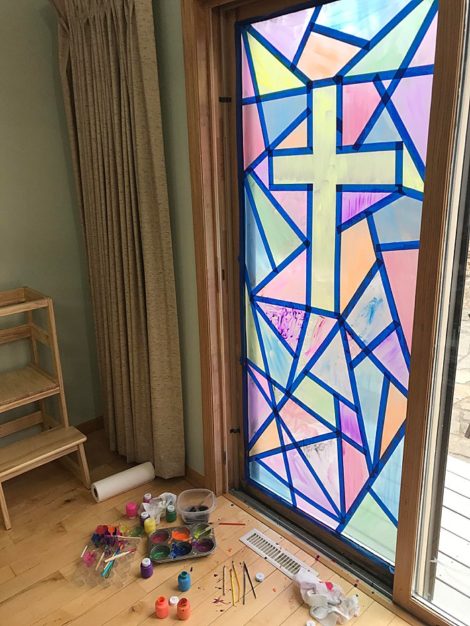 4. LET DRY and REMOVE TAPE
Once you've painted every section with alternating colors and let it dry fully, it's time to remove the tape.
Carefully peel the tape off the glass to reveal your faux stained glass below.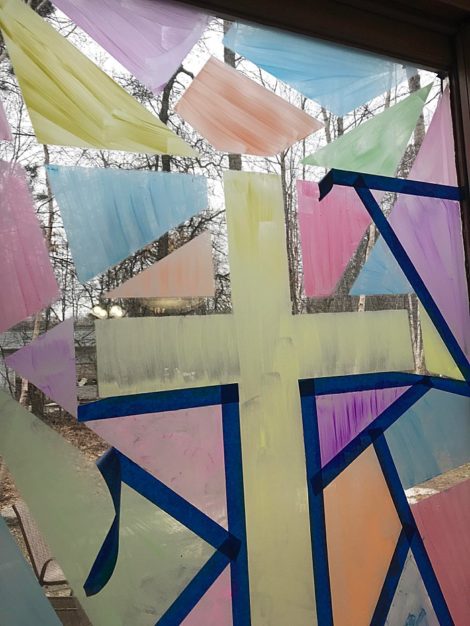 Don't worry if there is some paint bleed; our window had plenty and you can hardly tell.
It's not supposed to be perfect; it's just supposed to be fun.
OPTIONAL: Some people choose to leave the tape up, or remove it and paint the spaces between the colored panels black. This can make it look more like actual stained glass. However, we went the easy route and left it as is, once the tape was removed.
5. ADMIRE YOUR FAUX STAINED GLASS WINDOW OR DOOR!
That's it! You've made a super simple faux stained glass window using just tape, washable paint and a brush.
So easy, right?
You can use any colors and tape off whatever shapes you choose too.
You could put a flag in the middle, and use patriotic colors for the 4th of July, or use red, yellow, orange and brown paint for the fall.
The sky is the limit!
Let your kids help with the painting, and you've got a fun kids activity you can do together!