**These posts often contain affiliate links. Please see our disclosure policy for details.**
School is closed and you're stuck at home for weeks, if not longer.
The local gym is closed, restaurants are closed, and you sure can't go to the bounce house or indoor play land right now…
So how do you pass the time?
How do you keep your kids busy?
How do you not go completely stir crazy by day two or just plain lose your mind by day five?
There are a few general guidelines that will help you get in the right frame of mind to survive (and thrive) in a forced lockdown.
Then we'll look at a list of activities to help keep kids busy at home. 
You can do this!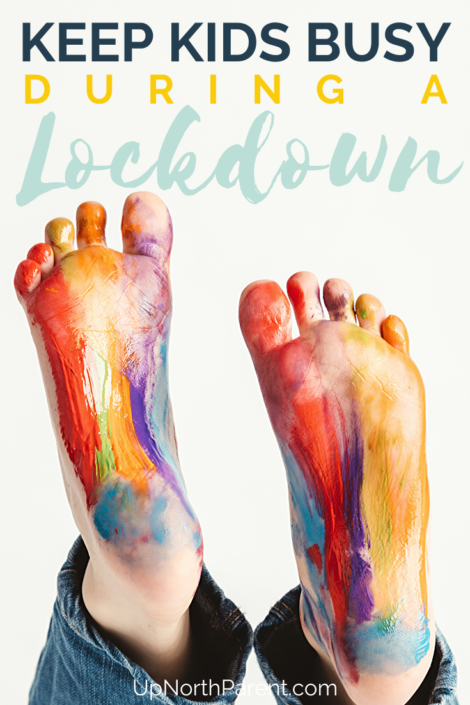 How to Keep Kids Busy at Home During a Lockdown
General Guidelines to Survive a Lockdown:
1. Accept Reality – The first guideline needed in order to survive a forced lockdown is to accept reality. Acknowledge the fact that it will be tough.
It's a major disruption to normal life, and there's no way around it. You don't have a choice. You're stuck at home, whether you like it or not, and instead of fighting it, you might as well try to make the best of it.
You never know, this could be the start of amazing core memories for your family.
2. Lower Your Standards – When you're faced with unprecedented times like these, certain "rules" you normally abide by might need to be loosened. Just like with sick days; the usual rules of everyday life don't apply to sick days.
This is mostly with regards to screen time… In order to survive an extended lockdown, screen time can be a welcomed part of the survival tool kit.
Realize that this is NOT normal life, and the structure and rules of ordinary life can and likely need to be loosened a little bit during these crazy times.
Once things resume some semblance of normalcy, the rules can go back to normal.
But for now? Lower your standards and everyone will benefit.
3. Break Up the Day – Instead of looking at each day of the lockdown as a big, huge chunk of time (12+ hours?!), it helps things seem more manageable if you break up the day and look at it in smaller time chunks.
Someone once said this about making flights easier when you have kids. They suggested breaking a 3 hour flight into smaller chunks, say 15 or 30 minute chunks. Then, you fill the small 15 minute chunks with different activities like snack time, opening a small present, playing with the new toy, drawing, watching a short video etc, in order to pass the 3 hour flight.
You can use the same idea for the days you're stuck at home during a lockdown.
Instead of wondering how to full a 10-12 hour day, think of it in 1-2 hour chunks.
Or better yet: sections.
Break the day into sections such as early morning, later morning, lunch time, early afternoon, late afternoon, supper, evening, and bedtime.
That way, you can fill each section with a different activity and it will help make the day seem more manageable.
For us, a sample at-home day goes something like this:
Early morning – breakfast, play time
Later morning – play outside, take a walk
Lunch time
Early afternoon – nap time or relax time
Late afternoon – play outside
Supper
Evening – bath time, play time
Bed time
4. GO OUTSIDE – This is arguably the most important guideline to survive being forced to stay home. If at all possible, go outside. As often as you possibly can. For as long as you can.
Of course this isn't always possible for many different reasons.
But if you're able to get outside in any capacity, do it.
The sunshine, the fresh air, the open space, the sounds of nature, the reminder that life goes on beyond the four walls of your house…
All of it is a very important part of surviving a forced quarantine at home, especially with kids.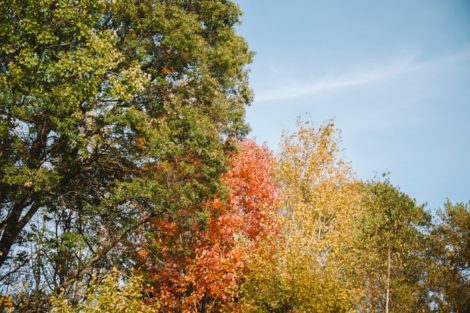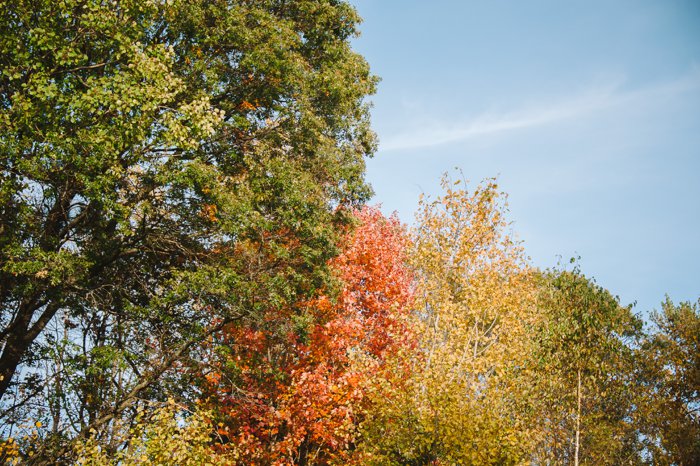 Activities for Kids During Lockdown | Things to Do to Keep Kids Busy at Home
Once you've accepted the fact that you'll be stuck at home for awhile, you've lowered your standards, and you've broken your day into sections to make it more manageable, now what?
How do you actually fill those sections, and keep your kids busy?
First of all, it's not your job to entertain your children every minute of every day.
Depending on the age of your children, you might not have to do much directing or suggesting of activities at all.
But if you have young children or kids who need some help with ideas of things to do when they're bored, here's a list of 20 activities kids can do when they're stuck at home to stay busy.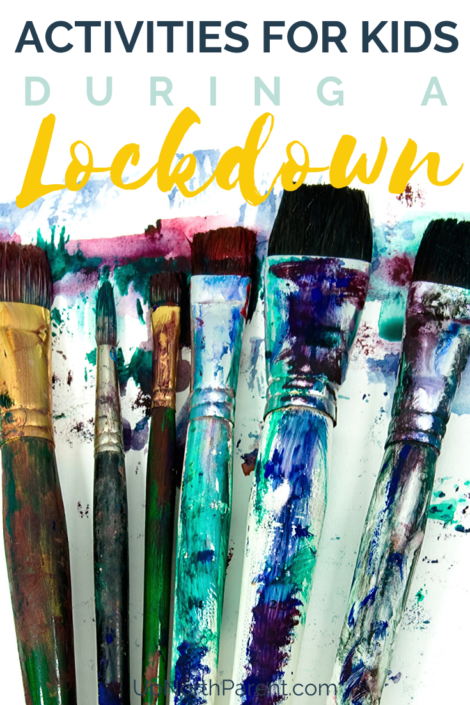 20 At-Home Activities for Kids: 
Art – Try coloring, drawing, chalk, painting.
Dance party – Turn on some favorite tunes, crank up the volume, and bust a move!
Build a fort – The bigger the fort, the better. Bring out the blankets, pillows, chairs, couch cushions and anything else you need to build a mega fort.
Cook something – Maybe it's a good time to teach your child how to make macaroni and cheese!
Bake something – Nothing smells quite as good as fresh cookies baking in the oven. What better way to pass an hour than by baking cookies from scratch!
Take a Fun Bath – A Fun Bath is a regular bath in the bathtub, with a few extra special things included. Add in a few drops of food coloring (it will not stain your kids' skin), some bubble bath, or a bath bomb. Or if you have glow sticks, you can skip the food coloring and instead, turn off the lights and light up the water with glow sticks! (Just make sure you are right there for safety, of course.)
Make an obstacle course – Help burn off some pent up energy!
Movie Marathon – Make a cozy spot on the living room couch or floor and watch a movie marathon!
Make "Soup" – Take a big bowl of water and let your kids make "soup" by adding in some ingredients from your pantry. Some favorite ingredients: oatmeal, cereal, and flour.
Make handmade gifts – Look at what holidays are coming up (Easter, Mother's Day, Father's Day etc) and see if any grandparents or other special family or friends have birthdays coming up. Handprint artwork is always a favorite and you keep the kids busy while also checking off a gift from your list. Double win!
Make Salt Dough – Easy to make with just a few ingredients, salt dough is a crowd pleaser with a lot of potential. Make ornaments or beads, and extend the activity by painting them when they're dry.
Homemade Playdough – This qualifies as "cooking" something as well as gives your kids something to play with afterwards.
Turn the heat up inside and pretend it's summer! – Wear shorts or run around in swimsuits. (This only works if it's not warm or summer already where you live.)
Puzzles – Try a jigsaw puzzle or if you've got older kids, you can do other puzzles like sudoku or logic puzzles.
Have an inside picnic – Spread out a blanket and have a picnic on the living room floor
Dig out some Christmas lights and string them up. – Then hang out and enjoy the mood lighting.
Do some crafts – Try making string tassels out of embroidery floss or yarn, and paper tassels out of any kind of paper.
Have a Book Party – Bring out the favorite books, snuggle up, and read as many as desired. If you have other readers in the family, let them take a turn reading too.
Indoor scavenger hunt – Make a list of things for your kids to look for and find. You can have themes such as colors of the rainbow or textures. You can also do categories like toiletries or 5 things that start with the letter A etc.
Screen time – Let it be a part of the day! One of the very best options is with the PBS Kids app; we LOVE the new show Molly of Denali. It's a kid (and adult) favorite at our house!

20 Outdoor Activities for Kids:
Outdoor scavenger hunt – (theres a free sample download available in the resource library!)
Look for bugs
Go for a walk
Jump in puddles
Dig in the dirt
Bring out (the non-favorite) kitchenware – Let the kids play!
Fill up a water table or big bucket with water – Let the kids play!
Play on a swing set
Ride bikes
Draw with sidewalk chalk
Use tools – hammer nails into wood
Go for a walk in the woods
Look for leaves – Do a leaf rub
Find pinecones or acorns – Clean and use for crafts
Blow bubbles
Wash the car by hand
Help vacuum out the car
Pick up sticks in the yard
Build a fort outside – Use sticks/logs or with rope, sheets, and clothes pins.
Have an outdoor picnic
With a little bit of perspective-shifting and setting proper (low) expectations, a forced quarantine lockdown at home can actually be a pleasantly positive, memorable experience.
Fill your days with a mix of the indoor and outdoor activities for your kids to do, and you'll not only survive the lockdown, but thrive during it too!
Save these ideas for later by pinning the photo below to Pinterest!