**These posts often contain affiliate links. Please see our disclosure policy for details.**
Once upon a time, I thought going to the beach was a relaxing, restful way to spend the day.
And then I had a baby.
Now, a trip to the beach is mostly filled with trying to keep my son Raleigh from stealing other kids' toys. It doesn't matter that we brought an entire bag full of toys for him to play with. He somehow finds every toy, lawn chair and floaty that is NOT ours and wants to play with them.
Going to the beach, despite the less-than-restful vibe it's taken on, is still a cornerstone of summertime to me. Even if it's only a time or two, the summer is never complete unless I've gone to the beach.
Now that I'd got a baby tagging along (actually, he's a toddler these days), the beach trips require a lot more preparation, packing and a lot more bags than they used to. (So many bags!) 
But with a little planning, a trip to the beach with kids can still be (relatively) organized and definitely memorable!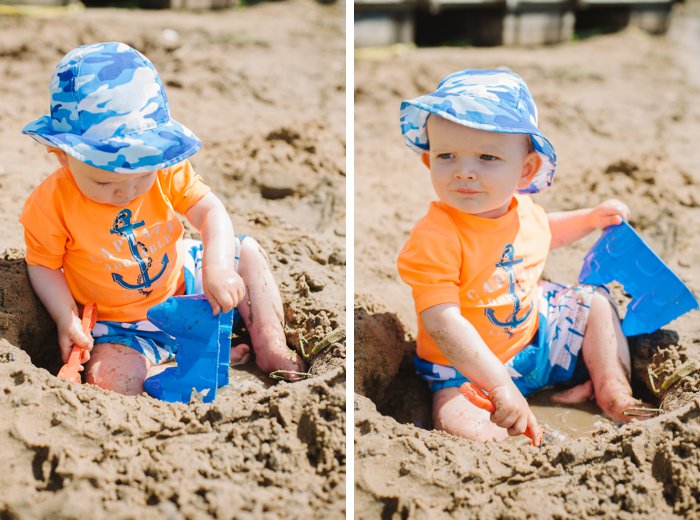 12 Summer Must-Haves for Going to the Beach with Kids:
1. A huge beach bag – The bigger, the better! You're going to need the space!
2. Towels – You'll want enough towels for whoever is going to the beach, plus one to sit on (or bring a beach blanket for sitting, instead. See #12.)
3. Sunscreen – Our doctor told us to stick with SPF 30, because the benefit of going any higher is negligible, and you just pay more for it. He also said to apply it 10 minutes before sending your child into the sun so it has time to soak in.
4. Toys – Beach toys, water toys, anything to keep the kids busy! These will likely need their own bag, and can be stored in the trunk for easy access.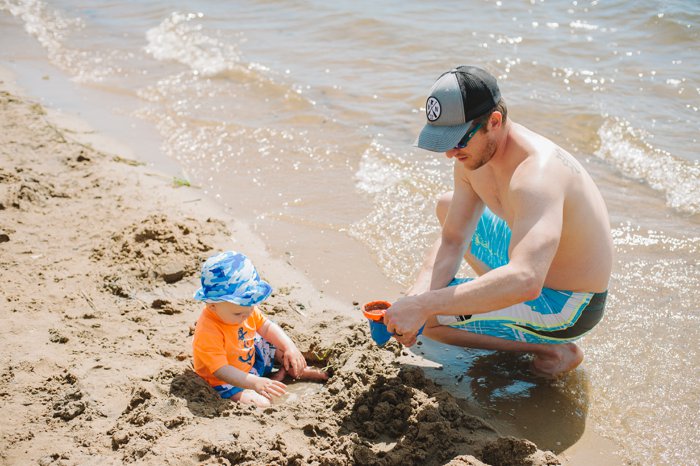 5. Water – A must on hot days. An insulated water bottle keeps water cold in the sun and heat.
6. Snacks – Sun, water and playing hard will stir up an appetite for sure.
7. Bug spray – Depending on the location of the beach and what the weather's been like lately, there could be pesky mosquitos or even deer/horse flies. It's a handy thing to have bug spray along in case you need it. My favorite bug spray hack this year is using Off Towelettes which makes applying bug spray to a wiggly toddler SO much easier.
8. Hat – One for yourself and one for your kiddo.
9. Sunglasses – For yourself and if you have a rare kid who will keep them on, them too! (My son Raleigh will NOT wear sunglasses but does tolerate a hat pretty well.)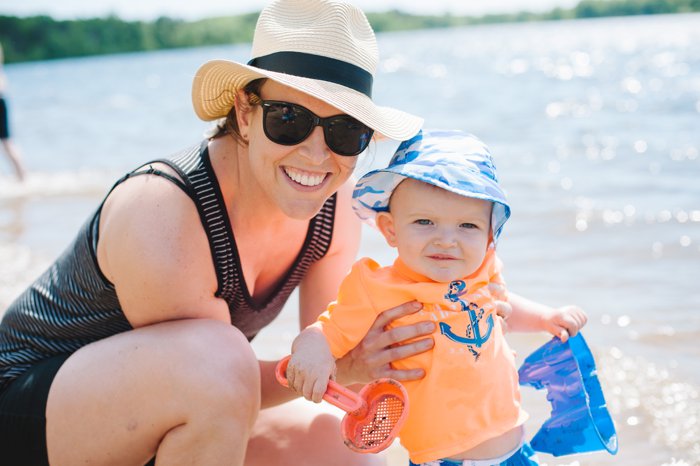 10. Zipper pouch – To keep your phone, keys, wallet etc together, dry and sand-free.
11. A beach umbrella if there isn't going to be shade available.
12. Beach blanket or chairs if you don't want to sit on a beach towel.
– – – – –
When you write out the list like that, it's easy to see why wagons are a parent-hack that make trips to the beach SO MUCH EASIER.
Going to the beach with kids might not be calm or even remotely relaxing when you're parenting young children. But by being prepared (and having a comprehensive packing list), you can make your beach trips a little more fun and uneventful, in a good way.
And remember, like everything in life, these days won't last forever, and a new phase of parenting will come.
It just may involve you sitting in a lawn chair with a cold drink in your hand, watching your kids play while NOT having to chase after them to leave the other kids' toys alone.