**These posts often contain affiliate links. Please see our disclosure policy for details.**
It doesn't matter if you're a parent, grandparent, relative, or friend; if you get a handmade gift that includes a child's handprint, it's an instant favorite.
And I'm not sure why, but kids LOVE to paint their hands.
It's still my son's favorite way to paint, and has been for years.
This spring, during a particularly chilly day, we sat at the table to do art projects.
With watercolor paint, scrap paper, and my toddler daughter's hand, we made some easy handprint flower cards that I know the recipients will love!
Here's how we made them!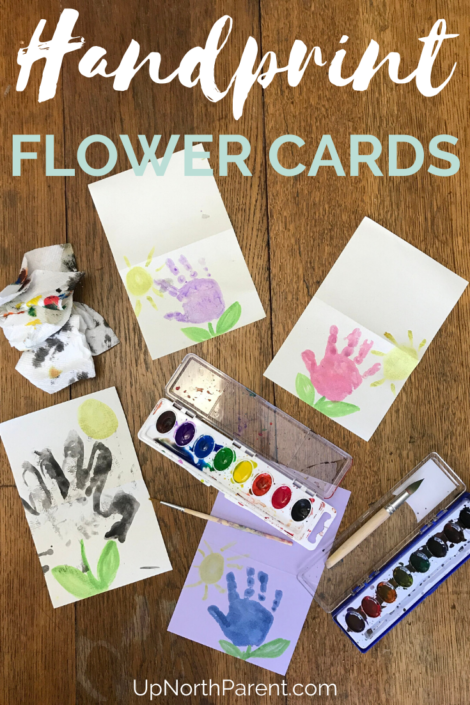 EASY HANDPRINT FLOWER CARDS FOR KIDS
1. GATHER SUPPLIES
The supplies needed to make easy DIY handprint flower cards are:
2. CUT AND FOLD PAPER TO SIZE
Before doing any painting, I determined the size I wanted the finished cards to be based on the envelopes I would use, cut the paper to size, and folded it into the proper card shape.
Then they were ready for paint.
3. ADD HANDPRINT TO FRONT OF CARD
Add your child's handprint to the front of the card. This becomes the flower and petals portion of the picture.
You can use one color of paint or be extra fancy and use multiple colors.
4. ADD STEM AND LEAVES TO FLOWER
Using a paint brush, add a stem, leaves and any other things you want to your card.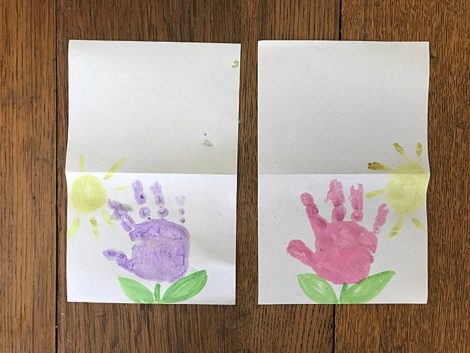 5. LET DRY, WRITE MESSAGE, SEND!
Once they're dry, they're ready for a message and the mailbox.
In today's automated world, there's nothing quite like getting a little love in the mail.
And if you don't plan to mail them, these cards still make great cards to go along with gifts (May Day, Mother's Day etc) too!
Plus, your kids will have a blast making them!