**These posts often contain affiliate links. Please see our disclosure policy for details.**
There's nothing that combats stress and hardship quite like gratitude does.
By focusing on what you're thankful for, you literally CAN'T think about what's going wrong.
Studies have proven the positive effects of gratitude time and time again; we know it's true.
We are all trying hard to instill thankfulness and a heart of gratitude in our kids too.
It's a tough job though!
We teach it best by modeling gratitude ourselves, and we can use visual tools to help.
That's where the idea for the Gratitude Tree (or Thankful Tree as it's sometimes called) comes from.
The idea is simple: write things you're thankful for onto paper leaves and tape them to the wall (or hang them) around a branch to make a Gratitude Tree.
We've only just gotten started with our Gratitude Tree project but it already makes me feel extra thankful just by looking at it!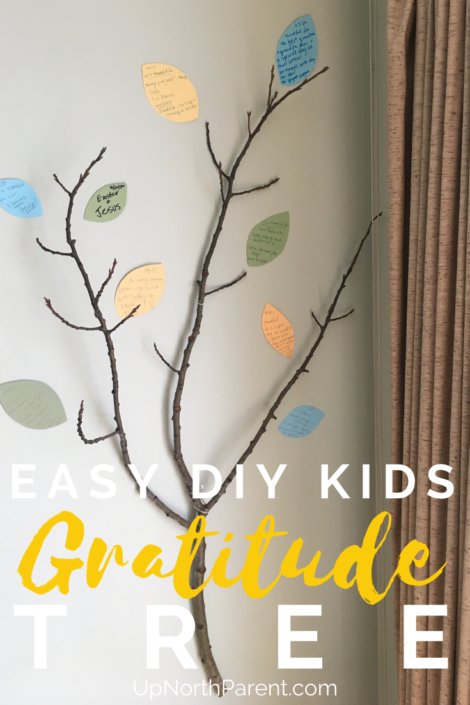 Easy Gratitude Tree Idea for Kids | How to Make a Thankful Tree
GATHER SUPPLIES
The supplies needed to make a gratitude tree are:
CUT OUT LEAVES
Cut out leaves in a variety of sizes and colors to give your tree variety.
You could also keep the size, shape, and color of the leaves the same too; it depends on the look you're going for.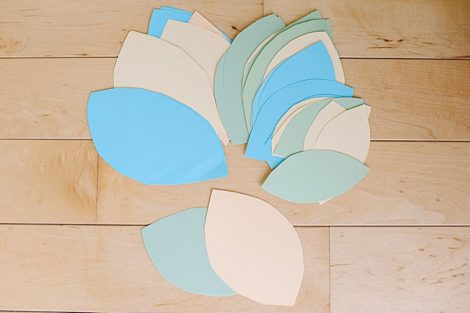 HANG UP TREE TRUNK
I decided to hang up a real tree branch I found in our woods.
Using small Christmas light style-Command Hooks and pieces of string, I anchored the branch to the wall in two different places.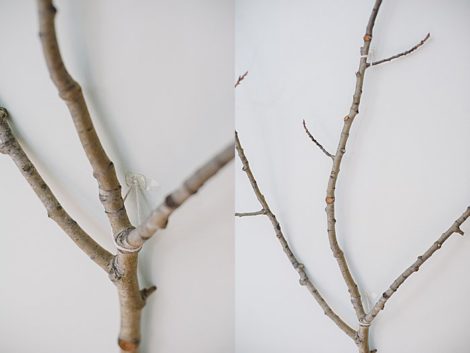 I actually love the look of the real tree branch on my wall. It makes me happy to see a big piece of nature on the wall in my kitchen!
FILL OUT THANKFUL LEAVES
Fill out the leaves with things you're thankful for.
We are trying to fill out one leaf each day.
HANG LEAF UP WITH TAPE AND ADMIRE!
I am using washi tape to hang up my leaves, but masking tape would work great too.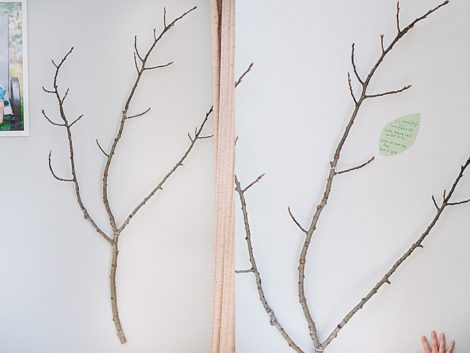 Continue to add to the tree as time goes on and watch a visual representation of your family's blessings come to life.
Even if things appear to be falling apart around you, one look at the Gratitude Tree can help put it all into perspective.