**These posts often contain affiliate links. Please see our disclosure policy for details.**
I (Becky) thought I was going to die of happiness when the adult coloring book craze became all-the-rage a few years back.
But relaxation is only part of the reason why I liked adult coloring. The other is the fact that it let me be creative.
That's also why I am totally infatuated with Bullet Journaling ("Bujo"); a hot trend in the planner and getting-organized communities online.
My Bullet Journal keeps me organized in a simple and flexible way, while also letting me be my creative and artistic self.
What are Bullet Journals?
The Bullet Journal is an analog system, meaning you don't need anything more complicated than a notebook and a pen or pencil.
While it's very customizable, and you're certainly welcome to change things around, in this article, I will walk you through the setup for a traditional bullet journal as first introduced by Ryder Carroll from BulletJournal.com. Use it as a starting point, get comfortable with the basic system and then change it from there.
The BulletJournal.com website has a great video to get you started, but don't let the complexity scare you off. The beauty of Bullet Journals is that you incorporate what you want/need and disregard the rest!
You'll need a notebook, a pen, and a little bit of time to get started. The type of notebook you use is up to you. The traditional style is grid or dotted paper, but I find even ruled or blank pages work just fine. I personally favor grids but I think I might try the dot variety for 2019.
Why Bullet Journals are so Awesome for Busy Parents
If you have too many things to remember and think about on a daily basis and you need a simple system to help you keep track, bullet journaling was made for you.
For life or business (or both!) everyone has lots of different daily tasks, appointments, and various things we need to remember.
Trying to keep track of everything in your head becomes exhausting and I've personally spent far too much money on the fancy "goal setting/goal-tracking/calendar/books that you will see a bazillion ads for as the end of the year gets closer. All have fallen short of my unique needs and left me frustrated.
My bullet journal does hit the mark and doesn't make me use multiple books to achieve the goals I want. Why? Because it's so simple, I can customize it to what I need with pens, colored pencils, stickers, printable labels, and Washi tape.
Bullet Journal 101
A bullet journal is a way of keeping track of everything you need to do in one notebook. It usually consists of four main parts.
The first part includes the index and key. They will occupy the first two pages of your journal and help you stay on track with what's where and how the journal works.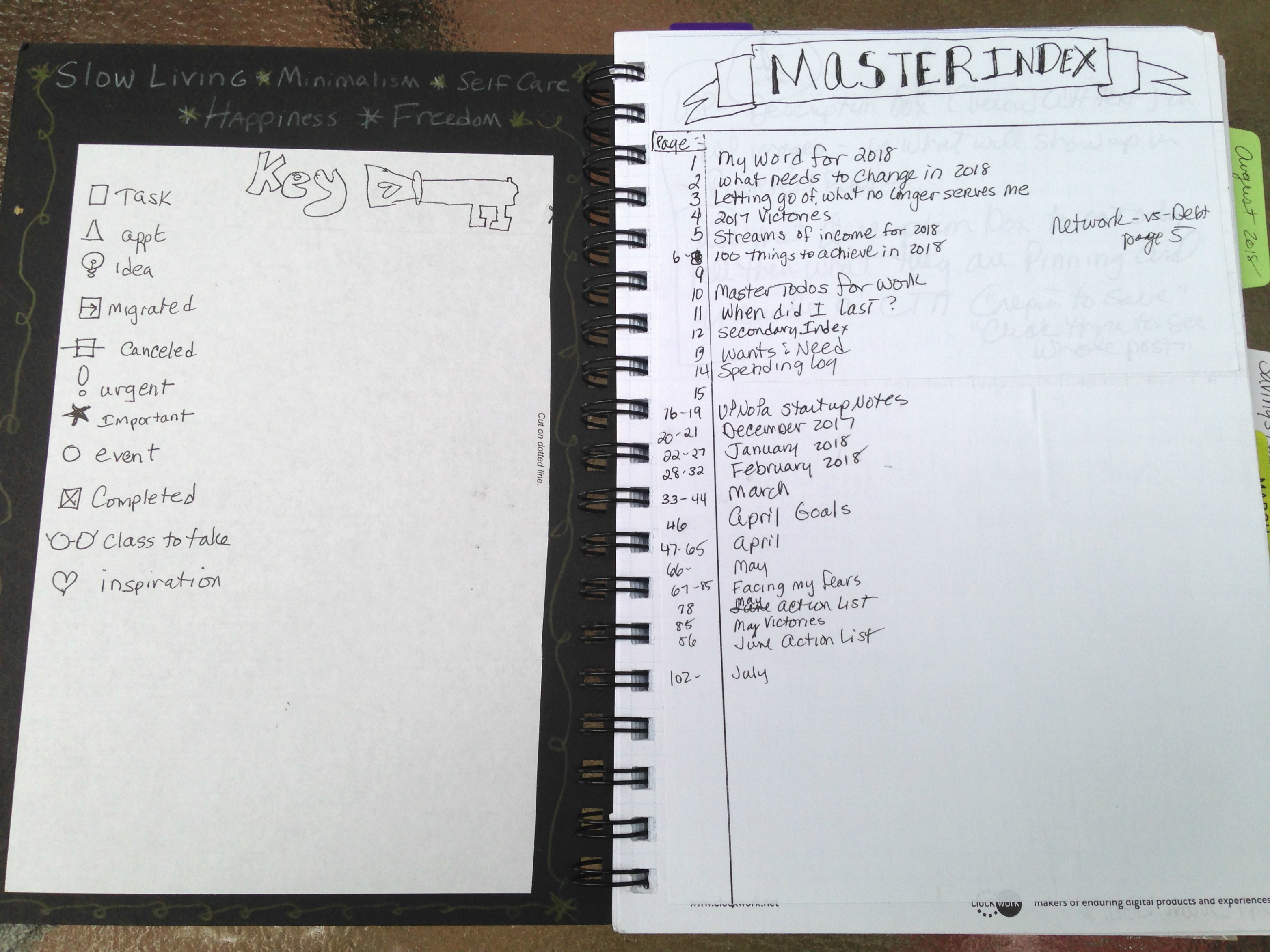 The second part consists of a monthly log or calendar and then running daily entries. There is several kinds of "logs" bullet journalers can focus on:
The Future Log
With the original bullet journal setup, this is a two-page spread that records the coming 6 months. Many bullet journalers find it helpful to use a more traditional yearly calendar instead. This is a great place to record birthdays, anniversaries, or block out vacation time. Add or note the page number and record your future log in your index.
Monthly Logs
Start each month with a monthly log. It like a master list of what you need to achieve, along with any appointments and due dates you may have coming up. You can use a grid layout, or use one line for each day of the month.
Daily Logs
The daily log is where you'll spend most of your time in the journal.
Start a new section each day and record anything important for the day. Make your list of tasks and cross them off as you get them finished.
Make notes of anything important you need to remember throughout the day as well as appointments as they pop up.
Everything gets logged in the daily log for speed and ease. From there you can move it as needed to the monthly or future log, or migrate it to a different day.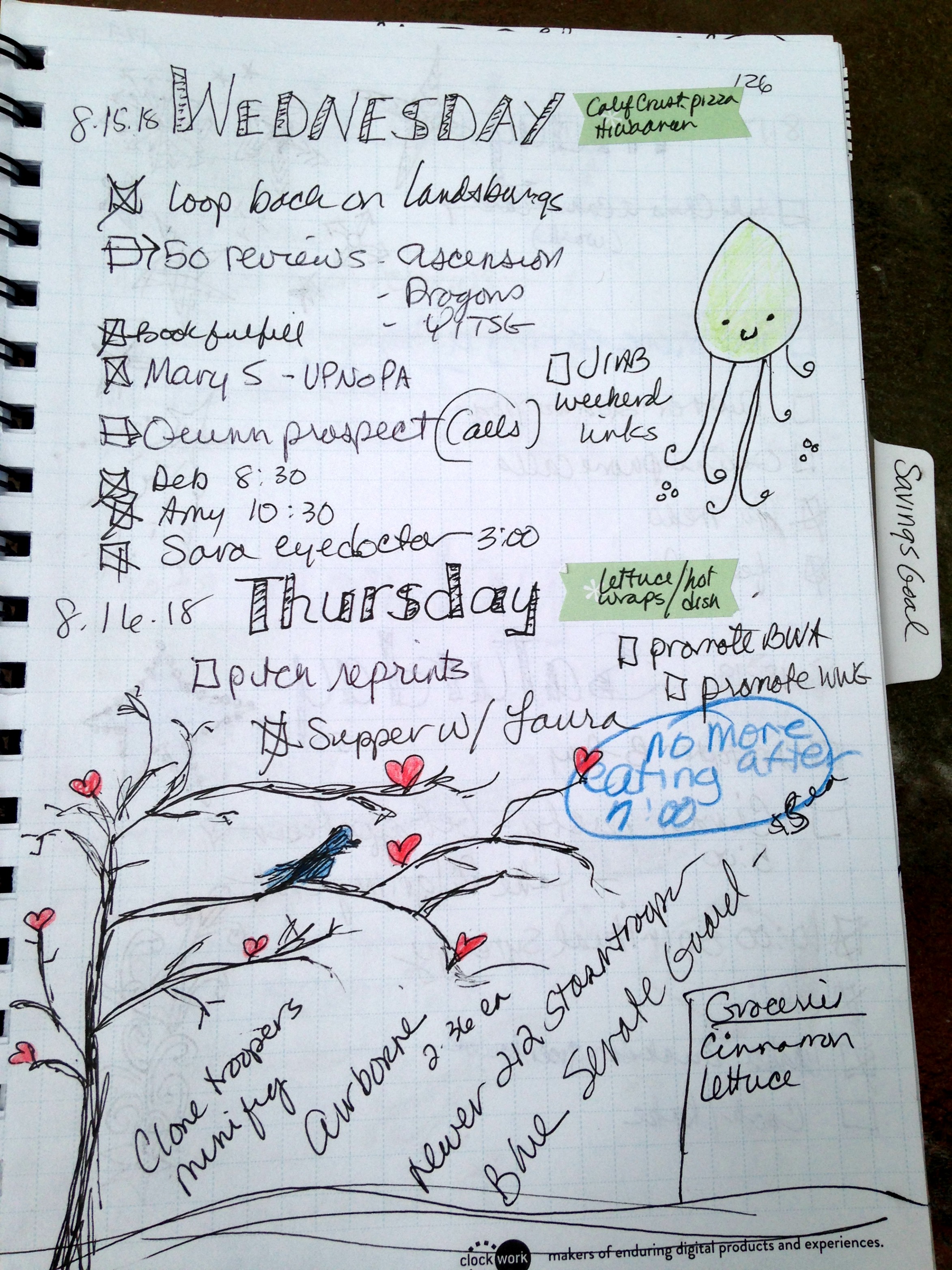 Migrating Tasks
At the end of your day, or first thing the next morning, it's time to review your tasks and cross out and migrate anything that isn't checked off.
For example, if you didn't get around to doing laundry today, draw an arrow through it and add the task to the next day's daily task list.
If you noted an appointment that came up yesterday, move it to your monthly list and draw an arrow through it in yesterday's list. If something no longer applies then cross it out. Your goal is to deal with each entry from your daily list by completing it, migrating it, or crossing it out.
Collections
The last part of a bullet journal is something called Collections and they are just that; lists of related things you want to keep track of.
For example, I create my lists at the beginning of my Bujo, right after the index and key page. This way I can easily look back for reminders and motivation.
Your Collections could be a list of books you want to read, a log of your daily exercise, expenses you want to reduce or eliminate, a "want and need" list, victories from the previous year, milestones you want to reach in the coming year, a list of clients you need to contact this month and my personal fav; my Master Action List (a.k.a. Bucket List).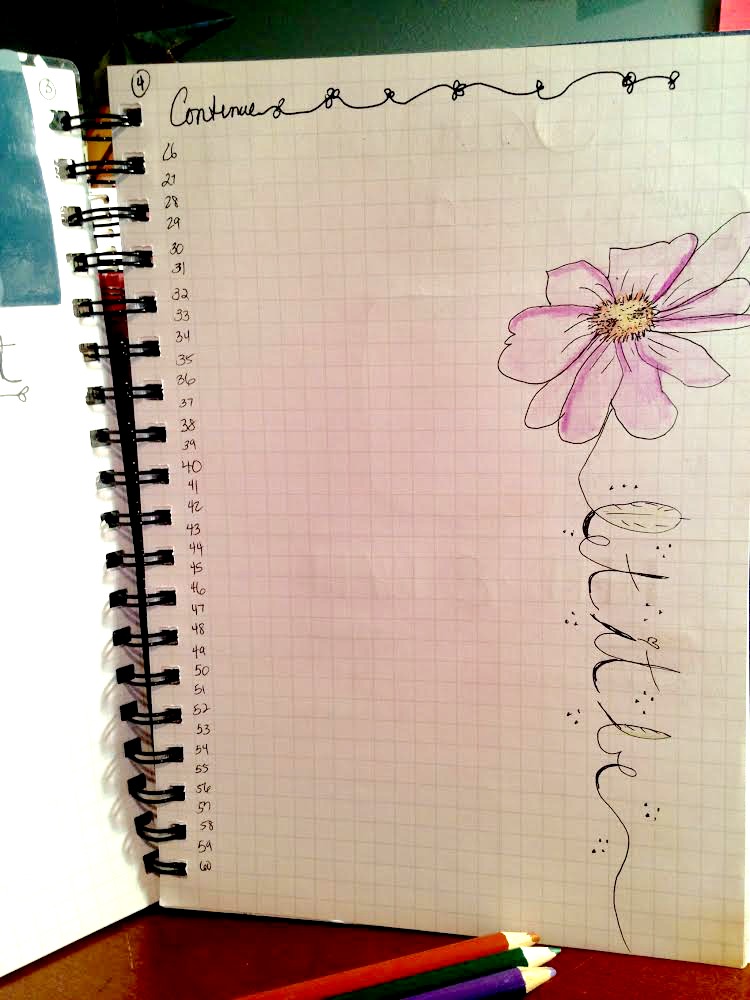 As you can tell from my examples, I'm not as neat as I could be! BUT, what you can also tell and the other reason I love my Bujo so much…I can DOODLE.
I'm no artist, but I get a ton of joy from just doing simple line drawings and doodles. I can decorate each page of my bullet journal as much (or as little) as I want and use colored pencils to add a little fun and vibrancy.
Bullet Journaling May Be for You IF:
  You love to-do lists
  You love checklists
  You haven't found the perfect planner for your unique needs
  You need to get organized
  You need help completing tasks on-time
  You're tired of juggling a calendar, a planner and miscellaneous To-Do Lists
 If you have too many things to remember and think about on a daily basis; you need a simple system to help you keep track of everything.
 You love things that support a minimalist or artistic lifestyle.
4 Big Benefits Of Bullet Journaling
I honestly could rave on forever on the benefits of Bullet Journals, but in a nutshell, I see 4 big benefits of using a Bullet Journal:
It's Easy and Customizable: You don't need to go out and buy a big planning system or download a fancy app to your smartphone. Instead, all it takes is a notebook and a pen or pencil.
It Helps You Stay Organized: Once you get in the habit of recording and checking off anything important, your bullet journal will help you stay organized in all areas of your life. Keep track of work tasks, dentist appointments, and your grocery list in one convenient place.
It Frees Up Brain Space: By far the biggest benefit of using a bullet journal is that it frees up a lot of brain space. You'll be pleasantly surprised how much of a difference this will make. Writing things down allows you to use those brain cells for more creative and productive endeavors.
It Lets You Be Artistic: I've seen people use a wide variety of styles and tools to make their bullet journal fun and beautiful, along with functional. If you are stumped for ideas and inspiration, head over to Pinterest and type "bullet journal" into the search bar and prepare for a landslide of awesome information.
If you're considering giving bullet journaling a try, I hope this info will have you grabbing a pen and notebook to get started.
Happy Journaling!