**These posts often contain affiliate links. Please see our disclosure policy for details.**
How many of you wanted to be a scientist when you grew up?
Chances are, not too many kids list "scientist" as their future career goal when being a princess or astronaut looks so much more appealing!
I (UpNoPa mama Laura) wanted to be a paleontologist when I grew up because I loved fossils, so I suppose I could be counted in that group!
Children's book author Laura Gehl is setting out the change that, by creating a series of kids books called Baby Scientist.
Starting with the books Baby Astronaut and Baby Oceanographer, the Baby Scientist series explores scientist professions in a fun, interesting, colorful, and optimistic way that appeals to preschoolers and parents alike.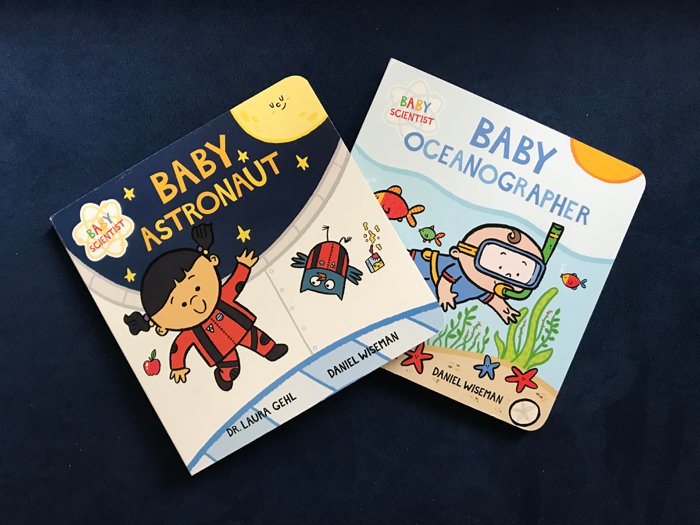 I have two young kids who both fall into the newborn-4 age range the Baby Scientist books are designed for, so I loved taking the two books for a test drive.
The verdict?
My infant daughter loved the small size of the books because she could hold them easily, and she liked the colorful pictures.
My 3-year-old son loved the illustrations and asked questions about what was going on in the book.
As a mom, my favorite parts were how the books took complicated concepts like gravity and simplified them into sentences that young children could understand.
I also love the positive message behind them: that science is fun and worth exploring!
We are lucky to have a Q&A with Baby Scientist author Laura Gehl, who is also a mama of FOUR kids! Here's what she has to say about the Baby Scientist children's book series.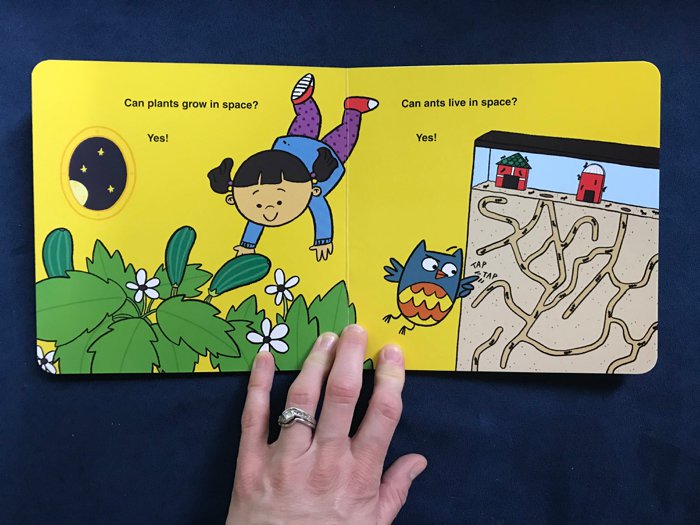 Q & A with Laura Gehl, Author of the Baby Scientist Book Series
1. Welcome, Laura! We love that you are an author, businesswoman, and mother of 4! What advice would you give to other parents who struggle with the work/life balance?
I think my biggest advice is to throw out the idea that you can do everything (and to throw out the guilt about whatever falls through the cracks). In my case, I am lucky enough to have an extremely supportive husband who cooks, does dishes, dreams up fun plans, and takes great care of the kids when I travel for work. Still…I've given up on 99% of housework (including gardening and washing the car, neither of which I have done in the past 10 years). I've temporarily abandoned most of my hobbies, although I hope to circle back to them once the kids are all in college. And I've accepted that as a family we have limitations on how much can be crammed into a week. This means I don't do as many book festivals, conferences, or bookstore events as many of my author friends, and my kids don't do as many after-school activities as many of their friends.
BUT…there are plenty of things I haven't given up on. I haven't given up on writing (almost) every day, because that's the most important–and most enjoyable–part of my job. I haven't given up on taking walks in the woods with friends, because the combination of exercise plus social time helps clear my head, making me a better writer AND a better mom. I haven't given up on planning family trips, which are always a highlight of our year.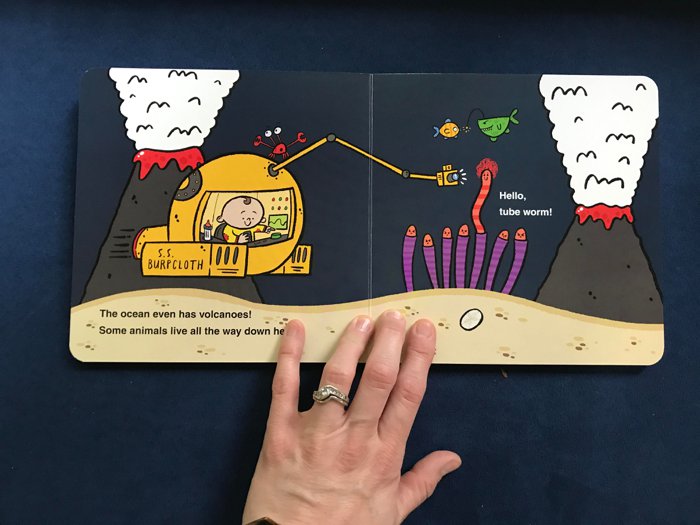 2. When parents and teachers think of "science books for kids" they typically think about books for the 4-8 age range. What inspired you to write science-related books for preschoolers?
I see toddlers and preschoolers as natural scientists. They are always asking "why" and trying to figure out how the world works. I wanted to catch kids at that age. In elementary school and beyond, some kids continue to love science. But others decide that science is too hard, too boring, too intimidating, or completely irrelevant to their lives.
The idea of "scientist" as a career seems out of reach to many elementary-age kids. I wanted to introduce different scientific careers to little ones so that instead of thinking "I can't be a scientist" later on, they instead grow up asking themselves, "Which kind of scientist would I like to be?"
– – – – –
ABOUT THE AUTHOR:
Laura Gehl is the author of popular picture books, including One Big Pair of Underwear, I Got a Chicken for My Birthday, and the Peep and Egg series.  She holds a B.A. in psychology from Yale and a Ph.D. in neuroscience from Georgetown.  Laura has taught reading to little kids and biology to big kids. Laura has four children. She lives in Chevy Chase, Maryland. Visit her online at www.lauragehl.com.
Laura is an inspiration herself, raising four kids and still making her own career a priority…the UpNoPa moms love that!
She's also inspiring because she's making it her mission to make science fun and interesting for kids and parents alike.
The Baby Scientist series is a new way for young kids to be exposed to science, in a way that is colorful, fun, interesting, and fuels their curiosity for more.
We think it's the start of a wildly successful children's book series, and we hope it's also the start of some science-loving kids!
Laura's books can be purchased on Amazon or via her website.