**These posts often contain affiliate links. Please see our disclosure policy for details.**
Us Up North Parent Moms LOVE our pets.
They are like kids to us!
Laura's Remy and Becky's Freddy are two spoiled pooches who deserve only the best care.
For as long as we have had dogs, we have always taken them to the gurus at Lakeland Veterinary Hospital in Baxter. We know our fur kids are in the best place possible whether they are there for treatment, yearly shots, boarding or grooming.
I (Becky) am especially thankful that their amazing staff at Lakeland Vet is always gracious and forgiving when Freddy "springs a leak" on their floor Every.Single.Time we are there.
Thank goodness for unflappable and patient staff members!
Another reassuring constant at Lakeland Veterinary is the wisdom and experience of Dr. Deb Piepgras, DVM.
Dr. Piepgras has been with Lakeland Vet since 2000 and she's treated both Fred and Remy on many occasions.
We wanted to ask some hard questions and get some solid summer pet care tips so we knew "Dr. Deb" would be the person to ask.
Summer Pet Care Tips from Lakeland Veterinary Hospital
Q: Of all of the summer pet care tips, which one do you feel is the most important? 
Dr. Piepgras: This is a tricky question since we see so many problems during the summer. Parasites, heat injuries, wounds, trauma, and eating the wrong things all increase dramatically during the summer months. If an ounce of prevention is worth a pound of cure, then we need to have at least two ounces of prevention during the summer months!
This means making sure your pet is on the recommended preventive medications for parasites, making sure your pet is not left in hot environments and being extra diligent about where they are and what is around them. Too often folks have a tendency to let their pets run wild and this can lead to unexpected disasters.
Q: We live in the land of 10K lakes and 10 million deer ticks! How can Lakes Area pet owners protect their critters from Lyme disease?
Dr. Piepgras: Lyme disease has a huge presence in our area but there are several other tick infections that can hurt your pet. Any dog living in this area needs to be vaccinated for Lyme disease and placed on excellent tick control. There are several good options for tick control. The most recent product that Lakeland Veterinary Hospital strongly recommends is Credelio. This is a once a month pill that we found to be the most effective medication for dogs living around the 10,000 lakes. The key is to have your dog already on tick control and vaccinated before you find ticks on them!
Q: When leaving a pet in the car in the summer, is "cracking the window" enough? Also, at what point should someone alert authorities if they see a pet in a hot car. 
Dr. Piepgras: Leaving a dog in the car during the summer is never a good idea since cracking a window does not provide enough air to keep the car cool for more than 3-5 minutes. If the temperature is warm enough that you wouldn't sit in a car with a window cracked, then neither should your dog. In areas without good airflow and shade, dogs overheat much faster than us. If your dog can't go into the building with you then you really shouldn't take your dog for the trip, unless someone is going to be in the car with them.
If you see a dog in a car that looks distressed, you should call the police. Signs of distress include gasping for air combined with not acting appropriately (not responding well, not bright-eyed and engaged in the surroundings).
Q: We are both clients at Lakeland Vet so we really value your opinion on all-things-pet-related. Any other summer pet tips you'd like to share?
Dr. Piepgras: The most important summer tip is always having your dog with you or in a comfortable safe confined area. While everyone is enjoying the nice weather it's easy for them to run off on some unplanned adventure. The problem is if your pet is out of your sight they can run across all sorts of bad things. Things like poisons left out by the neighbor, decomposing things in the woods, other animals that want to fight, and increased car traffic that isn't prepared for a pet to run out in the street.
Keep current on veterinary visits to handle the preventive medicine and be vigilant about where your pet is when you are outside having fun. Have an identification collar on and a microchip in case you get separated. Most drama can be avoided with some forethought.
About Lakeland Veterinary Hospital
Lakeland Veterinary Hospital has been providing quality service to the Brainerd lakes area for over 40 years. Their award-winning facility was designed and built in 2000 by local architects with the purpose of providing our patients with a clean and comfortable environment!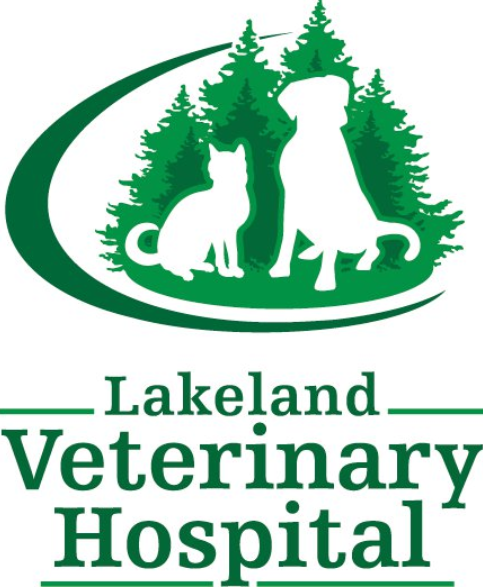 Their professional staff is dedicated to providing your pet with the best medical attention available and they strive to provide your pet with the same level of professional and compassionate care that they would give to their own pets.
Fun Fact: All of Lakeland Vet's staff and doctors are pet owners. Between them all, they own over 50 pets, so you know they love animals!
(One of Laura's favorite parts of visiting Lakeland Vet is watching the screensaver on the computer in the exam rooms. It rotates through photos of all the staff with their pets!)
Based on their stellar reputation in our community, and each of our personal experiences, we would like to encourage anyone with a dog or cat to call them with any questions or concerns they may have about their pet.
Individual and group tours of the veterinary hospital and boarding facility are available upon request.
Make sure to take care of your Fur Kids this summer!