**These posts often contain affiliate links. Please see our disclosure policy for details.**
Guest post By Teresa Farrell, RD, LD Essentia Health, St. Joseph's-Brainerd Clinic, one of the Up North Parent Sponsors.
Apples and Autumn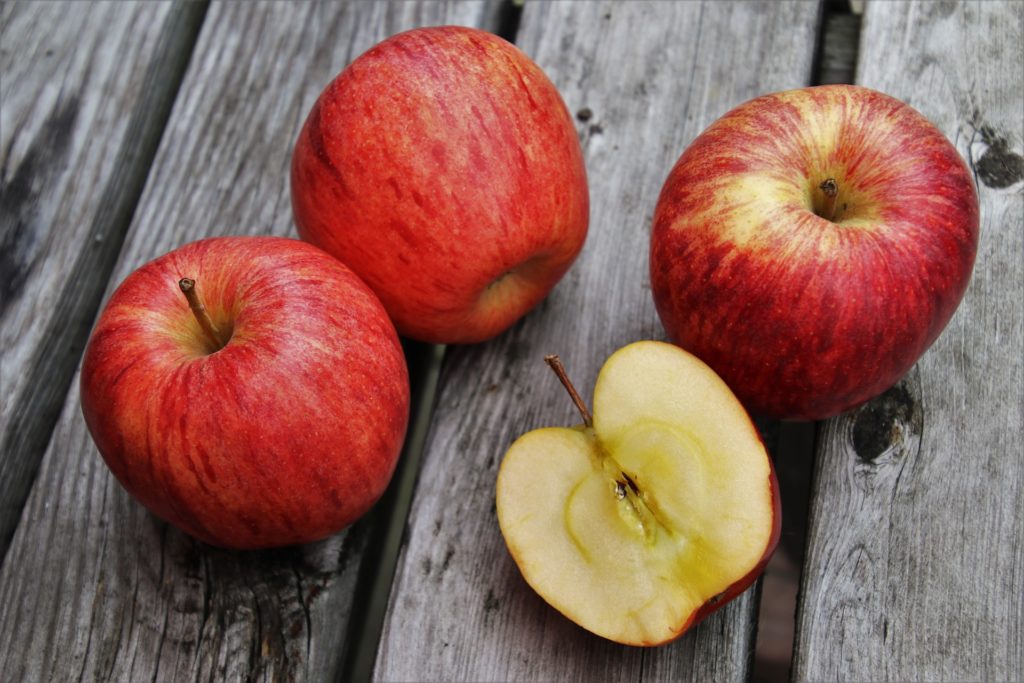 With Fall in the air, our minds start drifting towards bonfires and hot apple cider.
Apples are a favorite for many people. In fact, Americans consume 44 pounds of apples per person, each year.
We are lucky to have so many orchards right here in Minnesota.
A fun Fall activity is to visit an orchard and pick your own apples. Whether you purchase them from an orchard, the local farmers market, the grocery store, or have your own apple trees, they are a great Fall treat which lasts throughout the year.
Apples are very versatile.
They are tasty eaten raw, cooked or used in baking. They can be used in countless ways-baked and sliced into pancakes, cubed in fruit salad, slaw or on a green salad, served with peanut butter or cheese (great snack!), baked, paired with pork or made into apple pie or apple crisp.
There are hundreds of varieties of apples available and each one is unique. Most of us have a favorite whether it be tart and crunchy, sweet and juicy or something in between. Enjoy them your way!
Apple Nutrition and Health Benefits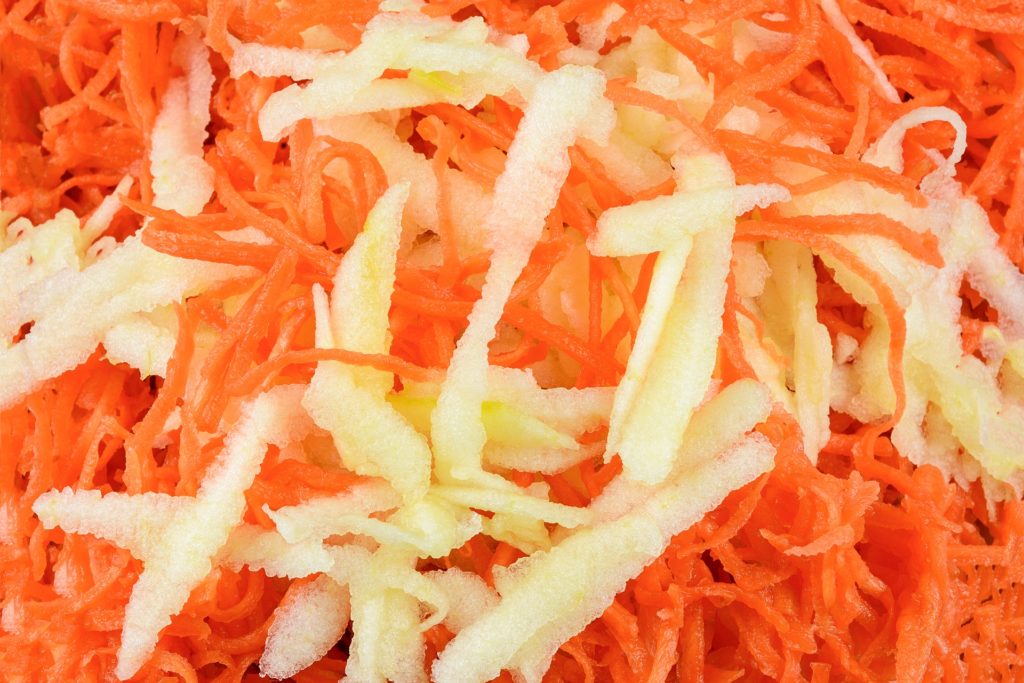 Apples are also very nutritious.
A large apple has 115 calories, 5 grams of fiber and is a good source of vitamin C and contains no fat or sodium.
All varieties are a natural source of health-promoting phytonutrients, including antioxidants which have been linked to disease prevention. To get the full nutritional benefits, leave the skin/peel on as this is where two-thirds of the fiber and beneficial antioxidants are found.
Recent research has linked apples to an impressive range of health benefits including:
Reduced cancer risk. Studies show that apples may provide protection against certain types of cancer such as oral, esophageal, larynx, lung, colon, breast, ovary and prostate. This protective effect may be due to apples rich content of phytonutrients.
Heart health. In one study apple consumption reduced the risk of dying from heart disease by 19-43 percent. In a study by Ohio State University of healthy, middle-aged adults, consumption of one apple a day for four weeks lowered by an average of 40 percent blood levels of LDL-low-density lipoprotein or "bad cholesterol".
Lung health. A study out of London reports that people who ate at least two apples a week had a 22-32 percent lower risk of developing asthma than people who ate fewer apples. In one study, women who reported eating apples during pregnancy reduced the risk of asthma and wheezing in their child at age five.
Brain power. A growing body of evidence suggests that eating apples and drinking apple juice can be beneficial when it comes to improving brain health and diminishing symptoms of Alzheimer's disease. A study of people with moderate to severe Alzheimer's disease found that drinking 8 ounces of apple juice daily resulted in a 27 percent improvement in behavioral and mood-related symptoms.
Gut health. Apples contain pectin-a fiber-like substance found in the cell walls of plants. The "good" bacteria in the intestines like to feed on apple pectin which allows them to reproduce and thrive while providing disease protection.
Apples may also reduce the risk of type 2 diabetes and metabolic syndrome, improve immunity and promote weight loss.
Apple Chicken Stir Fry
Ingredients:
1 pound cubed boneless, skinless, chicken breast
½ cup onion, vertically sliced
1 ¾ cups (3-4 medium) carrots, thinly sliced
1 ½ teaspoon canola oil
1 teaspoon dried basil, crushed
1 cup fresh or frozen pea pods
1 tablespoon water
1 medium baking apple, cored and thinly sliced
1 tablespoon canola oil
2 cups cooked brown rice
Directions:
Stir-fry cubed chicken in 1 tablespoon oil in a non-stick skillet until lightly browned and cooked. Remove from skillet. Stir-fry onion, carrots and basil in oil in the same skillet until carrots are tender. Stir in pea pods and water, stir-fry 2 minutes. Remove from heat; stir in apple. Add chicken, serve hot over cooked rice.
Nutritional Information for ¼ of recipe:
Calories: 330
Protein: 30 gms
Carbohydrates: 30 gms
Total fat: 8 gms
Saturated fat: 1 gm
Fiber: 5 gms
Sodium: 115 mg
Teresa Farrell, RD, LD is a Registered and Licensed Dietician at Essentia Health St. Joseph's-Brainerd Clinic.
Essentia Health is guided by the values of quality, hospitality, respect, justice, stewardship, and teamwork. From emergency care to convenient care, family care to speciality practice, Essentia Health delivers on its promise to be "Here With You" in the Brainerd Lakes Area.  Learn more at www.essentiahealth.org.