**These posts often contain affiliate links. Please see our disclosure policy for details.**
Sugar rushes, tiny ghouls and witches, nighttime darkness, speeding cars—it's dangerous out there on All Hallows' Eve!
For everyone… two- and four-legged alike.
Yes, even your pets are at risk on Halloween!
Fortunately, we have some tips to help you keep your pet safe and sound.
Here's how to make this Halloween fun, safe, and enjoyable for the whole family, including your pets.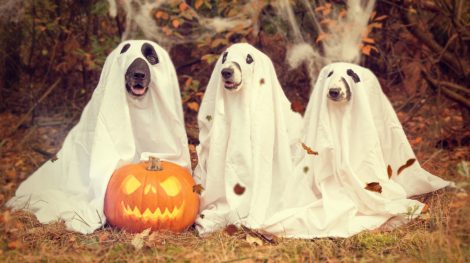 7 Halloween Pet Safety Tips for our Pooches
Tip 1: Save the pumpkin
Keep carved and lit pumpkins out of reach so curious pets aren't tempted to take a bite.
Pieces of raw* pumpkin—both large and small—can cause serious intestinal issues for your pets if swallowed.
A lit pumpkin, if knocked over by a happily-wagging tail, can singe fur and start a house fire. Not a very Happy Halloween.
Tip 2: Keep your pets inside
Don't let your pet be the victim of Halloween mischief. Keep Rover and Mittens safely inside, to guard the treats.
And speaking of treats…
Tip 3: Safeguard the treats!
They can guard the treats, but they cannot eat candy. Chocolate and artificial sweeteners can be fatal to pets.
Other side-effects from chocolate and sweeteners include vomiting, diarrhea, and seizures.
Wrappers and pieces of rubber are detrimental as well. Be careful!
Tip 4: Zen time
Don't let your pet get overexcited or overstimulated by all the bright-colored, loud festivities of the season.
Put them in a relatively quiet space, designated the 'safe room.'
To make sure they are not scared too badly, you could consider using a pet anxiety jacket or vest too.
Also, seriously consider if you want to leave your pet at home when you go out trick-or-treating.
That decision is relative to your pets' temperaments.
If they tend to be high-strung, leave them in the comfort of your house. If they enjoy the excitement, by all means, take them along.
They stay happy, you stay happy, and everything is good.
Tip 5: Decorations are for enjoying, not chewing
Keep an eye on the decorations and any wires and extension cords!
Try to put the decorations like pumpkins, lanterns, and other battery-operated ornamentations out of reach. As well you should put the cords and wires out of the way, if at all possible.
Destroyed Halloween decorations and chewed-up cords will definitely put a damper on the Halloween spirit and potentially and seriously hurt your pets.
Tip 6: S.H.P.C. (Scary Halloween Pet Costumes)
Pet costumes can be scary for several reasons.
One of which is the fit of the costume. If your pet's Halloween rig is too tight-fitting, it could lead to much discomfort and possibly to strangulation.
Another fear is the complexity of the costume. If there are too many bells and whistles to the costume, your pet might fall and seriously hurt itself.
It's best to keep the costumes simple and loose-fitting.
Tip 7: No mistaken identity
If you want to take your pet with you for trick-or-treat, or on a Halloween nightly stroll, be sure to update your pets' I.D. tag.
Just in case Rover frolics off into the night, he can be safely returned.
*NOTE: Canned pumpkin or prepared pumpkin is actually good for pets (and humans).
With these seven Halloween pet safety tips, you can make this a safe and fun Halloween for the whole family, including the family pets!